DISCLOSURE: Most of our content uses affiliate links. As an Amazon Associate, we may earn a commission when you buy through the links. Each of your purchases via our affiliation links helps us to support the cost and maintenance of this site.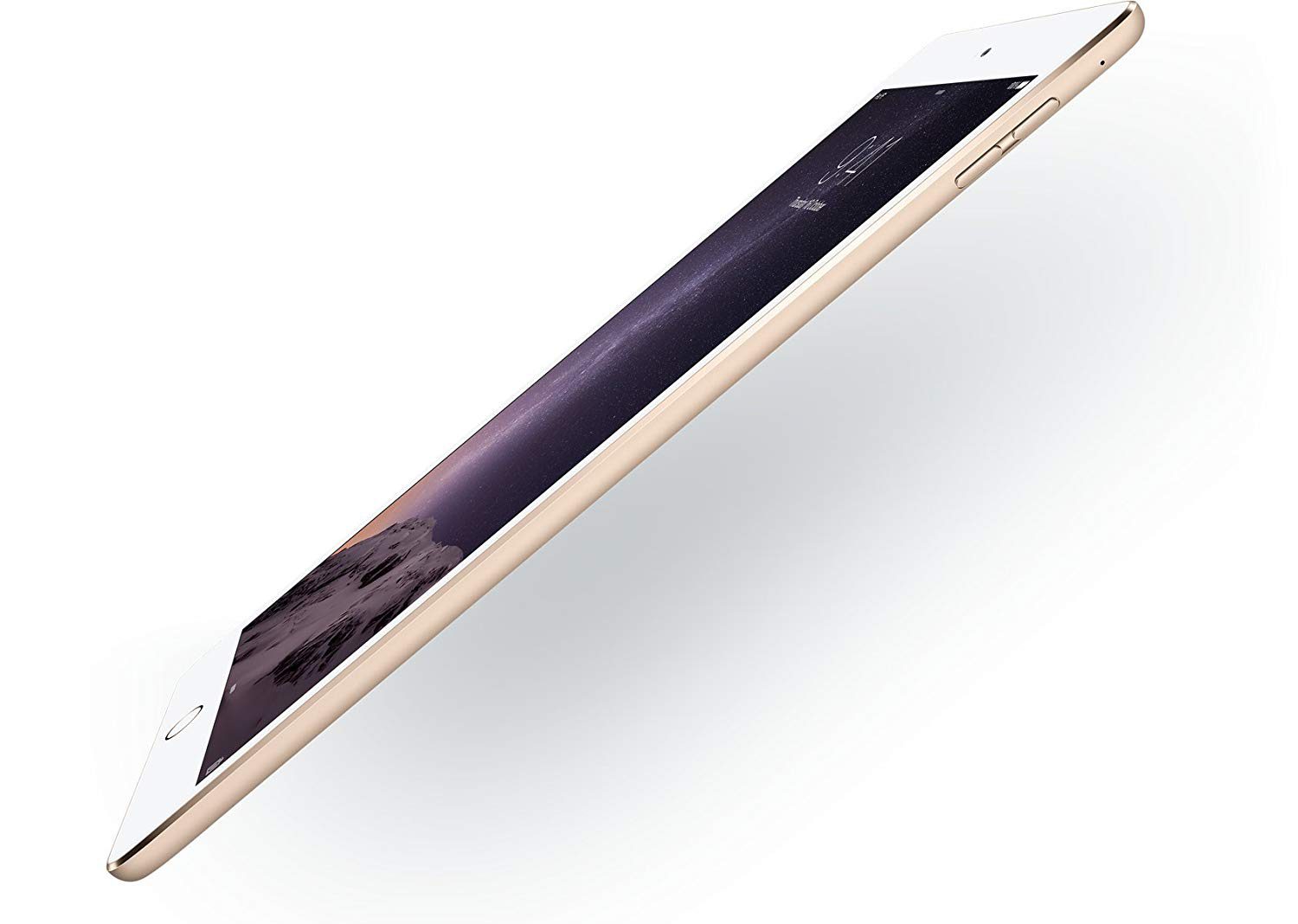 Since Apple announced the discontinuation of the iPad Air 2 and no longer sells it on its online store as of March 2017, this is a farewell to the iPad Air 2 as one of the best tablets in the market acknowledged by most tech authorities and a recipient of the Editor's Choice award.
In the eclipse of iPad Air 2, who will be its successors that can replace its throne? This is a good question that needs an answer.
The iPad's Chronicle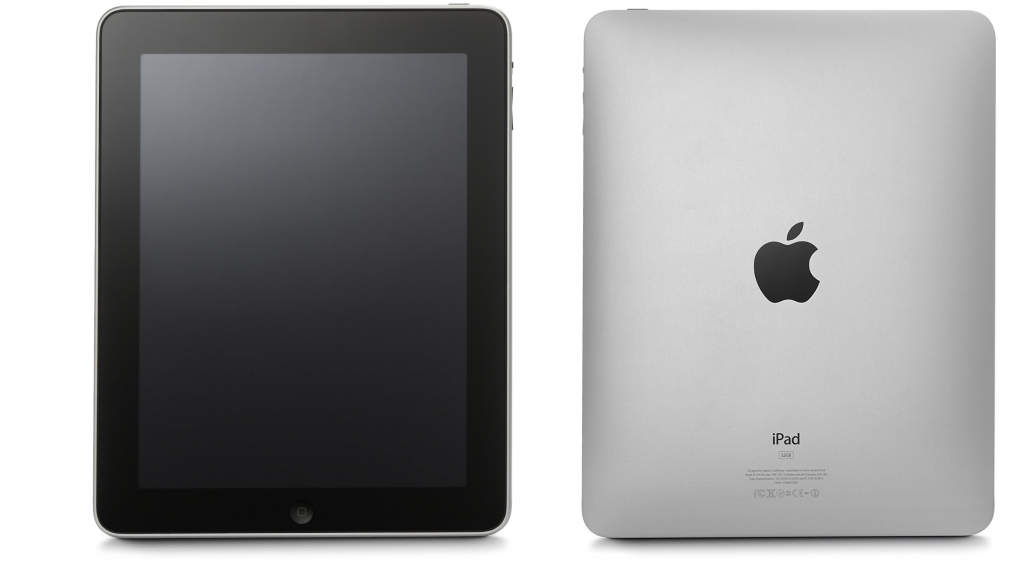 The first-generation iPad
The first iPad designed and developed by Apple was introduced by the company way back in April 2010 and was highly praised by media and tech reviewers during its phase.
It was openly described by Time magazine as one of the 50 Best Inventions of the Year 2010.
Remarkably, Apple sold more than 15 million first-generation iPads prior to the launch of the iPad 2 in March 2011.
With the release of the iPad 2, the production of the original iPad was discontinued.
Forecasting the needs of the tablet in the market, Apple widened its lineup of tablet and offered various sizes and successively launched 7.9-inch iPad Mini (November 2012), 12.9-inch iPad Pro (November 2015) followed by a smaller 9.7-inch iPad Pro version (March 2016). All models are now upgraded on their respective generations.
Apple then announced on March 21, 2017, its newest iPad model which replaced the iPad Air 2 and is now simply called "iPad".
The new "iPad" otherwise called as "iPad 2017"
The iPad 2017 is the cheapest tablet of Apple offering its market on average consumers. It is not as thin and light as a feather like the iPad Air 2 but its super value and performance is decent and worthy to be desired.
iPad Air 2 Credits
With the successful release of the iPad Air, the upgraded iPad Air 2 elevates its position with its predecessor citing as "the best iPad ever made" (TechRadar) and the "most powerful tablet yet, and is incredibly thin and light" (Engadget).
Eventually, it was honored by Cnet as their Editors' Choice on October 2014 series and after two (2) years, due to its stellar performance, Cnet re-endorsed the iPad Air 2 as their Editors' Choice on March 2017 for the second time. 
That is very strange and unique for a device to receive such enormous recognition.  Yes, it is a cutting-edge product that sets the gold standard of how a tablet can be perfectly called "thin and light".   
We're glad that the iPad Air 2 is still available at Amazon and this will be our last chance to get hold of the device until the stocks last.
Hardware Updates
One of the major changes that Apple introduced with the iPad Air 2 begins with its processor switching from A7 chip (M7 Motion motion coprocessor) to chip to A8X (M8 motion coprocessor). Its Random Access Memory (RAM) jumps from 1GB to 2GB to accelerate the speed of reading data and expanding further its storage offering more space from 16GB and 32GB on the original Air to 16GB, 24GB, and 128GB on the iPad Air 2.
The iPad Air 2 features the same screen size as the original iPad Air which measures 9.7 inches diagonally and has a resolution 2048 x 1536 with a pixel density of 264 ppi (pixels per inch). Its screen maintains fingerprint resistant but most importantly, the iPad Air 2 has a now fully-laminated display with anti-reflective coating and touch ID fingerprint scanner which was not available on the original iPad Air.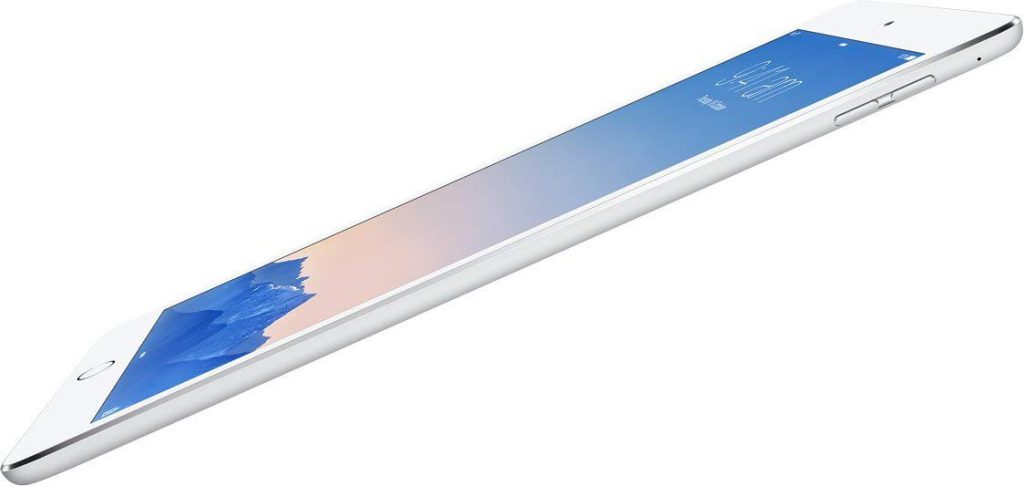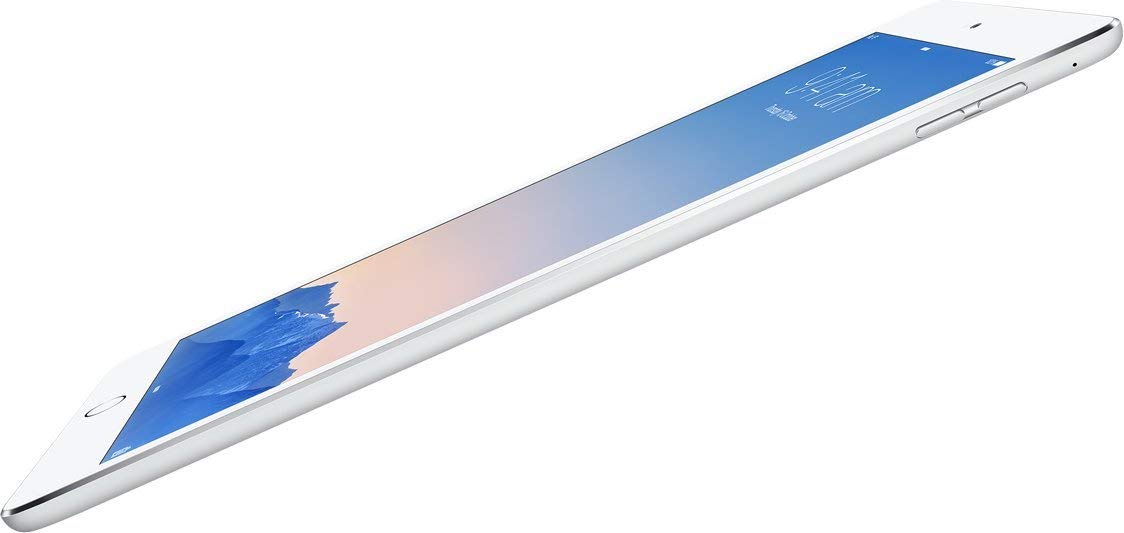 The iPad Air 2 is distinctly apart from other iPads due to its thin and light features. Undoubtedly, the iPad Air is entirely thin. Apple still made a clean-cut forging the iPad Air 2 to 6.1 millimeter thick and weighs 437 grams (non-cellular model) compared to the original iPad Air with 7.5 mm thick and 469 grams (non-cellular model).
In perspective, it is just a matter of figures that does not change the performance of the device but with its reduced slimline, the iPad Air 2 is arguably the thinnest and lightest in its era, only later to be rivaled by the iPad Pro 9.7-inch bearing the same size and weight with a more advanced A9X processor.
I am not a fanboy of tablet cameras but nonetheless, the iPad Air 2 increased its rear-facing iSight camera from 5 megapixels (1936 x 2592 resolution) to 8Mp (2448 x 3264 resolution) while its front camera remains the same with 1.2 megapixels. It is a minor upgrade and nothing exceptional but nonetheless, it is functional for casual photography.
Please note also that the iPad Air 2 has no LED flash same as the original iPad Air which is not suitable for use in low-light ambiance.
Lastly, its built-in 27.3-watt-hour lithium-polymer battery remains the same and lasted up to 10 hours in average use.
Other Alternatives
It is sad news that Apple will discontinue selling the iPad Air 2 but there are still some available alternatives that are competitive in performance and stability as the iPad Air 2.
Here are the top 3 on my list.
# 1 – iPad Mini 4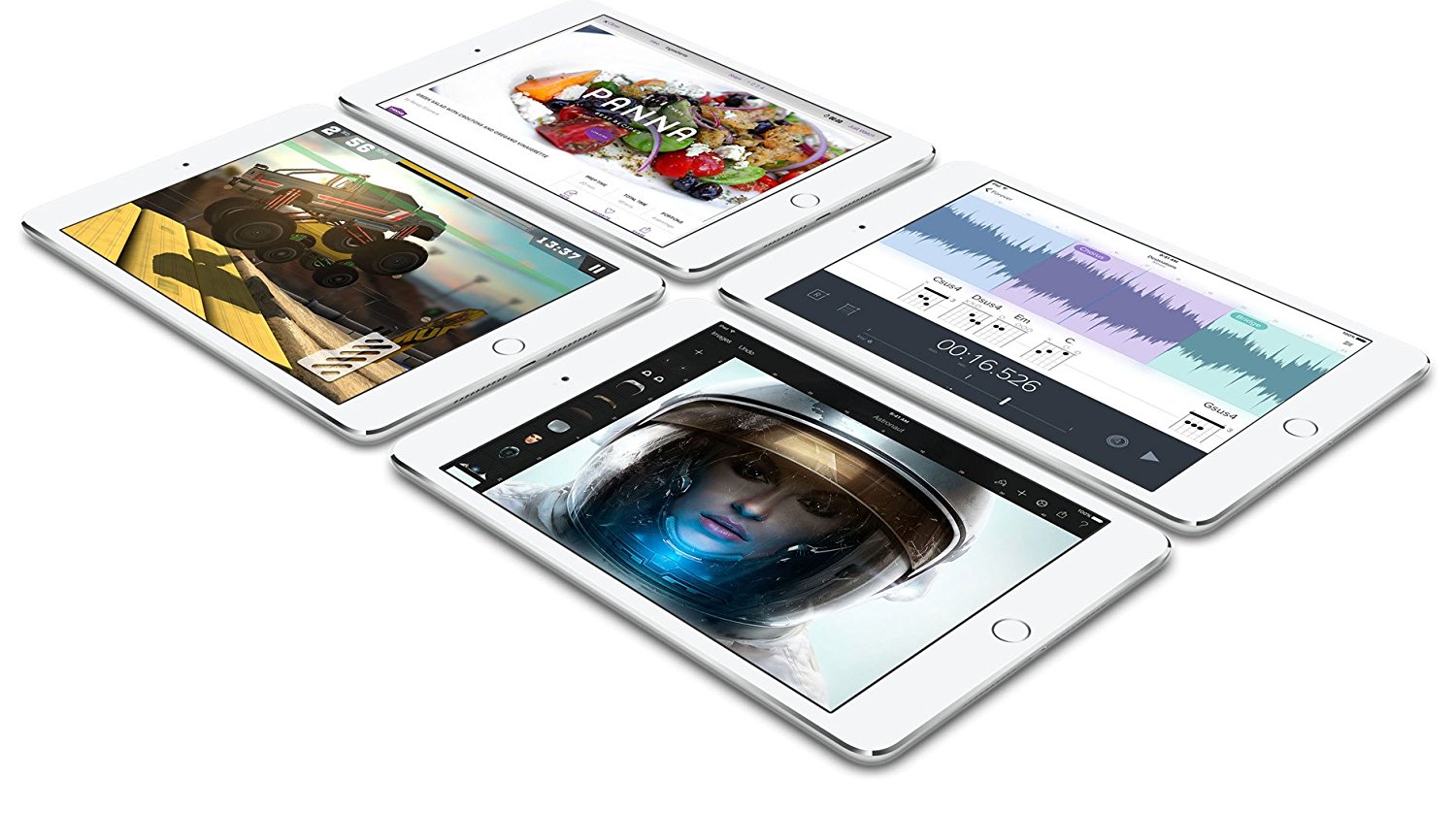 I liked the iPad Mini 4 because it has a smaller 7.9-inch screen size but it also sports the same specifications with iPad Air 2 featuring the same 2048 x 1536 with more pixel density of 326 ppi beating the iPad Air 2 with 264 ppi.
It also has a 10-hour battery life but a lower A8 processor missing the "X" with iPad Air 2's A8X processor which enhanced GPU (Graphics Processing Unit) and CPU (Central Processing Unit) performance due to one extra core and higher frequency.
Briefly, the iPad Mini 4 is the smaller version of iPad Air 2.
It is a personal preference that I preferred iPad Mini 4 because it offers portability. If you were always on the go and need a tablet that fits best with your bag, Mini 4 would be a better choice.
The iPad Mini 4 is a Best-buy from ExpertReviews as their Editors' Choice pick. 
If its smaller 7.9-inch screen size would not become an issue and if you need a tablet for web surfing, casual gaming, reading eBooks, and social media like Facebook, iPad Mini 4 might be useful for you.
# 2 – iPad Pro 9.7-inch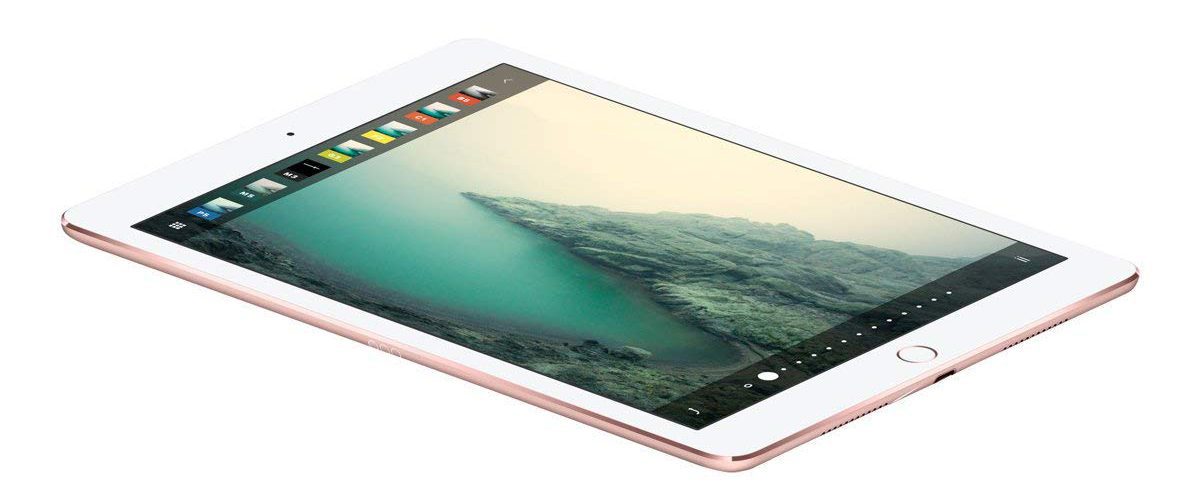 For those who do not want to compromise the screen size of iPad Air 2, there is nothing better to replace the iPad Air 2 when it comes to its solid performance than the iPad Pro 9.7-inch, and it's gotten even better.
The weight and dimensions of the Ipad Air 2 and iPad Pro are precisely the same but iPad Pro has a superior A9X chip and an improved 12 megapixels back camera and 5 megapixels in front (now includes a rear flash). The iPad Pro has bigger storage options from 32GB to 128GB and 256GB.
More interestingly, the iPad Pro 9.7-inch features the pencil supports compatibility with Apple's Pencil stylus (sold separately) and Smart Connector that automatically pairs any compatible accessory using a magnetic port. iPad Pro's four-speaker setup also offered a better audio experience.
iPad Pro 9.7-inch was favored by Cnet as their Editors' Choice in March 2016 edition.
# 3 – Microsoft Surface Pro 4
It is the shortcoming of Apple that iPads were designed not as a hybrid laptop. The iPads are still a tablet that cannot be equaled to the productivity offered by the Microsoft Surface Pro 4.
Of course, you can do a word processing and spreadsheet through its Pages and Numbers apps but as the years go by, the innovations moved fast. Competitors such as Microsoft advanced its position in the tablet – a hybrid class – that can function as a full-fledged laptop with its Surface line of product particularly the Surface Pro 4. It's dedicated Surface Type Cover is the best attachable keyboard I've ever seen to a tablet.
It is not as thin and light as the iPad but if your work demands great productivity, the Surface Pro 4 would satisfy your need. It might cause you more bucks but it is surely a wise investment.
I can explain it to you further if you have much time to read my review on Surface Pro 4.
The Bottom Line 
It's been seven (7) years from now since iPad Air 2 was released in 2010. It was a stunning device that may surprise you once you hold it in your hands. It is absolutely thin and light. Before the founding of the iPad Pro model, the iPad Air 2 is incomparable to any tablet ever created.
Today, it is a story to tell that iPad Air 2, in some point of time, changed our perspective in technology that tablets could be as thin and light as the iPad Air 2 – not some sort of fiction but a dream and legacy that Steve Jobs accomplished during his lifetime.
As Apple discontinued its production and selling of the iPad Air 2, we are comforted to learn that the iPad Air 2 is not the last of its kind as the thinnest and lightest tablet in the world. Even its successors and other alternatives are good enough to match the charm of the iPad Air 2.