DISCLOSURE: Most of our content uses affiliate links. As an Amazon Associate, we may earn a commission when you buy through the links. Each of your purchases via our affiliation links helps us to support the cost and maintenance of this site.
Can you imagine the world without coffee? For fanatics and addicted coffee lovers (including myself), it sounds creepy as the words "pandemic" and "end of the world".
If you feel the same, you will understand the very mindset of every coffee drinker: You'll never make a day without a cup of coffee.
Yes, that morning coffee routine could boost your spirit and stimulate your mood entirely. So, how do you prepare your coffee? Whether you like simple brewed coffee, espressos, or lattes, you need a savvy hand to cater to your craving.
Thanks to coffee makers, you can do the process without a hassle. These lovable machines do the bulk of the work, with no holds barred and no barista needed! It's practically useful and easy to operate.
If you need help to find the right coffee maker for you, we've listed the best brands of coffee makers suitable for beginners, for personal home use, or even for a coffee shop business.
AdirChef Grab N' Go Personal Coffee Maker 

It sounds awesome that coffee maker machines can take care of our coffee.  We can just simply grab a cup without spending much of our time preparing the whole drink.
The AdirChef Grab N' Go is a personal assistant coffee maker that doesn't break the bank. 
You will notice that it is made of plastic which reasonably cuts back its price.  In my opinion, this is not a deal-breaker.  I am aligned with its eco-friendly concept design which covers up by eliminating the use of paper filters – thanks to its permanent filter.  
It also comes with a stainless steel travel mug which is a perfect match if you are frequently on-the-go and have no time to drink your coffee at home.  The mug itself is closely insulated to keep your coffee warm. 
This is particularly useful if you are on a long trip and prefer to drink your coffee on the way to work. The 15-ounce mug capacity is quite large and ensures that your caffeine needs are met. You can also use the mug and brew directly to the coffee maker. 
If you have limited kitchen space, its portability and slender size will fit nicely in tight spaces.
CHULUX Upgrade Single Serve Coffee Maker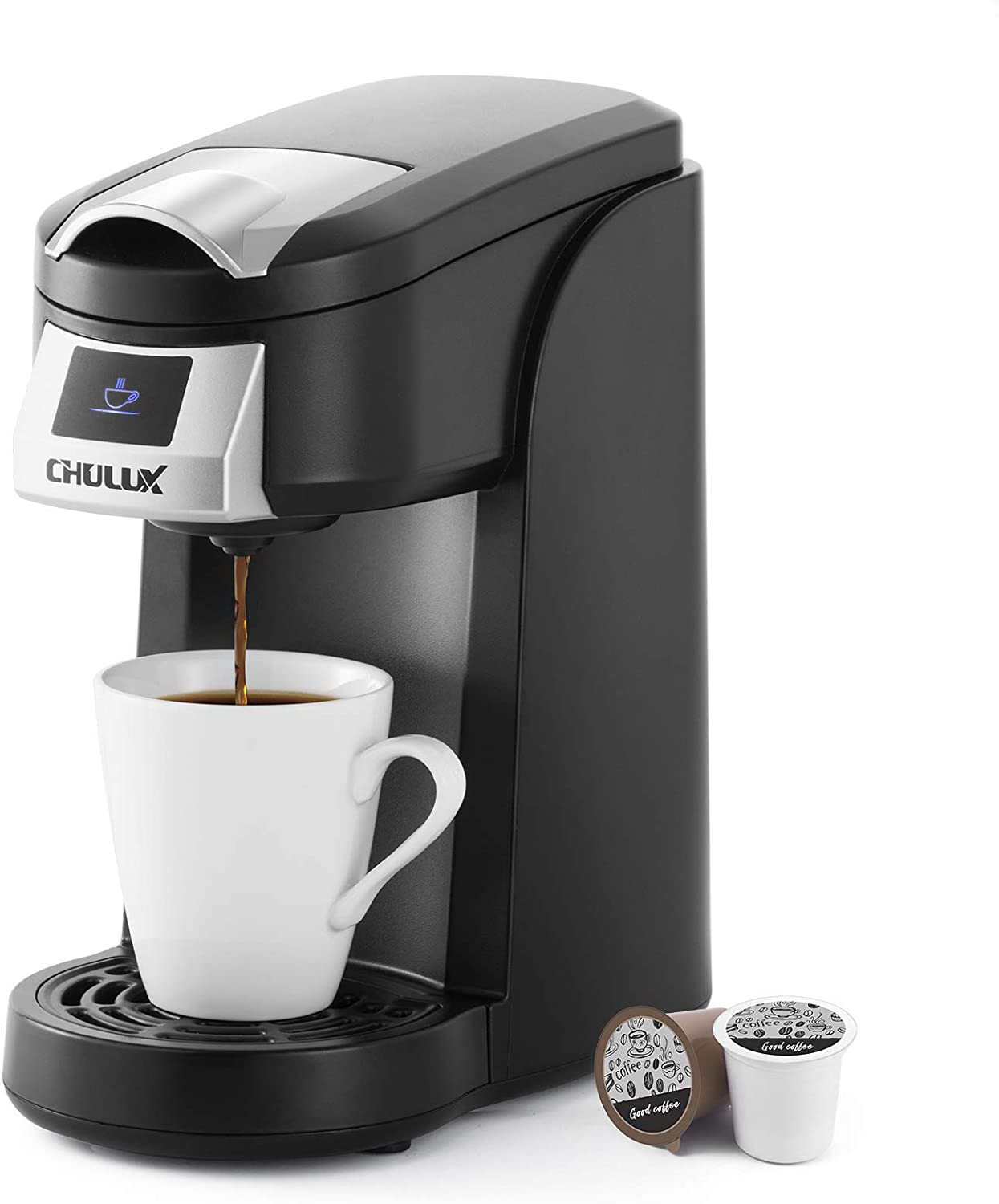 This is also a single-cup coffee design from Chulux. Tall and towering, it can hold your personal mug at home for up 5.3 inches. At the same time though, it is compact and can hold in tiny spaces. 
Unlike the AdirChef, there is no permanent filter in this brewer.  But it's good to know that this one can accommodate most coffee capsules or single-serve coffee containers out there such as patented Keurig K-Cups.
You can further read and find helpful tips about the difference between cups and pods at coffeeteawarehouse.
This coffee maker also features a handy single button operation, as well as a three-minute power timer to conserve energy. It comes with a 12OZ Water Tank and removable Drip Tray, which is pretty handy as it reduces spills.
Hamilton Beach The Scoop Single-Serve Coffee Maker, Fast Brewing, Stainless Steel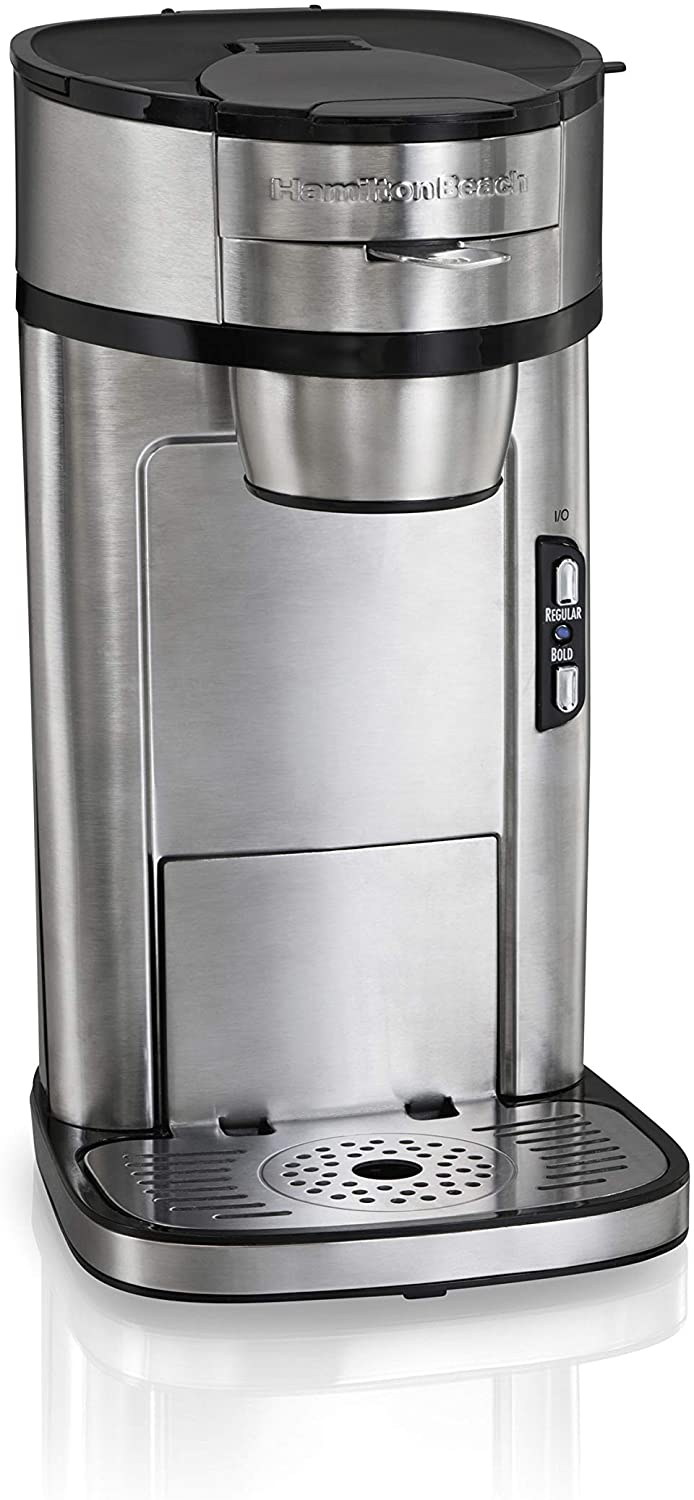 The Hamilton Beach coffee maker makes it on this list because of a compelling set of convenient features. This model comes with a single-serve scoop filter and can brew an 8-ounce cup in less than 90 seconds and a 14-ounce Travel mug in under 2. 5 minutes.
Additionally, it comes with a mesh scoop filter, a custom cup, and is built out of a durable stainless steel design.  It also has an automatic shutdown feature, which turns the machine off once it's finished brewing.
I like the safety feature of its component.  It won't leave you any trouble while brewing.  If there is a chance that you forgot to pour water into the reservoir and you rashly hit the power button, this unit will not work into action.  
If there is an instance that this unit is not brewing, please make sure to fill the reservoir with water. 
Keurig Special Edition K-Cafe SE Single Serve K-Cup Pod, Nickel

It is worth mentioning that the Keurig brand has been in the brewing industry for almost two (2) decades.  So it is not unusual that this company established the now popularly known as the "K-cup" or a "single-serve coffee containers".  Apparently, they are one of the major players in the beverage brewing business.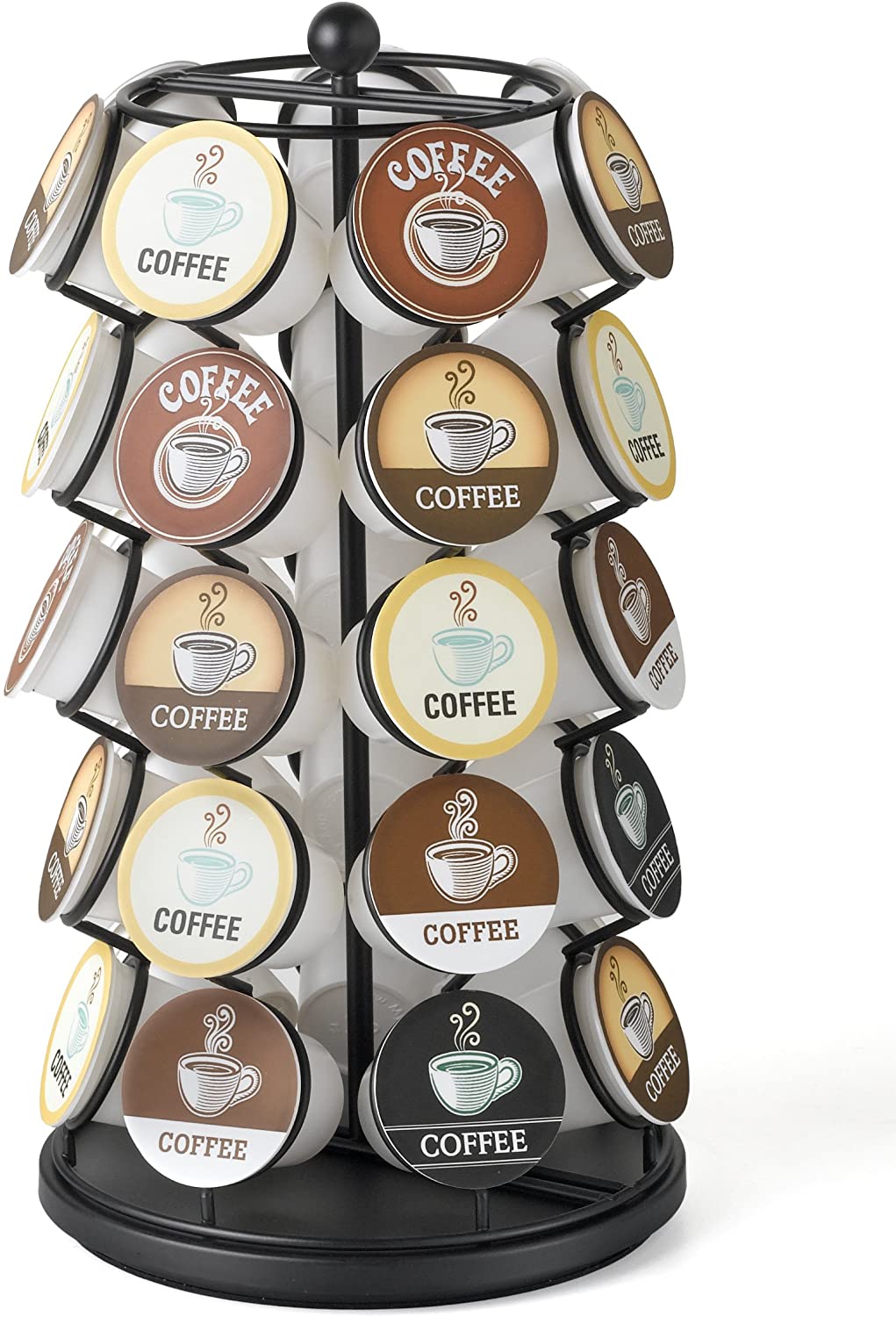 By the way, what is special about this Keurig K-Cafe? Unlike most of its counterparts at lower prices which mostly made of plastic, this machine has a premium nickel finish. Its clean polish makes it feels smooth and looks classy.
The metal handle will compensate you in the long run if you intend to use it oftentimes.
This machine has also something good to offer. It has simple button controls that make it an easy way of wavering yourself not only for a hot cup of coffee but if you love iced cappuccinos and lattes, it can do all the tasks for you.
Want a coffee shot of caffeine? Not a big deal. You can use the specialized "SHOT" button at any time in case you need to charge and invigorate your think tank ability.
What I can tell more is the energy efficiency of this unit. Just leave the killing to the master and it will do an automatic shut off two (2) hours after your last brew.
The easy to use of this product will always remind you that brewing and frothing the coffee will never be the same as it was before yesterday.
Breville BES880BSS Barista Touch Espresso Machine, Stainless Steel

This model (BES880BSS) is the next generation of its old kin, the Breville BES870XL.  
Breville is branding itself in the appliances industry since 1932.  In demand for its coffee maker machines, this unit is designed to cater Barista-grade espresso-based coffee. 
With just a little know-how, you can embrace this machine without the help of an expert Barista at the counter.  Yes, you can grind, brew, and do the milking all by yourself. 
Unlike the old model, the touch screen features are the highlight of this machine.  By its programmable operation, everything seems customizable from the grind size of the beans, the ground weight, brewing time, steam temperature, and milk texture.  Once you do your preference, you're now ready to experience that personalize and the aromatic taste of espresso. 
It's good to know that you have an option to save that setting. As provided in the manual, you can make eight (8) customizable coffee settings. This will save your time for not doing the stuff all over again.  
This unit has also a frother.  It is likely that it can do the tricks of foamy milk texture, a component that crafting the coffee latte as an art.    
Definitely, the skill of this machine has a price tag.  If you are willing to spend and use it either for personal or coffee shops, this machine will speed up the process without a long break. 
The Bottom Line 
Statistics show that global coffee consumption has gradually increased over the past years.  Though not every living person loves coffee, the data confirms the fact that most people around the world live their lives with a cup of coffee at least once a day.
With the top brands of coffee makers on this list, it's not surprising to find out that preparing the best cup of coffee at home or in your place of business nowadays requires less effort.  Coffee-preparation expertise is not a requirement anymore for anyone looking to enjoy that exquisite blend and aroma of their favorite drink.  
So, the next you want to sip some hot coffee during winter or a glass of cold coffee in the summertime, make sure that your coffee maker can do all the tasks needed.
Cheers!