DISCLOSURE: Most of our content uses affiliate links. As an Amazon Associate, we may earn a commission when you buy through the links. Each of your purchases via our affiliation links helps us to support the cost and maintenance of this site.
Are you a smartwatch geek?  Finding the best-rated and trendiest fashionable smartwatches can be tedious and time-consuming.
It can be quite disappointing to search for numerous brands of smartwatches, only to find some that don't meet your personal needs or standards.  It would be, for lack of a better word, a waste of time and money to attempt to wear and try them all. 
The truth is that only a few smartwatches can be called "smart", technically speaking. 
This is pretty obvious since the technology in the smartwatch tech or "wearable computer" is still in the early stages of momentum.  Manufacturers are still in the process of developing powerful smartwatches that are really smarter than ever. 
Still, the design, appearance, applications, and functionality of such devices has remarkably improved for the past few years since the debut of the first "digital watch" in the 1970s.
Today, the appeal of having a smartwatch on your wrist is now a gesture of pride and fashion, a fad that most people will want to show off and brandish.   
Compared to traditional analog or mechanical watches, the ability and dominance of a smartwatch are top-notch such as interaction through its touchscreen interface, different options of watch screen faces, media player functions, GPS receiver, and even built-in sensors. 
More so, you can pair and link them with your smartphone to receive notifications directly to your smartwatch.  You can even make some calls. 
Most also have extra features that can monitor your heart rate and are able to track your sports and fitness activity.   
If you find that these reasons are compelling enough for you to get one, then let's look at the top five we have on this list.
#1

Amazfit Bip Smartwatch

— Best Budget and Battery Life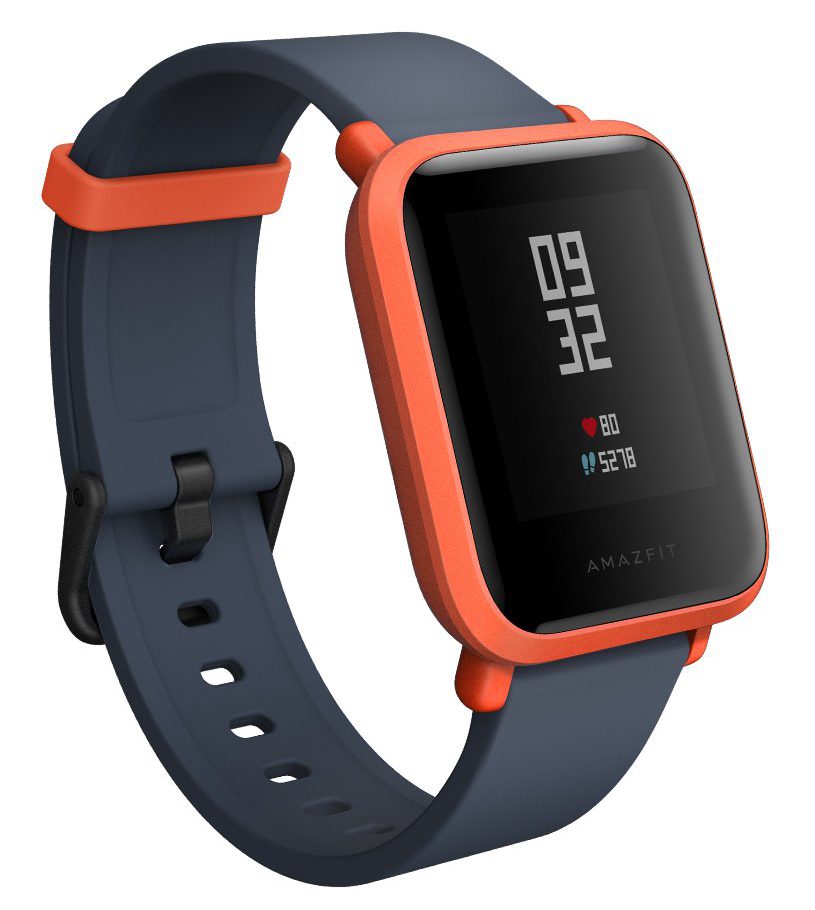 The Amazfit Bip has the basic functionality you can expect from an entry-level smartwatch.
The optical heart rate sensor and the built-in GPS are features that you don't want to miss in a smartwatch.  It allows you to track in real time your physical activity and can likewise sense your steps taken, the distance you traveled, the number of calories you burned, and the quality of sleep you made on a daily basis.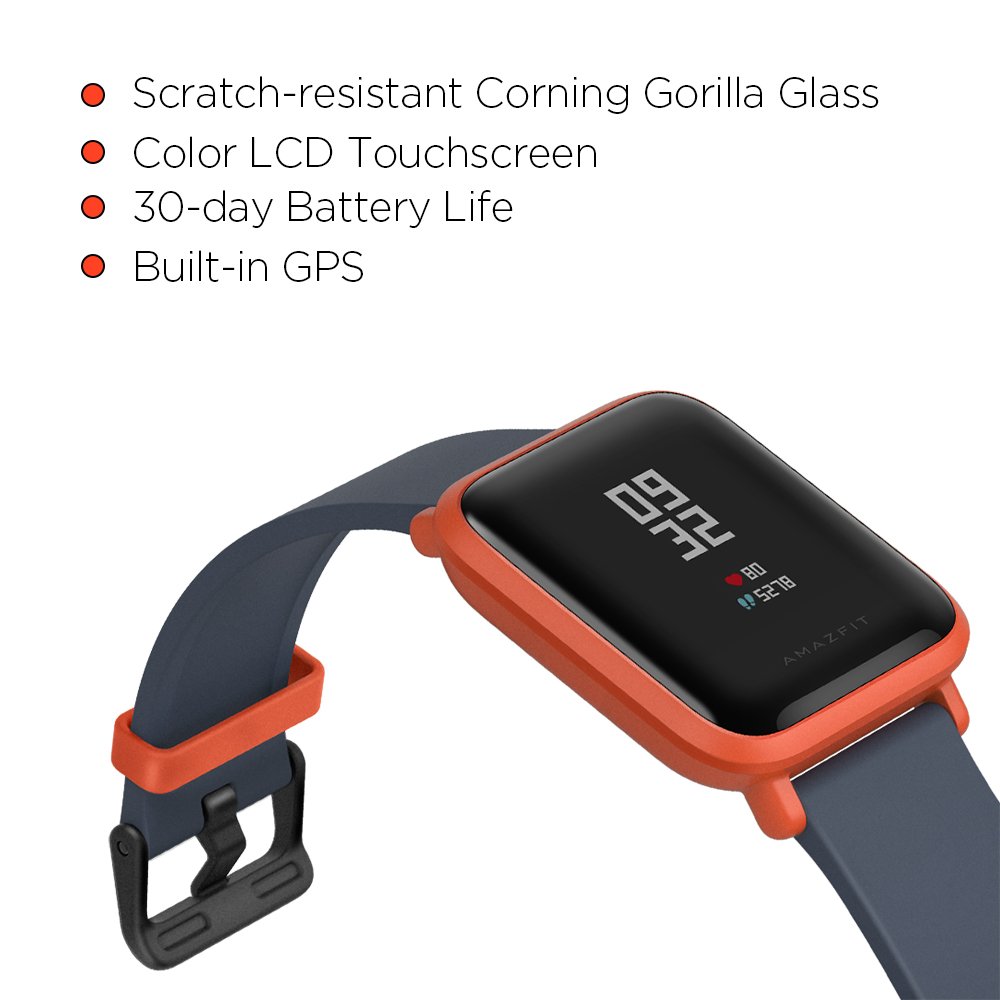 The watch is definitely able to receive notifications of your emails, text messages, and incoming phone calls.  The only downside is that you cannot answer phone calls directly from your smartwatch.  You still need to pick up your smartphone to respond.  
I know that this could may not seem as smart as the other watches on this list, but its battery life overpowers the competition and makes it stand out from the rest.
For a single charge of 2.5 hours, your smartwatch can last up to 30 days.  
Weighing only 32 grams, the Bip is ultra lightweight.  
I personally like its customizable design which lets you swap case covers.  There are 10 various colors of silicone straps to choose from and you can pick the one you please.  
Mint Green, Apricot Pink, and Sky Blue case cover
There are also compatible nylon straps, nylon canvas, woven nylon, leather, or stainless steel to personalize your styling.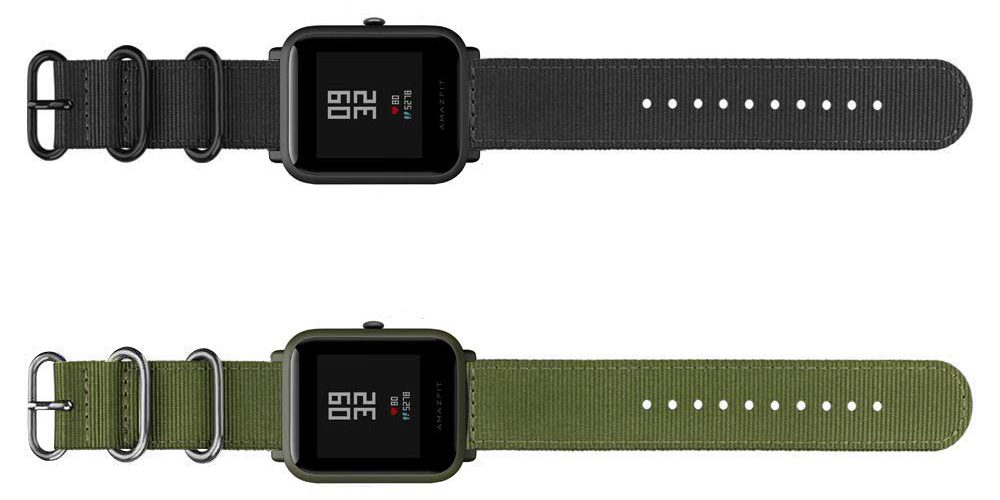 woven nylon bands
The Features
Google Wear OS
30-day battery life
32 grams weight
1.28″ display (32mm)
 Built-in GPS
 Heart rate monitor
 IP68 water resistant and dustproof
 Real-time activity tracker
The Flaws
Too wide bezel
Inconsistent GPS tracking
Bluetooth connectivity issue
cannot answer calls
#2

Samsung Galaxy Watch

— Best Android Smartwatch
What makes this smartwatch smart? There are many, but I particularly like the rotating bezel on the Galaxy Watch, which is undoubtedly its crown of beauty.  This is something that gives you a reason to fully appreciate the navigation of such a small device.  
One of the biggest flaws of nearly every smartwatch is that most of us have difficulty in navigating the screen due to a limited and narrow screen size.  It never is usually that easy before to scroll on the display and select an application for users with larger fingers.
Silver 46mm model
Thanks to its Tizen OS – an operating system that makes it a worthwhile platform for Samsung smartwatches – the watch delivers a new atmosphere of an environment and a different look of user interface compared to Google's Wear OS.    
Another aspect I like is the customization of the watch faces.   
This is indeed one of the most strong points of a smartwatch  – the ability to change the looks of its face at any time you want. 
Of course it's a matter of personal taste of what face design you like based on your mood, styling, and fashion. It is undeniable that there are thousands of watch faces you can adopt.  Most are developed by third-party developers while some are custom-made by default.  
However, I think that some of the watch faces look quite ridiculous.  Just select the high-quality ones to refine the looks of your watch.  
Thanks to its AMOLED display (360 x 360 ppi), it is striking to see the watch face in action such as G-Watch which looks real and vibrant as if you are wearing a mechanical watch. 
All you need is to install the Galaxy Wearable application in your smartphone through Google Play to access these features.
More importantly, the 4 days run time of its battery in a single charge of 46mm model and 3 days for 42mm is somewhat notable.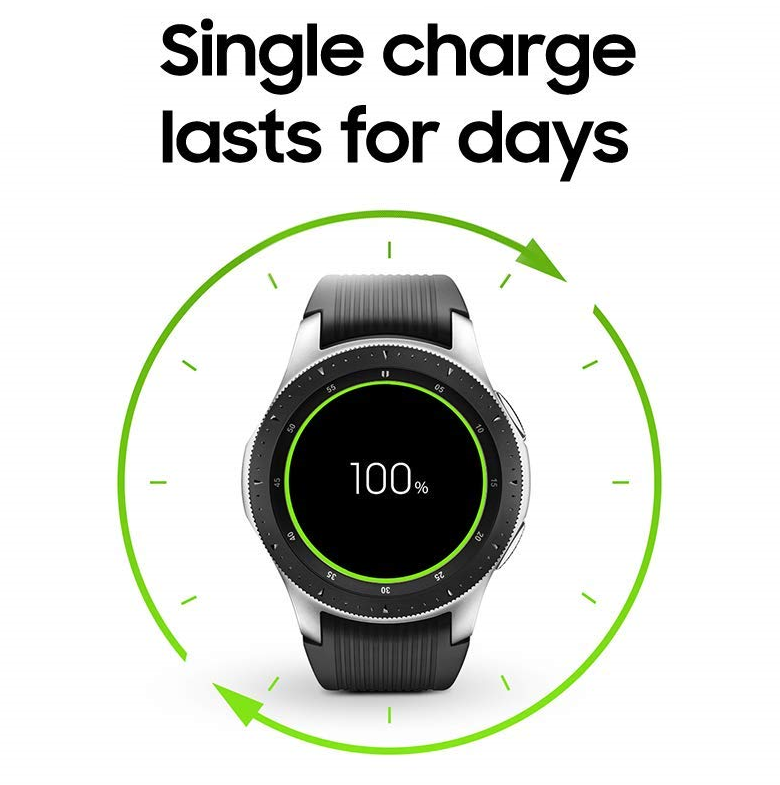 Though it is not a big leap for Samsung to improve battery life, it is a relief for a lot of smartwatch users to avoid the inconvenience of charging your watch every day.
I appreciate that Samsung knows and understands the need of its consumers by letting you pick between the two models, the 42mm with 1.2-inch display weighing 49 grams (without strap) and 46mm with 1.3-inch display weighing 63 grams (without strap). 
It certainly comes in handy for people with varying wrist sizes.  
Rosegold is a perfect fashion watch for women.  
Rose Gold 42mm model
With all its features and packages, it is no wonder that Samsung Galaxy Watch is easy to love and offers the best Android smartwatch experience so far.  
As you see, it is very crucial to consider battery life before buying.  
The Features
Rotating bezel
Tizen OS 4.0
Corning Gorilla Glass
360×360 AMOLED display
Wireless charging
4GB internal memory
Samsung Pay for wireless payment
Compatible with Android and iOS smartphones
The Flaws
46mm is too big for small wrist
Too heavy for some
Bulky
#3

Samsung Galaxy Watch Active —

Best Sporty and Lightweight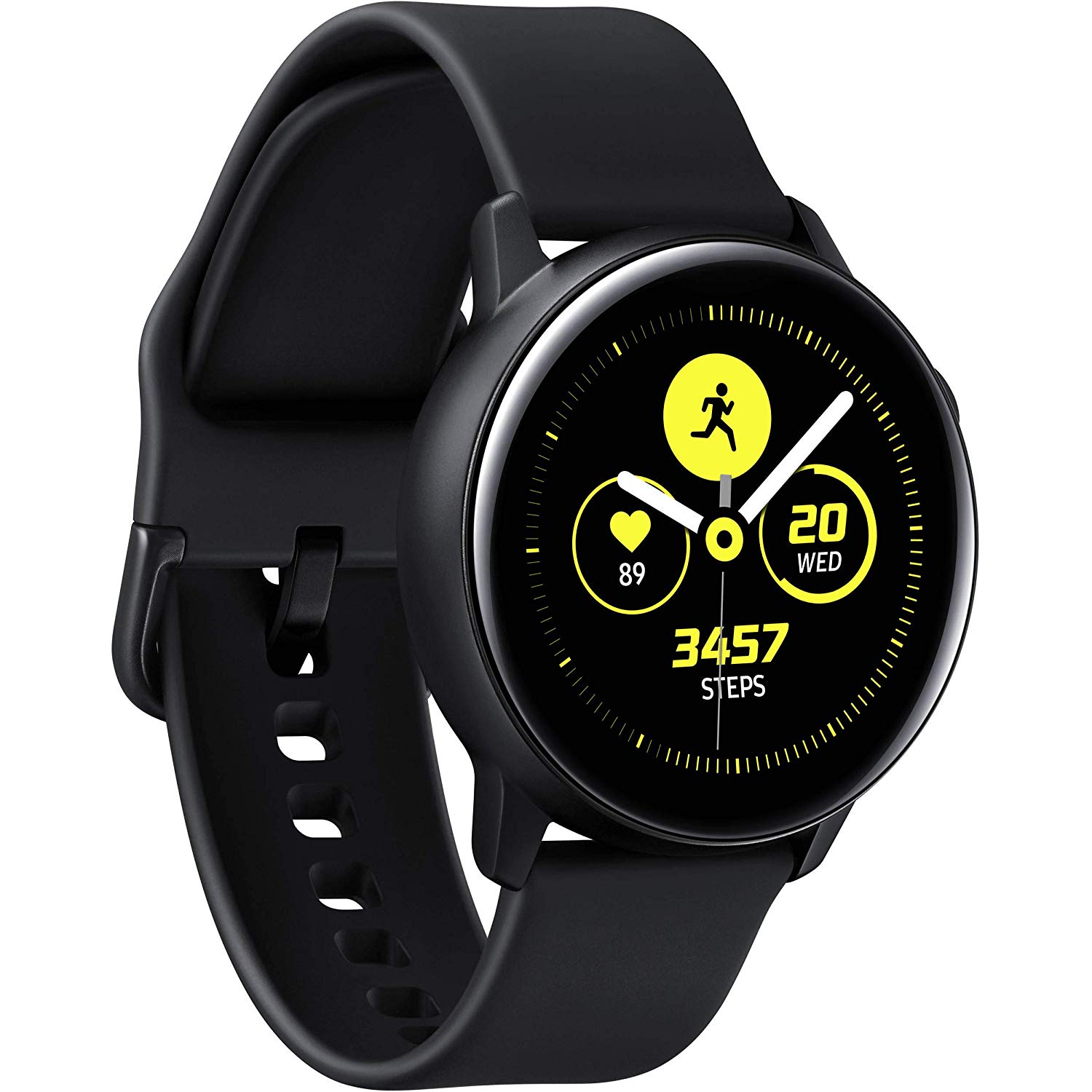 This is another entry from Samsung's smartwatch lineups.
Obviously, the reason why Samsung created an alternative for Galaxy Watch is because that not everyone might be comfortable with the size and weight of 63 grams (for 46mm) load or even the lesser 49 grams (for 42mm).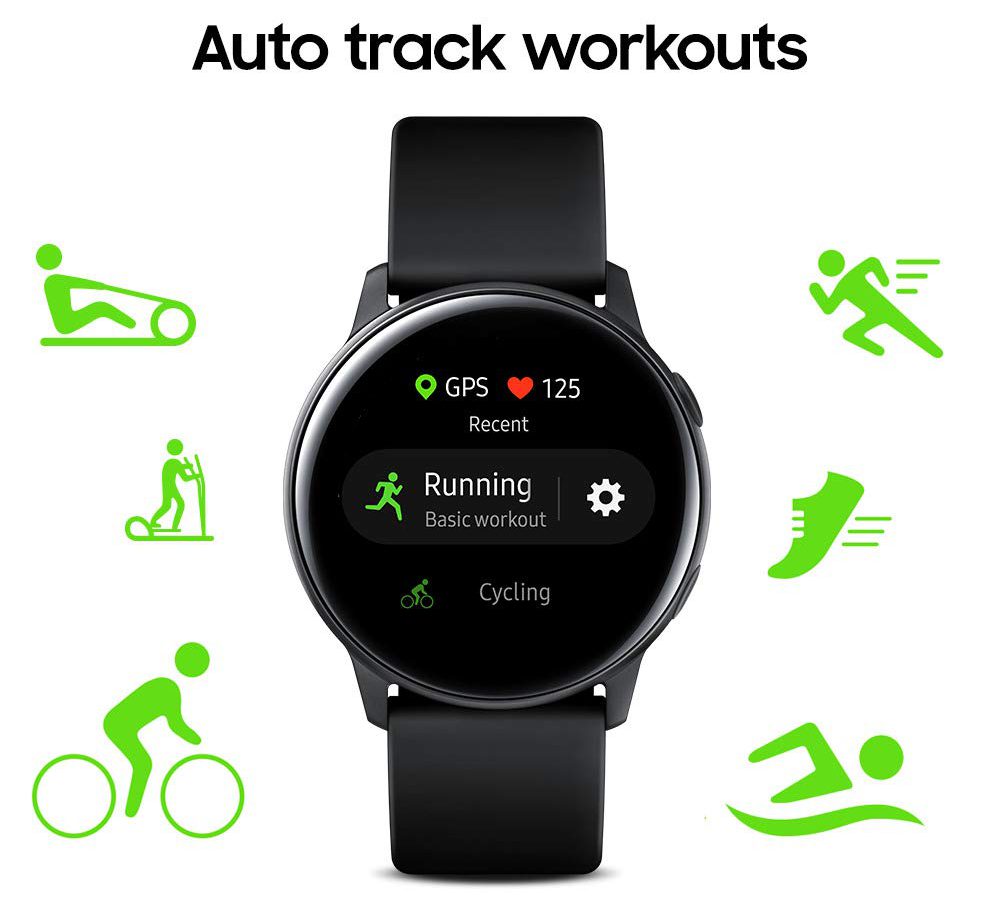 It's pretty obvious why the word "active" is added from its predecessor Galaxy Watch, which signifies that this watch is designed for anyone who has an active fitness and a sporty lifestyle. 
This watch is dedicated and useful if you want to live with your daily routine of workout activity without that hefty burden in your wrist.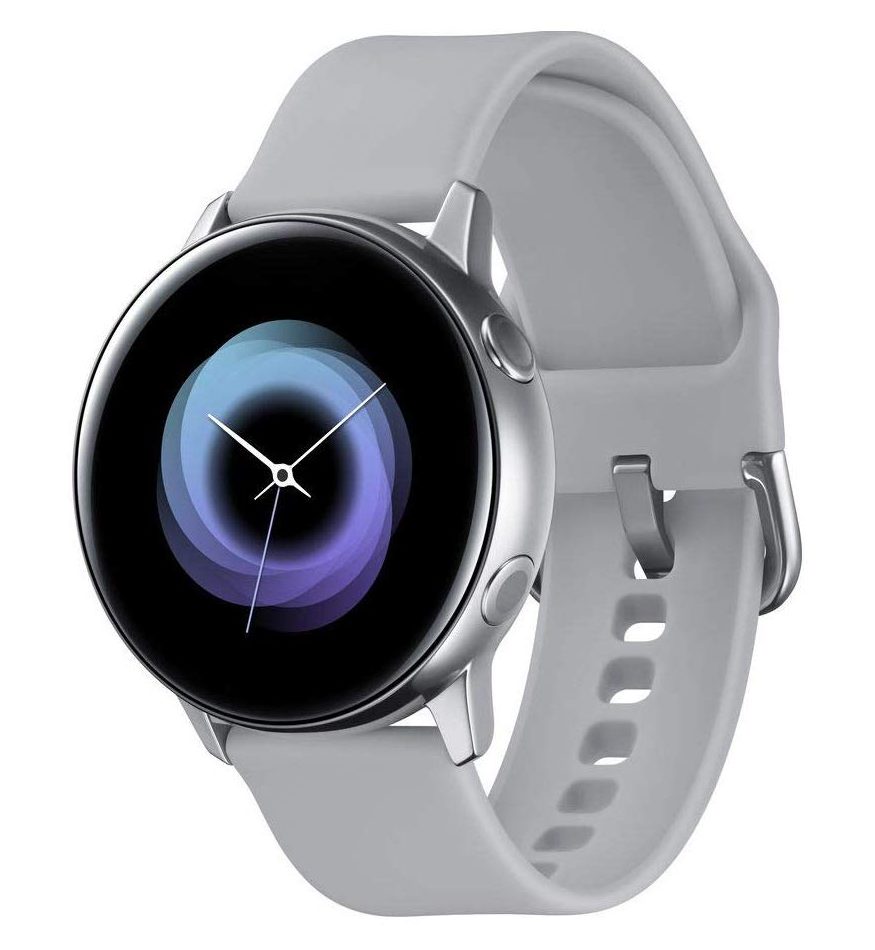 In order to shrink its size and weight, it sacrifices the very signature of the Galaxy Watch – the rotating bezel. 
Despite this, it still shares the same functions and power with Tizen OS 4.0 and 1.15GHz dual-core Exynos 9110 chipset both with 4-gigabyte internal storage. 
Without the rotating bezel function however, it can make you feel a little bit restricted to freely navigate with its 1.1-inch screen size.  
On the plus side, the Galaxy Watch Active is distinctly sleek and lightweight.  It has a dimension of 40mm and only weighs 25 grams, almost half of the weight of the 42mm model Galaxy Watch.
For someone like me who has a smaller wrist, the size of Galaxy Watch Active is ideal and fits just right. 
Keep in mind though that there is no other size available except that of 40mm.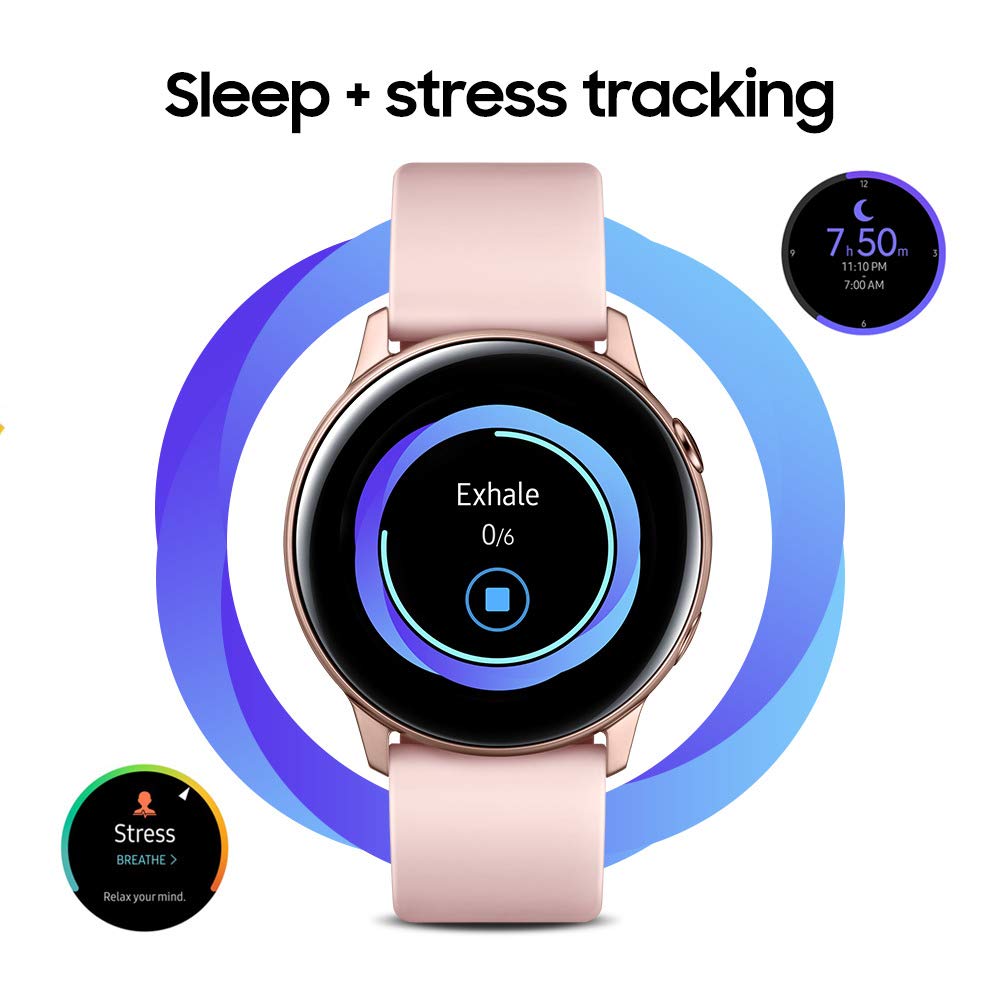 I think Samsung tied down on the size of the Galaxy Watch Active to maintain its feathery weight, which is convenient.
What I am only against is the battery life which is only 230mAh. 
It could take you only two days to fully consume the juice of the battery.  It is quite short compared to the 4-day life of Galaxy Watch 46mm model.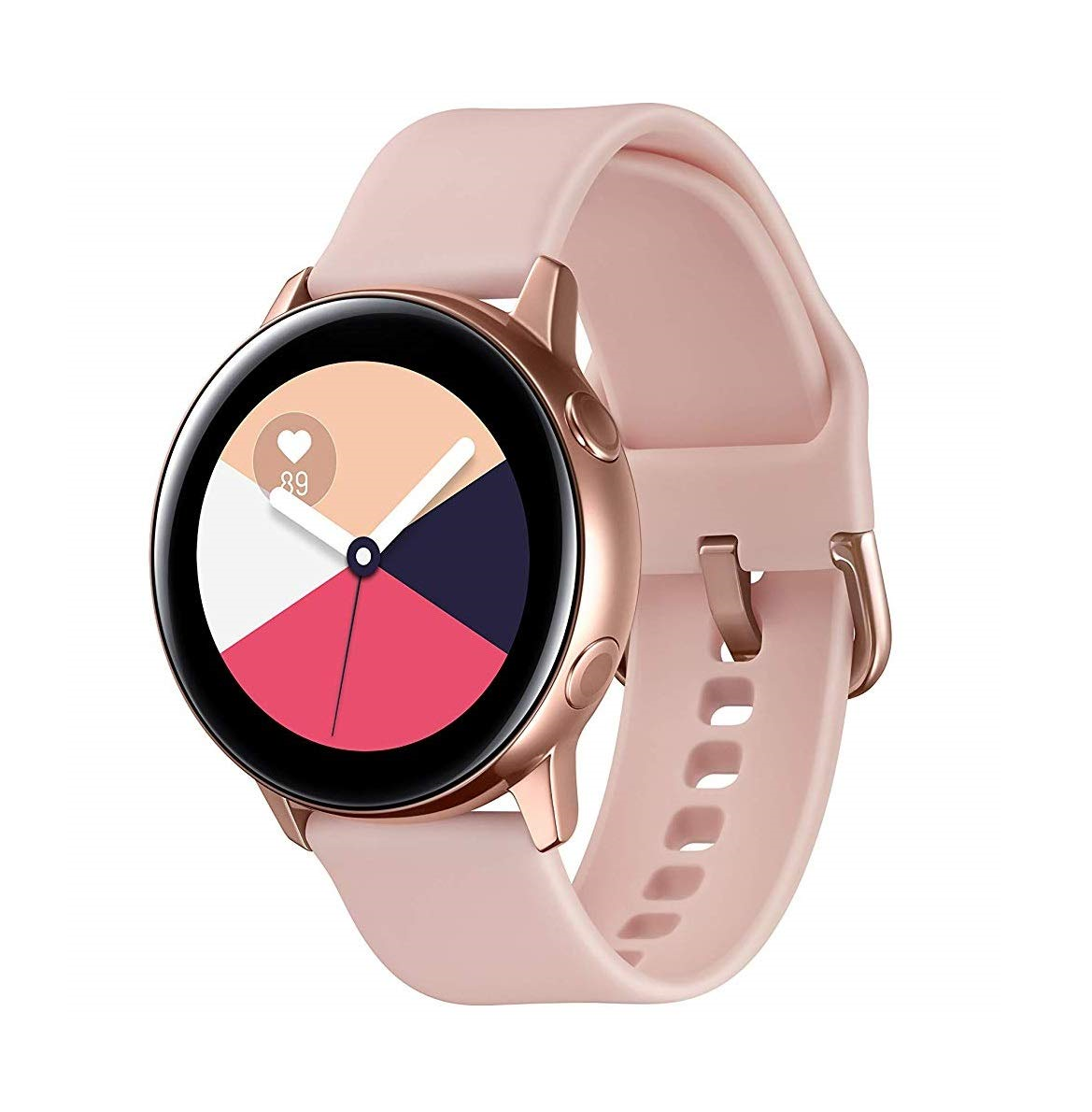 The Features
Tizen OS 4.0
2 days of battery life
40mm width
360×360 AMOLED screen resolution
25 grams only
4GB internal memory
Corning Gorilla Glass
Compatible with Android and iOS smartphones
Variants of straps and watch colors
Samsung Pay for wireless payment
Wireless charging
The Flaws
No rotating bezel
Fewer third-party apps
#4

Fitbit Versa Smartwatch

— Best Customizable Wearable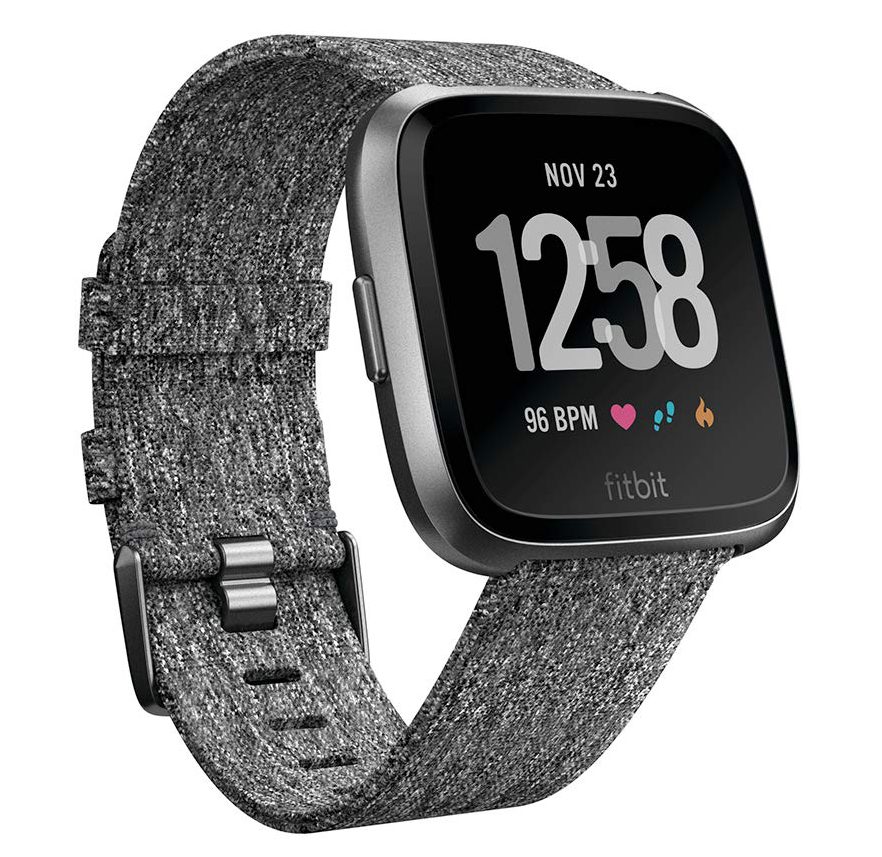 It is logical for Fitbit to redesign its first two iconic smartwatches – the Blaze and the Ionic, which were released in 2016 and 2017, respectively.  Sad to say, both do not have that aura to dominate the smartwatch competition today.
So, what makes the Fitbit Versa better? 
Redefining its shape and form is the most notable part of this new model.  At least now it looks a bit more modern and smarter than its predecessor.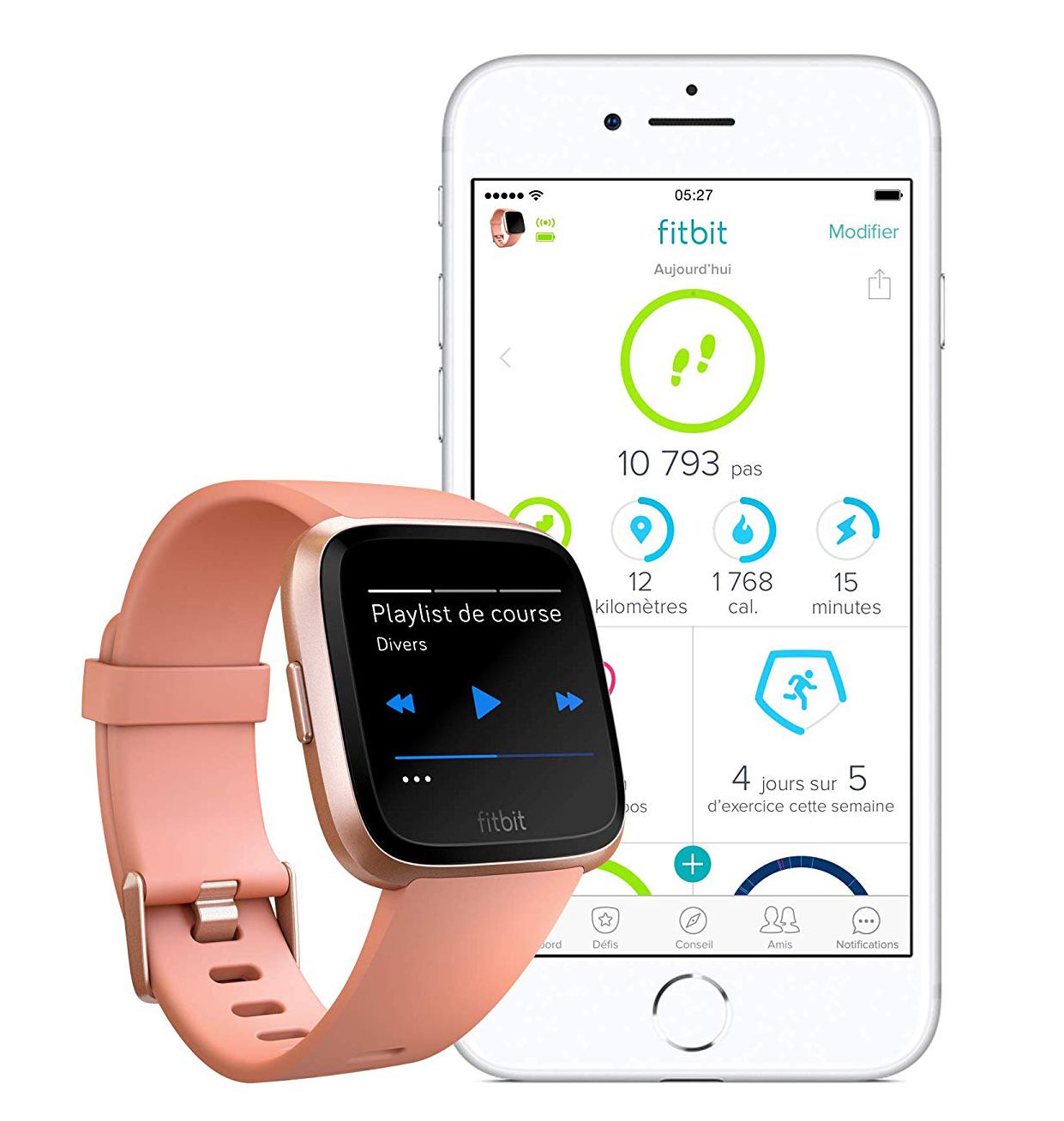 The broad aluminum chassis is now out of the box and made a clean-cut by featuring a square-shape with rounded edges in the corners. 
Fitbit had to reorganize the hardware components and sacrificed the GPS before they finally come up with its new form, sadly.
So don't be surprised if the Fitbit smartwatch does not come with built-in GPS. 
In some way, you can use the GPS of your smartphone if you really need to track your sports activity with your smartwatch.  
So, what's with the new Apple-esque look?  Obviously, it is somewhat similar on the outside but Fitbit Versa appears wider in breadth.  Still, the Apple Watch manages to stay on top as the largest display smartwatch in the field.   
Fitbit Versa Special Edition model
We still look forward in the future how Fitbit could improve the display quality  to lock horns against its competitors. 
On the plus side, the Fitbit Versa draws its strength on the price per se.  A variation of the Special Edition of Fitbit Versa is almost half of the original price of Apple Watch Series 4.  
If the value does matter to you, Fitbit doesn't hold back and offers the Versa Smart Watch and Lite Edition for a smaller cost.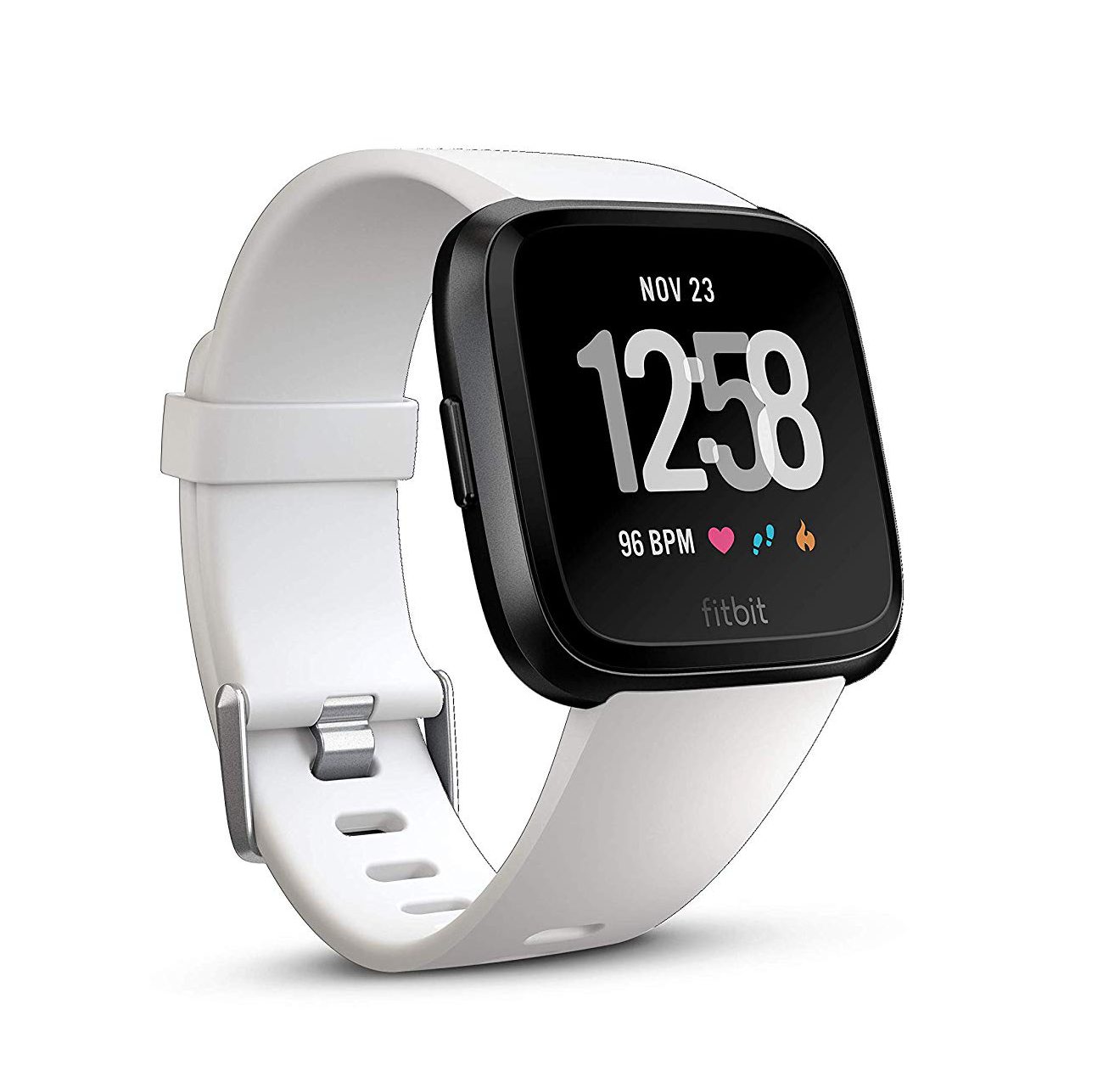 The Features
4-day battery life
11.68 ounces
Variants customizable band
Swimproof up to 50 meters
Store 300+ songs and play music offline
Wireless payment (Fitbit Versa Special Edition only)
Female health tracking log periods
The Flaws
#5

Apple Watch Series 4

— Best Features and Screen Display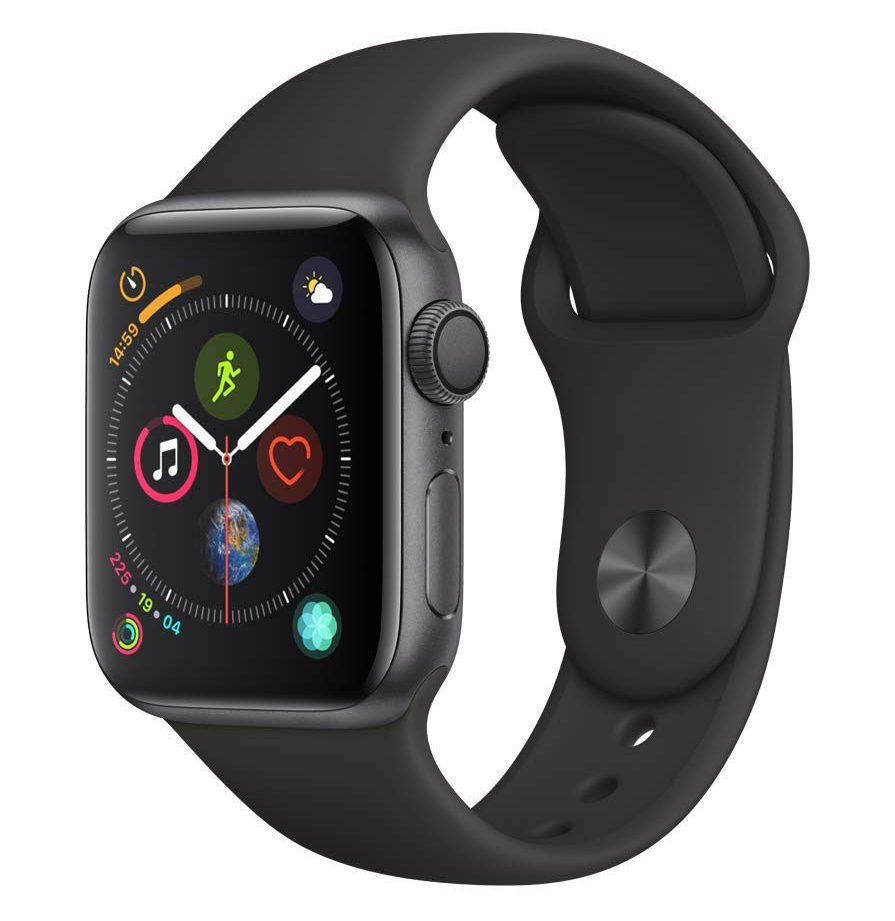 It's usually no argument that the Apple Watch is the standard bearer of cutting edge smartwatch tech. 
It is a fact that Apple is not the first one to run the race in wearables technology. Around the 1970s, the first digital watch – the Pulsar, was released.  The foundation for modern wearables began from the dot matrix display with very limited memory of 112 digits only.
As it shows, the development of wearable devices is quite slow.  No one really foresaw how a digital watch couldevolve into a smartwatch.  
The beginning of the modern revolution of a smartwatch took off in the 1990s onward with the introduction of early data transfer modes which were made possible between your watch and a personal computer. 
In 2015, Apple released its first-ever smartwatch.
Surprisingly, it became the best-selling wearable device with 4.2 million sold for that same year.  
Everybody is applauding that Apple was able to make its watch smarter.  Its gleaming look and stylish customizable bands become a trending signature of wearable technology.
Compared to Samsung's Tizen OS and Google's Wear OS, Apple's newest watchOS 5 is getting better by integrating health and fitness tracking applications. 
Recently, Apple has become serious with its updates of its watchOS.  Apps are growing in number and never-before-seen features in a smartwatch are now on the rise.
In the long run however,  the multitude of task applications take their toll and its battery life suffers. 
You can only use the watch for only 18 hours a day, meaning that you need to charge it from time to time.  The maximum charging time will take you at least 2 hours. 
40mm GPS + cellular model in sport loop
The Apple Watch Series 4 has raised the bar for modern wearables.
with the exception of the sub-par the battery life, the Apple Watch is almost close to becoming a smartwatch in reality. 
The Features
watchOS 5
Digital Crown with haptic feedback
Larger screen size
OLED Retina display
Ion-X Strengthened glass
324 x 394 pixels (40mm) and 368 x 448 pixels (44mm)
40mm (37 grams) and 44mm models
Available with GPS+Cellular model
64-bit dual-core S4 processor
Louder speaker
Water resistant up to 50 meters
18 hours of battery life
The Flaws
Short battery life
Pricey
The Bottom Line 
Smartwatches are now becoming a part of fashion and style especially with younger generations.
When considering which one to get, always make sure to consider the size and thickness to conform the size of your wrist.  It can be quite clumsy to wear a smartwatch that nears satellite-dish proportions.  No one wants to looks silly, after all.
Since most of the top-rated smartwatches come with a price, it is wise to invest in a brand that is reliable and trustworthy.  Don't risk losing your money to smartwatches with a lower value-for-price performance.
Stay on the high-end and top-rated smartwatches, and you'll be guaranteed great performance.