DISCLOSURE: Most of our content uses affiliate links. As an Amazon Associate, we may earn a commission when you buy through the links. Each of your purchases via our affiliation links helps us to support the cost and maintenance of this site.
In an attempt to fill the gap between a tablet and a laptop in the computing field is a contest that most hardware manufacturers are trying to exceed over the years.
In the age of innovations where technology is almost everything, it is now common to see a hybrid convertible tablet that transforms into a laptop but, we have not yet seen a tablet in the past that can really replace the full functionality of a laptop.
But the game will change when Microsoft imagined reshaping the future of tablet and behind the scene and closed doors, Surface was invented.
The Evolution of Microsoft Surface
There is no such electronic devices, computers or gadgets on earth that were ever created in the very beginning which is totally comprehensive and flawless.
As knowledge becomes advance, every product evolves and develop over time. Microsoft Surface undergo the same process of modification and experiment.
Let us look back as to how the device dubbed as "Microsoft Surface Pro 4" stand on its ground as a top-notch 2-in-1 device and transform into a revolutionary tablet-laptop.
Microsoft Surface Timeline
2012 June – The first of its kind. Microsoft Surface was born. Branded as "Surface", it is the first major initiative of Microsoft to integrate its Windows operating system with its own hardware and the first ever personal computer designed, developed and distributed solely by the company.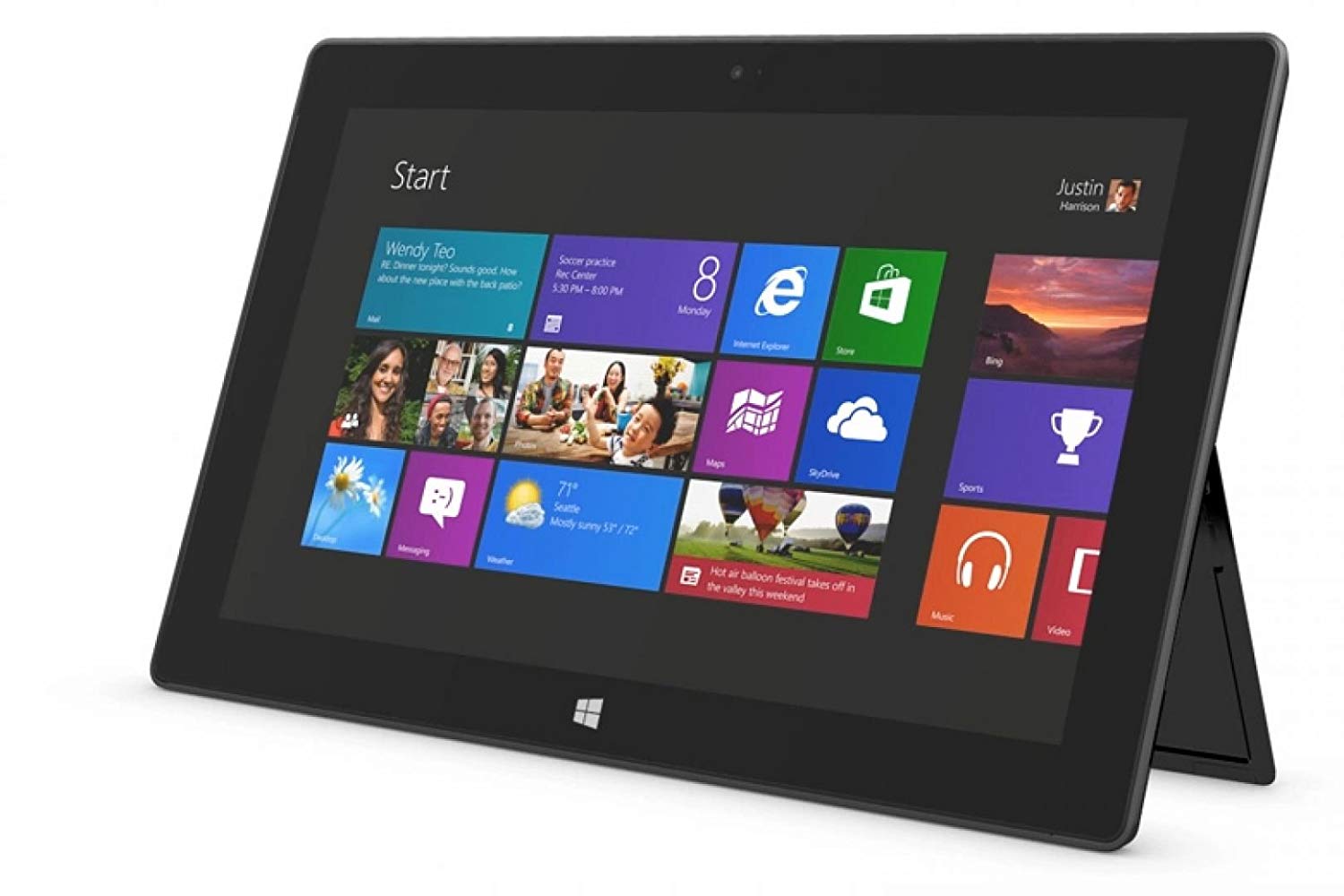 The device highlights the notable attachable keyboard (later on a backlight system was included), a folding kickstand and built with magnesium alloy body using quad-core Nvidia Tegra 3 of the ARM Architecture. Afterward, included in the bundle is a digitizer Surface Pen.
The first generation Surface runs Windows RT, a mobile operating system edition of Windows 8 specifically built for ARM Architecture. Its screen only measured 10.6-inch Clear Type Full HD display with 16:9 aspect ratio, about 1366 x 768 the most common used resolution display during that time.
2013 February – Surface Pro became available. The device ran a 64-bit Windows Pro bearing the same screen size with the first generation Surface.
Surface Pro first generation
2013 October – Surface 2 and Surface Pro 2 were launched which features hardware and software updates from the original.
Surface Pro 2 second generation
2015 May – Announced the release of Surface 3 increasing the size from 10.6 inches to 10.8 inches and runs Windows 10. Unlike its predecessor, Surface 3 utilizes x86 Intel Atom system-on-chip (Soc) processor rather than with ARM-based architecture.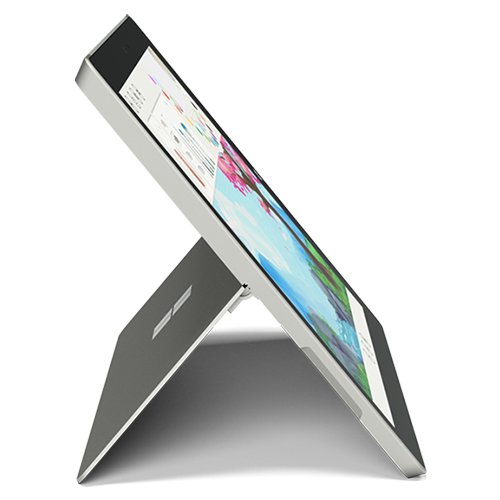 Surface 3 third generation
2015 June – The first model of Surface Pro 3 was released. Now featuring its larger 12 inches screen, thinner and lighter than any Surface lineage before built with 4th generation Intel Core processor, an improved version of the Surface Pen now features N-trig DuoSence technology with 256 levels of pressure sensitivity and has a better display of 1920 x 1280 resolution.
Surface Pro 3 with a larger screen
Released on October 6, 2015, more than one year from now, Microsoft Surface Pro 4 was eventually tested by time and fought hard to defeat its obstacles. Surface Pro 4 is now ripe, fully grown and fascinating ever than before.
And now, introducing the revolutionary Surface Pro 4.
Surface Pro 4 Intel Core M model.  Type Cover keyboard is not included and can be sold separately.
Surface Pro 4 Intel Core i5 model bundled with black Surface Type Cover. 
Update Features
Screen – With the increased of its screen size from 12-inch to 12.3-inch, it has now a wider viewing angle due to its reduce bezels.
The depth of chassis is slightly thinner from 9.1 millimeters to 8.45 millimeters while its weight decreases from 800 grams to 766 grams (core m3 which is the lightest model). Core i5 and Core i7 models both weighed 786 grams.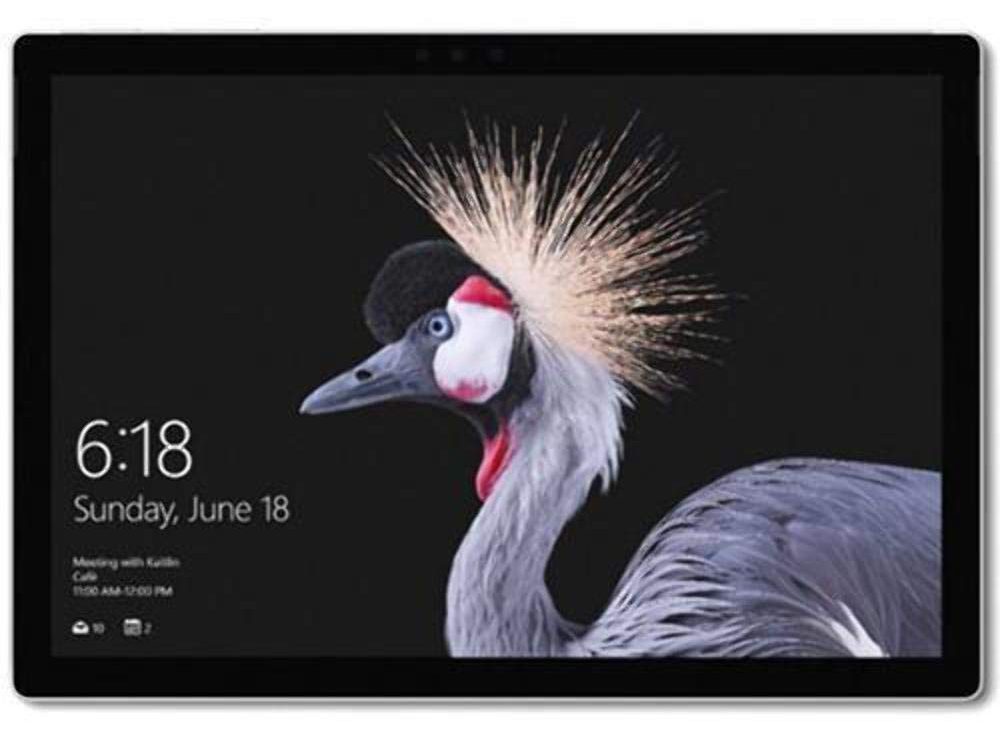 Remarkably is the upgrade of its resolution from 2,160 x 1,440 to 2,736 x 1,824 having 267 ppi (pixel-per-inch) density. It is by far the highest ppi density in tablet category that is available in the market during its time winning over the iPad Pro 12.9 inch at 264 ppi.
Type Cover – The Type Cover is undeniably well-engineered and a cutting-edge feature that Microsoft leaps ahead of the competition leaving its competitors in the dust. With gyroscope and accelerometer sensor, it senses when the cover has been flipped around and will disable the keys or will turn the device into sleep when covered.
Type Cover is indispensable as part of the design of the Surface tablet to fully function as a laptop. For this reason, most criticize Microsoft for not including the Type Cover in the bundle because it can be sold separately up to now.
Anyway, business is not meant for free? Unless the company has the reason to offer the Type Cover as a freebie for complimentary without minding its million dollar loss, then the world will cheer for its generosity! 
Nonetheless, the thought behind the Type Cover deserves for a price with more reasons that it is now upgraded and improved.
The previous model of Surface Pro 3 Type Cover as shown above.  Its keys are obviously cramped and have a smaller trackpad.
New Type Cover of Surface Pro 4 still features back-lit keys now with more space between keys and an enlarged glass trackpad.
The keyboard keys were slightly spread out and more spacious. The trackpad improvement is also impressive. It is now made of glass and 40% wider than Surface Pro 3.
The Type Cover also comes with an optional fingerprint scanner.
At last, we can now experience the true typing as if we were on a standard keyboard without the feeling of being cramped. I also love the keys which still have its backlit luminance ideal for night mode and dark surroundings.  
We really need to count a year before we can see another titan that can batter down the concept of the Surface Type Cover. 
Pen – Since the release of second generation Surface, Microsoft from then on included the Stylus Pen in the bundle. We're still glad to be comforted by the price of Surface Pro 4 for offering the pen inclusive in the package.  Now, that is a real generosity!
Improving the touch pen with 1024 levels of pressure sensitivity is getting more strength to art-minded and notes oriented people. 
I found the touch pen serviceable when I use it taking notes during meetings and seminars.  More than that, you can use the pen for expanded creativity with Microsoft Surface Dial (sold separately). It is just a part of the sweet flavors of the Windows user experience that makes it more tempting and delightful.  

The Microsoft Surface Dial along with the Surface Pen 
HINT. You can also use the wireless Microsoft Arc Mouse to experience a desktop working environment with the Surface Pro 4.  The Microsoft Surface Dock otherwise provides an option if you need extra ports.
Microsoft Arc Mouse

Microsoft Surface Dock
Its Got a New Look 
The comfort of having a tablet without buying a separate laptop is the best thing to consider Surface Pro 4.
You have a tablet, a cover and a keyboard in one. That is the Surface Pro 4 in perspective.
It is the uniqueness of its look that distinguished the Surface from conventional laptops and other hybrid tablets.  I actually admire the idea of other 2-in-1 laptops that could be folded back and switch into a tablet but it is really disgusting and awkward to hold a tablet with the keyboard at the dorsal portion.  
LIKES: Unique design.  Light and portable.  Detachable keyboard.  Functional as a tablet and a laptop.  A bonus with Surface Pen. With micro-SD card slot for extra storage.
Personally, I favored a hybrid laptop which has a detachable keyboard because it provides more convenience if you want to enjoy the benefit of the tablet alone.  It is the best part of the Surface Pro 4 that it was projected foremostly as a tablet but then again, there is no such artistry before that a tablet can be functional as a laptop.  The notion of a laptop-to-tablet was ahead by time but a tablet-to-laptop is something different.  That is how Microsoft becomes a prolific game changer.  
Does It Work Well On The Lap?
As the word "surface" suggests, the Surface family is built to work best on flat surfaces but not dependable on the lap. There is no doubt that traditional laptops give extra comfort and fits better on the lap.  That is a fact and there is no question about that.  
However, we would like to know if Surface Pro 4 can really work well on the lap.
The TRUTH.  There is no tablet that perfectly works well on our lap. Surface Pro 4 can manage to carry and employ on the lap but not as convenient as the conventional laptop. I tried it myself.
The problem of most tablets is the stand at the back that can't hold up on our knees. Weak keyboard attachment and poor design make us uneasy to enjoy doing things on our lap particularly when you are frequently on travel.  
Microsoft knows that issue. Thanks to its wide, muscular and flexible alloy kickstand that can be adjusted at any angle you want. The thin, light, sturdy and rubberized fabric Type Cover is a compliment of the device to entirely suit on your lap. 
What To Buy?
It is a standard that if you want to get a fast processing, Core i5 is a better option. Core i7 is preferably for multimedia tasks, video editing, and high-end gaming.
I decided to buy a Core m3 for reason that among the three models, Core m3 is the lightest and the only fanless model which has a passive cooling system.
DISLIKES: Short battery life lasted only 4 hours in my actual use.  Screen flickers.
For me, Core m3 is enough doing a basic task, watching movies and internet browsing.
Apparently, don't expect to have a faster processor when you choose Core m3.
In my actual use of Core m3 model, it is the cooling system and being fanless of the device that gives ease and comfort in using Surface Pro 4 without getting hot throughout the day.
We are certain that the Skylake Sixth Generation Core i5 is the bearer of the flag for mainstream users and Core i7 is much superior to Core m3 when it comes to processing applications and multitasking.
One thing you should consider when you buy Core i5 or Core i7 models is the noise of the fan. The faster processor runs in speed inside when the device is in heavier usage but demands the cooling fan to work aggressively.
Still, if it is under your tolerance to hear sound while using the machine on a heavier load, it is your decision to make. Other users suggested that closing unnecessary applications minimizes the noise.
Microsoft Office Issue
Most customers review who bought Surface Pro 4 that cause disappointment is its Office 365 which includes the basic programs such as Word, Excel, PowerPoint, Outlook, and more. It is annoying that after you spent hundreds of dollars on the device, you will find out that Office 365 is good for an only 30-day trial period and in order for you to use continuously the program, you are required to renew your subscription for $6.99 per month or $69.99 for a year. HuH!
SOLUTION. There are alternative programs that you can use to replace Office 365 for free. LibreOffice and WPS Office are the best on the list. I've got the WPS Office packed with WPS Writer, WPS Spreadsheets, and WPS Presentation programs which are very much similar to Word, Excel, and PowerPoint.  
The Bottom Line
As you read in progress, you have now seen how the Surface emerges and develops.  Before, laptops and tablets have its own territories and boundaries that cannot be surpassed and perfectly unite together.  Today, Microsoft invaded that barrier and smartly build up a bridge between a tablet and a laptop.  
In reality, as we have seen the grown-up of Surface lines and the maturity of Surface Pro 4, it brings us to another level of computing device that a tablet can certainly compete and totally replace the function of a laptop.
Despite snags and hitches, Microsoft truly deserves for reward in such perception, belief, and brilliant understanding.
Tomorrow, with the growth and reliance of Microsoft Surface Pro 4, it is feasible to see that Surface Era is yet to come.
Yes, Surface Pro 4 is absolutely a revolutionary tablet-laptop hybrid that could stand up against the odds.