DISCLOSURE: Most of our content uses affiliate links. As an Amazon Associate, we may earn a commission when you buy through the links. Each of your purchases via our affiliation links helps us to support the cost and maintenance of this site.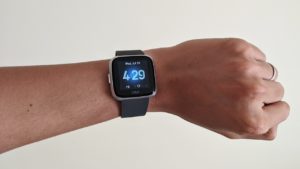 Fitbit's Versa line of smartwatches has proven to be one of the more popular smart wearable devices on the market nowadays. With the Versa, Versa 2 and Versa Special Edition models, Fitbit has proven again their worth in the wearable tech market, along with devices such as the Fitbit Inspire, Charge and Ionic.
Which is why the Versa Lite is such a logical device – take one of your most popular devices, and offer a slightly less-powerful version of it, but with enough appeal and an affordable price to attract budget-wary shoppers. Is it worth it though? Let's take a look.
Build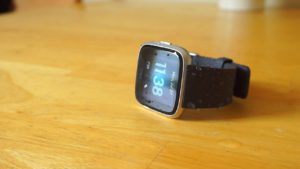 Let's take a look at the design and build of the Versa Lite. It has a pretty minimalist design compared to most smartwatches out there such as the ones from Samsung and Garmin for example, and you just get this simple rounded square shape which looks a bit like the Apple watch.
You do get the screen upfront which is coated with a layer of Gorilla Glass, and it's a pretty bright display actually. There's three levels of brightness and even an auto-brightness mode, and I've never really had any trouble viewing the display outdoors.
Now the screen is surrounded by an aluminum chassis which makes up the main body of the Versa Lite. It feels pretty sturdy in the hand and I think that it should be safe from light knocks and bumps, although I wouldn't go dropping it on purpose yet. The straps are made from silicone although they do seem durable and I feel that they will last me in the long run. Of course this entire build is waterproof and you should be able to take the watch along when swimming.
Fitbit does provide a secondary strap in the box which is longer so if you're a lot more comfortable with a longer strap then this will definitely come in handy.
Fitbit App
Of course, you do need to install the Fitbit app on your smartphone first to set up the watch. In fact when I was recording video for this review I actually got a firmware update for the watch which added a couple of useful features. You do need to connect your phone and watch by turning on the Bluetooth and gps connectivity.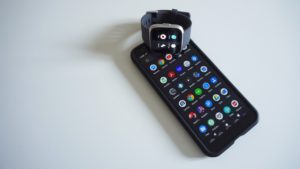 Let's take a quick look at the app first. The Fitbit app supports a wide range of Fitbit devices, and of course it shows you how to use the Versa Lite. There's a built-in manual within the app that walks you through the different hardware and software features that come with the watch as well as the app itself.
You can also install apps on the Versa Lite and you'll see different categorizations of apps through the main Fitbit app. You can install them by downloading them through your smartphone and then by syncing it with the watch.
Aside from apps, there's also a wide selection of clock designs that you can download from the Fitbit app. A lot of the designs are free although there are some paid ones. Once downloaded you can sync your watch and app to install the clock designs on your Versa Lite. The Versa Lite can store up to five different designs and you can switch them from the watch menu.
Use & Operation
Now, using the Fitbit Versa Lite is straightforward and easy. All of the operation is done via the touch screen, and navigating the UI is pretty easy as you just swipe across the screen to get to the different menus, and press the side button to go back one page, or long press the button to access your assigned button shortcut. I do have to note that sometimes the UI can appear a bit slow and laggy and I would have preferred smoother animations when navigating the watch menu.
From the screen you can access your apps, alarms, as well as a list of workouts. Since I stick mostly to light workouts I use mine a lot more for step counts, heart rate monitoring and sleep tracking.
So aside from tracking your heart rate, the Fitbit Versa Lite also features a pedometer and sleep tracking functionality. Now in general the pedometer is pretty accurate, I've used it for walking around and jogging and while it does work well for the most part, sometimes it can track steps which I haven't really taken such as when I'm just sitting around typing on my computer and whatnot. It does come with some reminders to walk every now and then, and it gives you a cool animation when you reach a goal, such as staying active for a certain amount of time.
As for sleep tracking the Versa Lite does come with some impressive sleep data analysis which you can view in your app. It gives you information such as sleep cycles, the total amount of time you were sleeping, REM and light sleep, which I find pretty helpful.
Unfortunately though the Versa Lite doesn't come with WiFi connectivity or onboard music storage, but it can still let you view notifications and control music playback, as long as you keep it connected to your phone via Bluetooth.
As for battery life, the Versa Lite was able to last me on average about 5 days, which is pretty impressive. Additionally, it takes about an hour and a half to fully charge the watch.
Conclusion
So is the Fitbit Versa Lite worth getting? Well, if you're after a well-designed affordable smartwatch from a well-established brand, then you can't go wrong with this one. Of course, there are some limitations, and you can always save up a bit more to get the Fitbit Versa 2 if you want more functionality. But for people sticking to a budget and who are after the basics, then the Versa Lite is worth considering.