DISCLOSURE: Most of our content uses affiliate links. As an Amazon Associate, we may earn a commission when you buy through the links. Each of your purchases via our affiliation links helps us to support the cost and maintenance of this site.

Bluetooth speakers have really carved out space in the consumer electronics market. Brands like Bose, JBL, and even industry giants like Sony and Marshall have each launched their own product lines. But you gotta admit though, a lot of these are pretty darn expensive. And some aren't even pocket-friendly.
Well, if you're after portability and affordability, look no further than the JBL Go – a couple of years in, and the Go remains a great portable speaker. JBL is no stranger when it comes to audio equipment, and the company is well known for creating quality products, and the JBL Go, in particular, is no exception. But should you get one? Read on and find out. 
Before we get started though, JBL has already developed two sequels, namely the JBL Go 2 and JBL Go Plus. But for this review, we'll be focusing on the first generation JBL Go.
Build Quality
The JBL Go has great build quality. It's tiny, it's sturdy, and it's tight. The speaker's design features a rubberized matte finish which comes in different colors, with ours being black. It's also pretty compact, as it's smaller than a coffee mug. The speaker has a pretty minimalist design, resembling a little black box.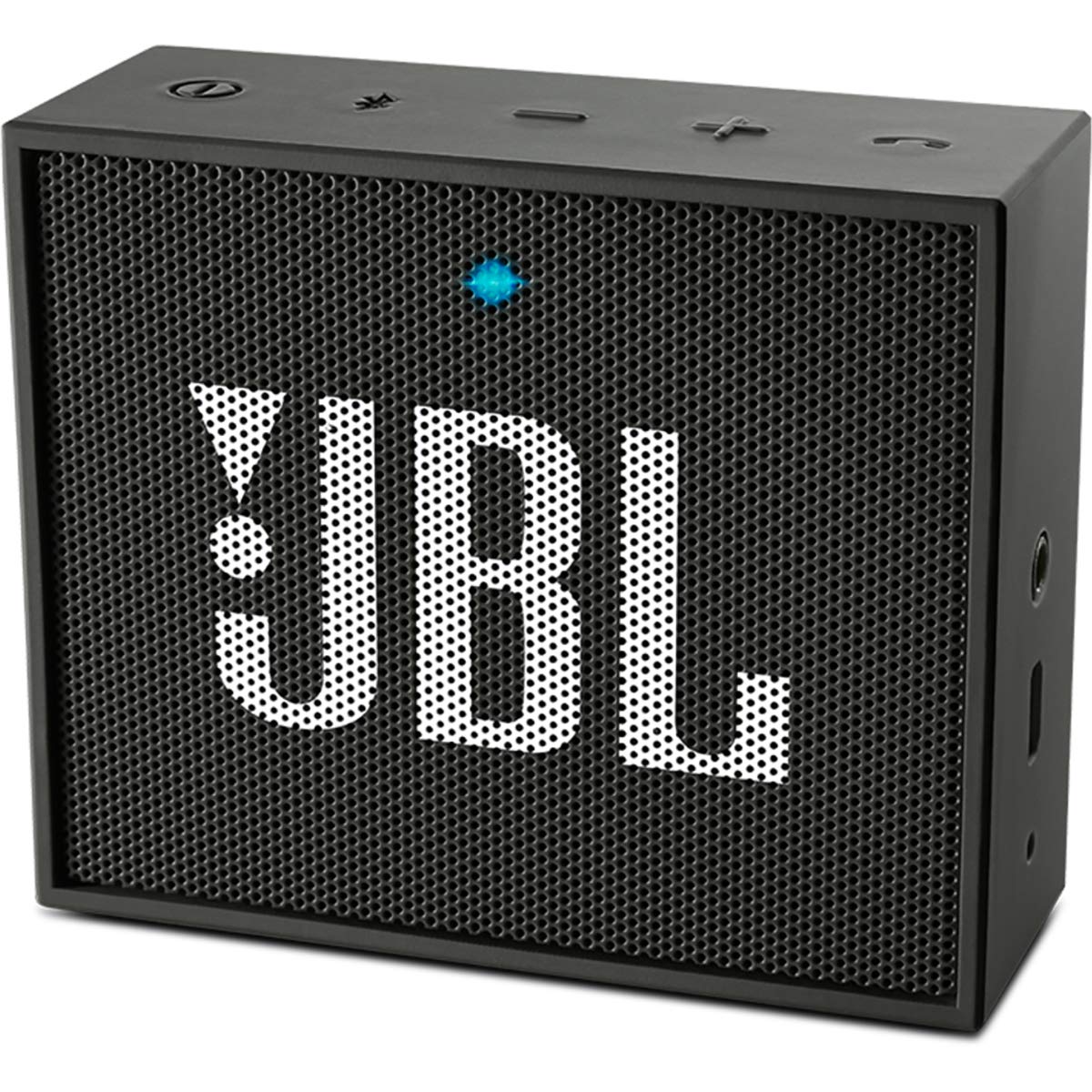 The top features the power button, Bluetooth switch, volume buttons as well as a dedicated phone button. The other sides are bare, save for a lanyard slot, aux input port, and micro USB charging port. On the front is the speaker grille, adorned with the JBL logo.

The speaker also features a LED light in front, which lights up during use and when hooked up to a charger. It also turns red when your battery level is low, which is quite handy.
Usage and Performance
Using the JBL Go is pretty simple. Just turn on the Bluetooth switches on both the speaker and your device, and you're good to go. It's compatible with a lot of devices, although I've noticed that it has difficulty connecting to my Windows 10 laptop – it does end up pairing though after a few tries. 
Connection issues aside, the JBL Go can produce great sound quality for something so small. Playing tunes through the speaker sounds good and doesn't give off the impression that you're playing your music through a tin can, unlike with some lesser branded speakers. Personally, I think it really outshines the tiny speakers on my laptop and phone.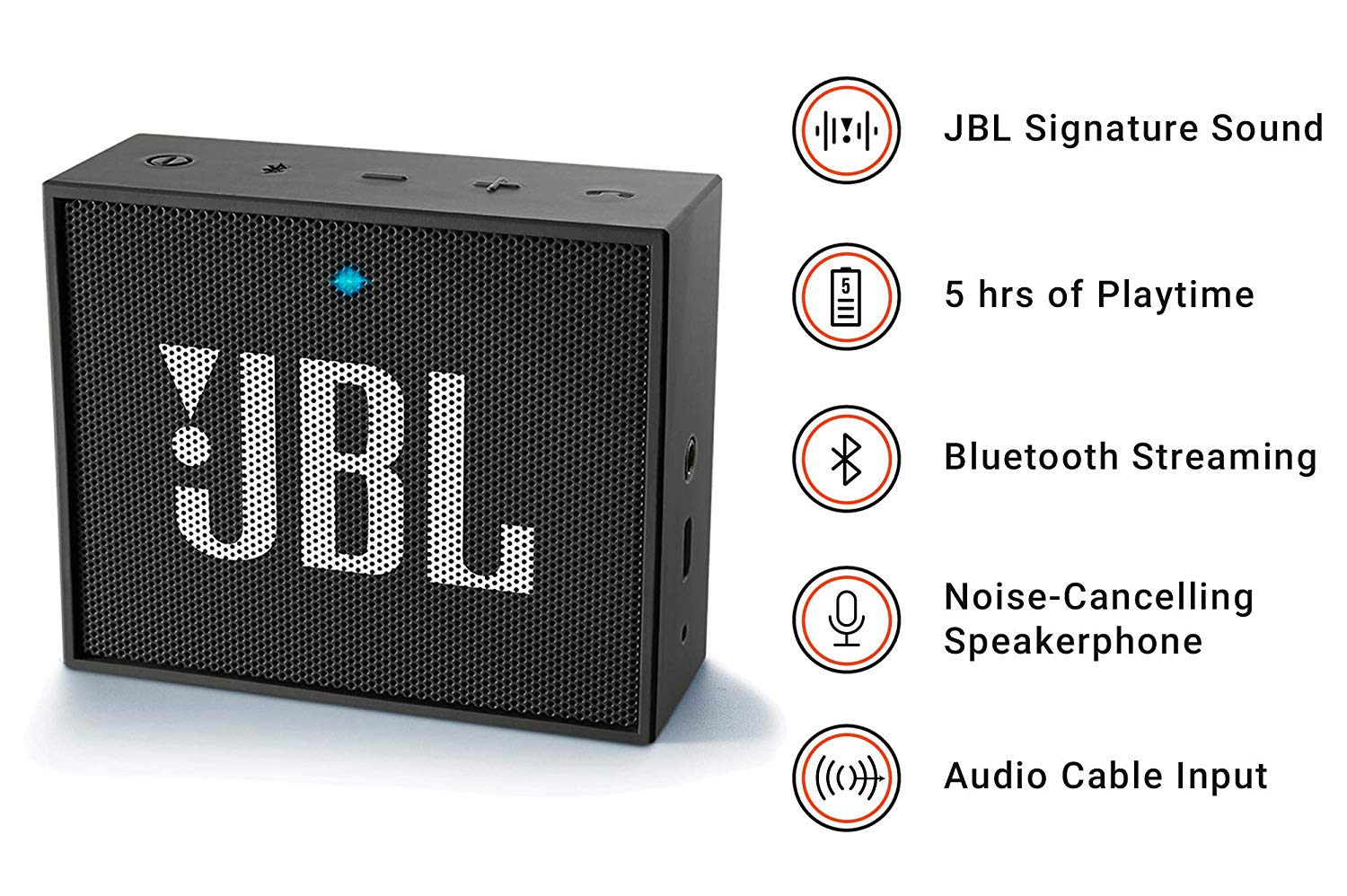 Movies and other media are more enjoyable if you're the type of person who values audio quality. Of course it won't give you "perfect" sound quality, but it does bring out some of the deeper sounds in music and movies, which normally wouldn't be fully heard on most devices.
Battery 
As for the battery, inside the speaker is a 600 mAh battery, which can last between 6-9 hours of playback time, depending on your usage. As for charging, the JBL Go takes around a couple of hours to fully charge via the micro-USB port on the side.
The Bottom Line
In closing, it's great to see products like the JBL Go that offer great quality and performance at an affordable price. For just around twenty bucks, you get good audio playback, and slick design as well.
Will you be getting one? Let us know in the comments below!