DISCLOSURE: Most of our content uses affiliate links. As an Amazon Associate, we may earn a commission when you buy through the links. Each of your purchases via our affiliation links helps us to support the cost and maintenance of this site.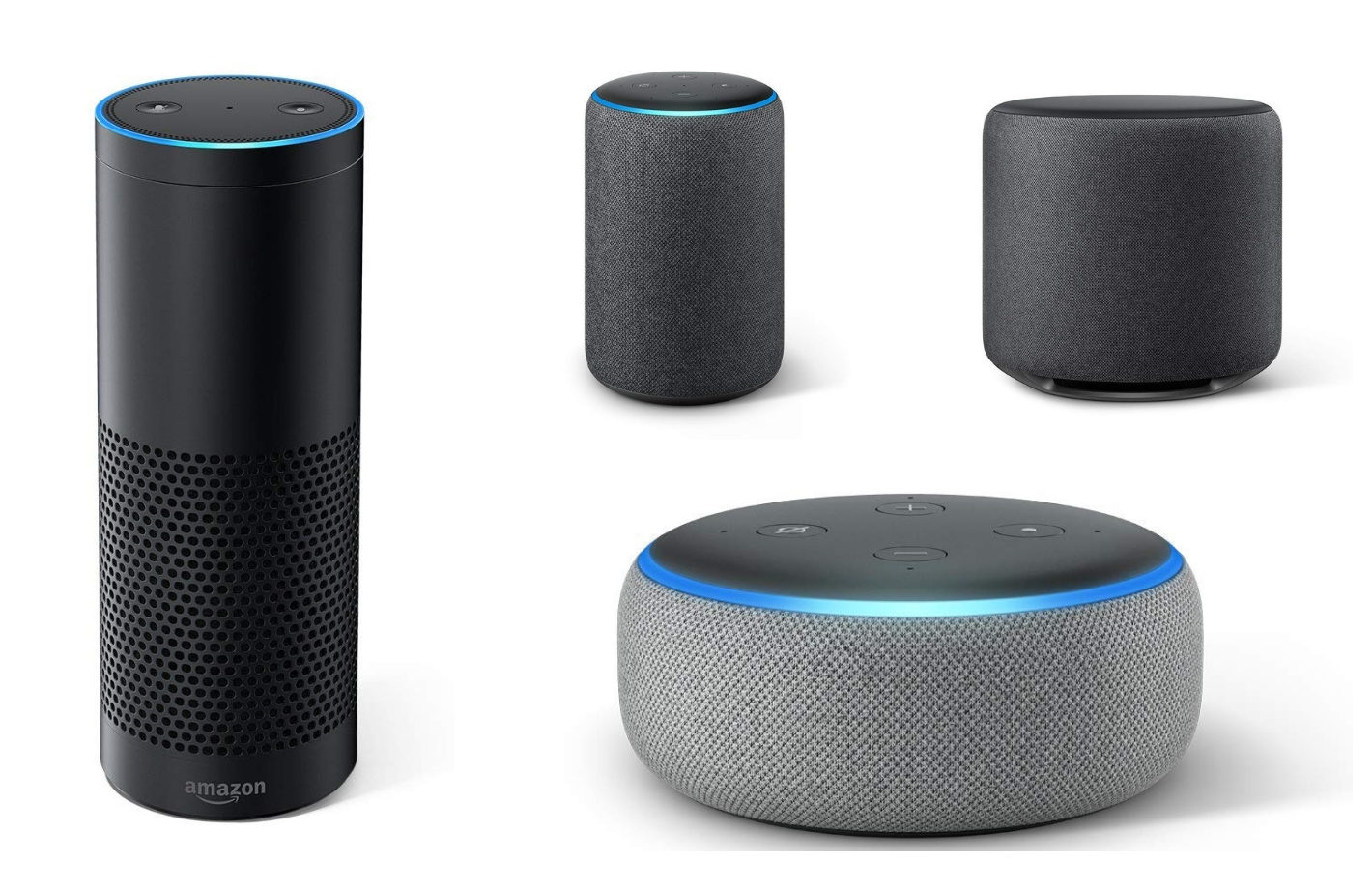 There is no doubt that Black Friday is the best time to shop for tech gadgets and electronic stuff. 
Every year, Amazon offers big discounts to its lineup products of Echo devices and so it does in 2020.
Amazon's Echo devices have been in the market for years and continue to pave its way to stay on top of the competition in the world of virtual assistants or voice-command automation.
If you are not yet familiar with this trend of technology, I can help you to lay the facts you need to know before you decide to buy and take advantage of its reduced prices.  
Amazon's Echo brands are composed of the original Amazon ECHO (called Echo), Echo DOT (called Dot) which is now in its third generation, Echo PLUS, Echo SHOW, and the Echo SUB (subwoofer). 
Technically, most of its stuff is structured and powered with voice-controlled Alexa, your smart and intelligent personal assistant.  
ECHO – The Original
It is noteworthy to mention that before the DOT, its big brother, the Amazon ECHO was the first smart speaker developed by the company. Amazon made this widely available and has established its branding since its release in June 2015.
Interestingly, the ECHO is a game-changing product that surprised everyone with its capability to do things such as play music, making to-do lists, setting alarms, streaming podcasts, playing audiobooks, and providing weather, traffic, news, and other real-time information – all through voice commands.  All of this is possible through Echo's built-in text-to-speech (TTS) technology via natural language processing (NLP) which processes and analyzes natural language data.  
With a size of 9.5 inches, the device is powered by 2.5-inch woofer and 2.0-inch tweeter. The Echo promises deep bass and crisp high notes alongside its reflex port that enhances the woofer's output without suffering from distortion.  Still, don't expect perfect audio quality from this device.  High-end audio products aren't exactly Amazon's strong suit.
With that being said, it is not the speaker neither it's the sound quality that is remarkable and unique but it is more about Alexa – the intelligence behind Echo – that may impress you.
Most owners who bought this original Echo can appreciate the value of the device which started the new age of automation.  Sad to say, this item is no longer available at Amazon store.
Echo SUB

On October 11, 2018, the Echo SUB, a powerful SUBWOOFER that can be paired with the Echo and the Echo PLUS, was introduced in the market.  
Amazon addresses the sentiments of many customers who bought Echo due to its low-grade sound quality during music playback. 
The Echo SUB is powered with a 100W deep bass amplifier and 6″ woofer bearing low-frequency response of 30Hz (-6dB) and a crossover frequency of 50 Hz – 200 Hz adaptive low-pass filter.
I think this would be the whole package from Amazon.  At least, you can now enjoy music with the punch of impressive bass quality in the threshold.   
ECHO – Third Generation 
This is the upgrade of the original Echo.  It almost resembles the entire look of the original. It can do all the tasks and abilities that the original Echo does – what is clearly distinctive in this model is its size and looks. 
It is visible that its size shows a dramatic drop with a little difference in diameter from the second generation.      
Unlike the original, it has a nice visual appeal due to its smooth and curved edges.   
The introduction of the new colors  are nice and appealing.  At least, you can now pick the color you really want. 

ECHO PLUS – The Smart Home Hub 
There's not much new about the Echo PLUS.  The "plus" that you will get is the built-in smart home hub with ZigBee along side that connects with smart home devices such as light bulbs, outlets and switches, door locks and sensors and many more without the need of additional home hubs like Z-Wave and Wink. 
Anyway, that is all about the Internet of Things (IoT) that everybody is messing around with these days.
It is also apparent that Echo Plus was able to set right the sound quality by featuring the Dolby Sound improving vocal clarity and extended bass with 360° audio experience.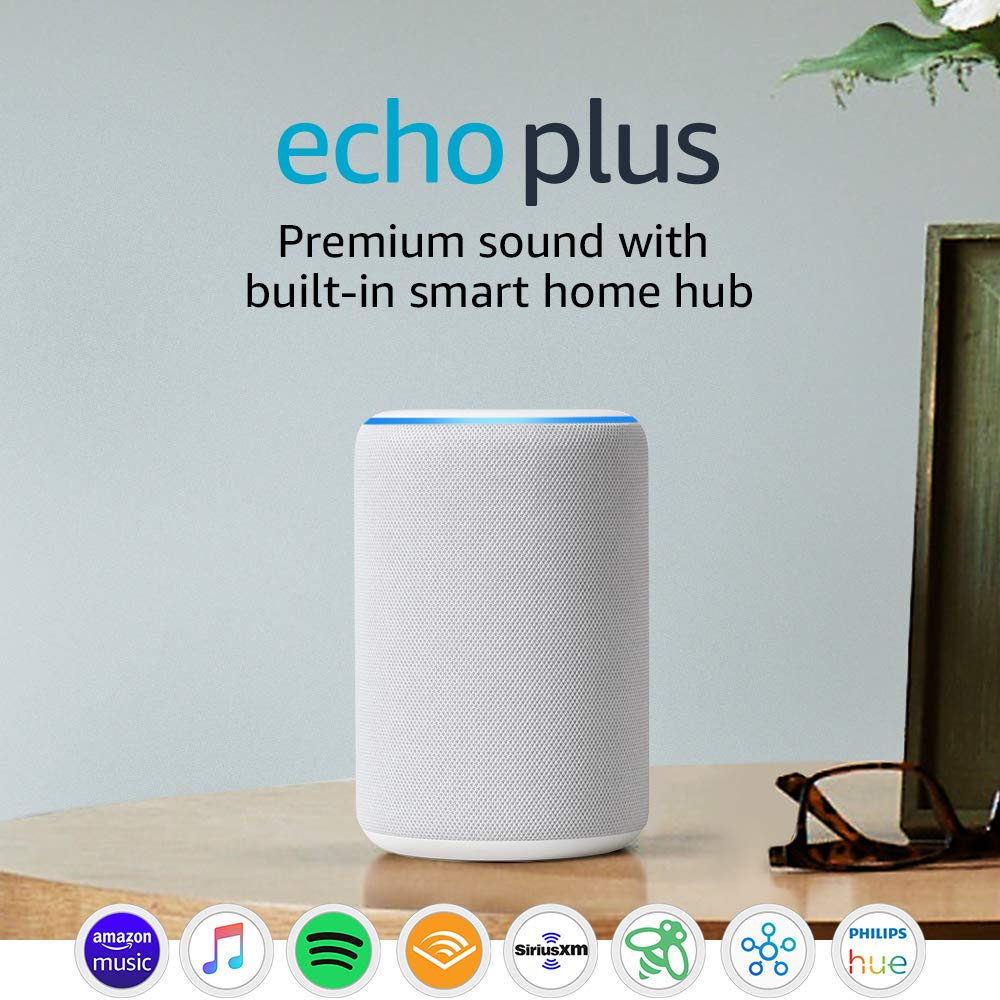 This rendition produces a better sound experience compared to the original Echo and is thus suitable for average listening.  
Amazon further addressed its Bluetooth connectivity issues by integrating the Advanced Audio Distribution Profile (A2DP) which supports audio streaming from your mobile device to Echo or from Echo to your Bluetooth Speaker.

ECHO DOT – Third Generation
The original Echo DOT is the small but terrible icon the family.
The  DOT outperforms its other competitors due to its far-field voice recognition with an array of seven microphones. These utilize beamforming or spatial filtering technology,  a signal processing technique used in sensor arrays for directional signal transmission which enables the device to hear you from any direction even in noisy environments.  

This simply means that you don't need to be near the device all the time.  I like its noise cancellation enhancement which makes it easier to talk even better with the Dot at any instance. 
Simply put, the DOT is the small package of the big ECHOs, possessing the same skills as its other siblings, except that ECHOs offers better sound than the DOT.
If you prefer to have better sound, you can pair the DOT with any Bluetooth speaker in your house.  If you don't have one yet, you can choose from our select lineup.
With the lesser price, the DOT is a sure bargain by Amazon for everyone who wants to enjoy and live with the conveniences offered by Alexa.
Introducing ALEXA
Nope, this isn't "Alexa PenaVega" from 2016's "Ms. Matched" film. If you have a neighbor named Alexa, this is not her either.
Alexa instead is the virtual voice assistant inside the ECHO.
"Alexa was inspired by the computer voice and conversational system on board the EnterpriseStarship in science-fiction TV series and movies, beginning with Star Trek: The Original Series and Star Trek: The Next Generation.  The name Alexa was chosen due to the fact that it has a hard consonant with the X and therefore could be recognized with higher precision. The name is also claimed to be reminiscent of the Library of Alexandria" – WIKIPEDIA
In the same context with Apple's Siri, Google Assistant, and Microsoft Cortana, Amazon's Lab126 in California finally developed and formulated "Alexa" with the capacity to translate your voice into commands and perform tasks for you.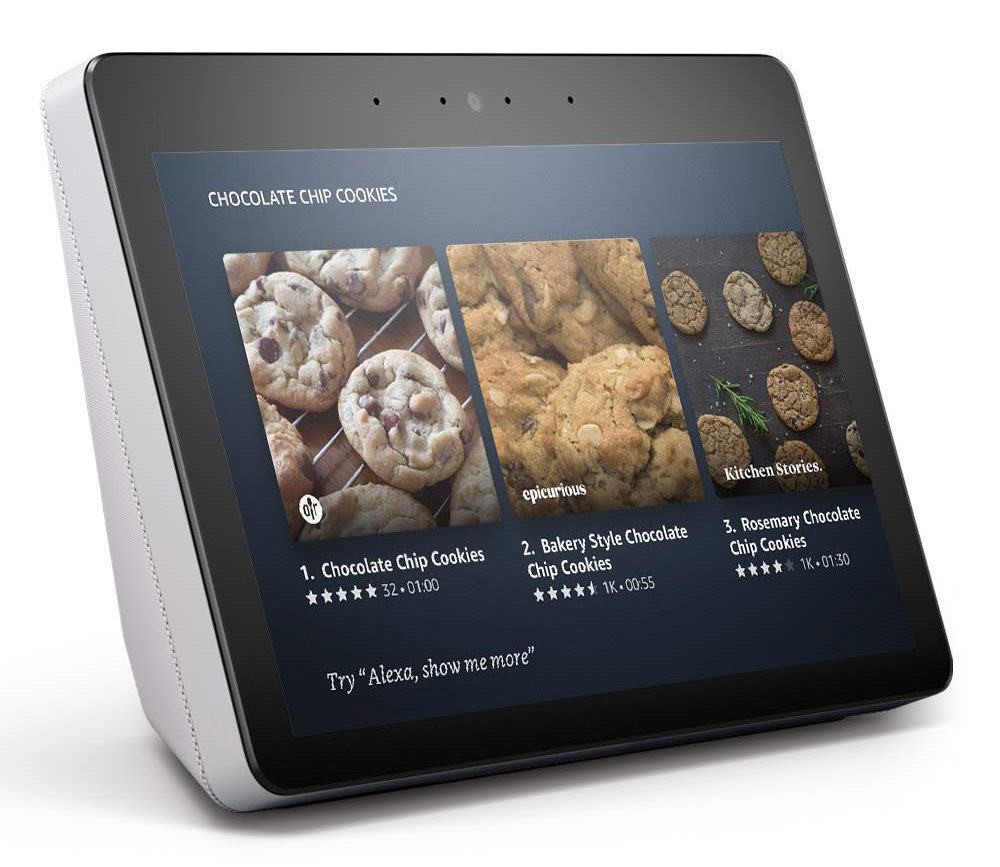 The Amazon Echo SHOW 2nd Generation 

These tasks include weather information, news, stream music from Amazon Music, Pandora, Spotify and other streaming services like Apple Music and Google Play Music (all required accounts).
Alexa can also manage voice-controlled alarms, timers, and even do shopping through Amazon store (eligible for Amazon Prime members).
Alexa also features home automation and is able to interact smart home devices such as Belkin Wemo, Insteon, LightwaveRF, Nest Thermostats, Philips Hue, SmartThings, and Wink just to mention only a few. The list of Amazon's partner manufacturers is still growing.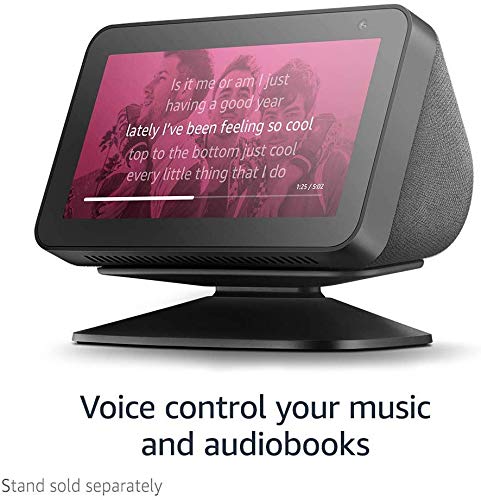 The Amazon Echo SHOW 5 (5.5 inches) model 

It all works through wi-fi connection within the range of your home since Alexa works with cloud-based internet data. So, please don't expect Alexa to respond if you have no internet connection.
With its rapid gain of smart functions since its release in the first quarter of 2016 up to the second quarter of 2017, Alexa's ability accumulated from 135 to 15,000 functions (now called "skills") which are all available for download through its Alexa App in Amazon Appstore, Apple iTunes App Store and Google Play Store.
TIP: If you have difficulty in searching for Alexa App because you might be confused by third-party developers of Alexa App, just Google and type the keywords "Amazon Alexa App" and direct links will be shown to download Alexa App.
It's overwhelming to mention all of those skills one by one.  We can't imagine how  Alexa will improve much more in the next few years to come.
To date, interaction and communication with Alexa are only available in English (US and UK) and German.  Other languages might also be possible in the future.
Basic Commands
Rule No. 1 – Don't forget the wake word "Alexa" because Alexa won't work at all or response on your queries unless you wake her up.   Alexa switches to idle so please wake her up every time you need her service. 
You can change the wake word "Alexa" to "Echo", "Amazon" or "Computer" through Alexa App.
One gripe would have to be is the inability to rename her with your favorite pet or any other preferred words.
Here are some commands you might want to give a try: 
ALARM. Alexa can be set as an alarm.  Simply say:  "Alexa, wake me up at 6 in the morning."  You can also command her to cancel the alarm you set if you don't want your sleep to be disrupted:  "Alexa, cancel my alarm for 6 in the morning."
WEATHER.  Alexa has the ability to forecast the weather at any time of the day or a week:  "Alexa, what is the weather today," or "Alexa, what is the weather going to be this weekend."    
PLAY MUSIC.  You can also ask Alexa to play music:  "Alexa, play some music."  Or be specific as to what music you want:  "Alexa, play music by [artist]."  To adjust the volume, just simply say:  "Alexa, louder," or "Alexa, set the volume down."  You can also able to replay the music and request: "Alexa, restart" or "Alexa, replay".  
CALLS.  If there is someone calling on your phone, you can stay where you are and let Alexa answer.  Just say: "Alexa, answer" or "Alexa, hang up."  Alexa can even read your messages by saying:  "Alexa, play messages."  
PAIRING DEVICES.  Alexa knows the devices around and can do the pairing.  You can say:  "Alexa, pair", "Alexa, Bluetooth", or "Alexa, disconnect from my phone."   
As you see, there are many sweet surprises in the chocolate box that Alexa and you will get. 
Don't be afraid to ask Alexa whatever you want.  If Alexa did not respond, try other words and rephrase your question or request.  
There are no perimeters, just be kind and gentle.
It's a hit and miss. 
After all, you will not be reprimanded if you say something wrong.  Communicate with Alexa through questions and she even may respond with humor.
You may need some time to train Alexa with her skills and adapt to your voice.  The more you use and interact with Alexa, the more you will know about its intelligence and limitations.
Practical Uses
We have seen the ability of Alexa to make our lives and daily tasks a little bit easier.
It's practical because voice command is hands-free and you don't need to type a word on your keyboard or mobile phone every time you want to make a request or query.
Alexa can also be of great use and help to Persons With Disabilities (PWDs).
One review from Amazon tells us how Alexa brings comfort to a disabled patient.
"My brother Robert who has been bedridden and paralyzed with Multiple Sclerosis from his neck down for more than 30 years now has a new friend named Alexa!  He was in tears with happiness when Alexa played 70's music, played Jeopardy, answered all his questions and wakes him up every morning.  Thank you, Amazon for giving my brother a new bedside companion.  Happy Holidays." –  Roy.
It is just one of the many story that virtual assistants can do an impact to our personal lives.  
The Bottom Line 
Apparently, devices and smart assistants like the Echo and Alexa can make a difference to our daily living.  
With the ever-increasing talents of Alexa, Amazon has a reason to keep the company as a dominant player in the world of AI digital assistants.
How about you?  What's your story? 
ECHO and Alexa are just the beginning of the aumation era, and it would be a missed opportunity for you if you will not experience such a bright pace in technology.