DISCLOSURE: Most of our content uses affiliate links. As an Amazon Associate, we may earn a commission when you buy through the links. Each of your purchases via our affiliation links helps us to support the cost and maintenance of this site.
Today we have here the Mi Band 5 for a quick review. Now as far as fitness trackers go, the Mi Band 5 is pretty affordable and at the same time comes with some great features.
Is it worth getting though? Let's take a look.
Design and Build
Now the Mi Band 5 does feature a pretty standard fitness tracker design. It is pretty compact as with most fitness trackers, and this is to be expected. Up front there is a 1.1-inch AMOLED touchscreen, which sits above a capacitive touch button that wakes the screen and takes you back to the main menu. This is all surrounded by a rubberized strap which locks nicely around your wrist. Around the back is a heart rate sensor, together with a charging port which connects pretty easily to the included cable.
There's no charging brick of course so you'll have to charge this through your phone's power brick. All of this comes in a water resistant design and according to Xiaomi you should be able to take this swimming without worrying too much.
Set-up
Alright, so set-up is pretty simple with the Mi Band 5. You simply need to install the Mi Fit App on your phone and pair your device with the app. Just enable GPS and Bluetooth on your smart device so the tracker can pair easily with the app.
The Mi Fit app will be able to record data from the Mi Band 5, and you can also get firmware updates to your device via the app.
Usage & Features
As with most fitness trackers nowadays the Mi Band 5 offers a standard suite of features – of course there's the ability to view notifications, control music playback, in addition to its fitness tracking functions. Navigating the Mi Band through the touch screen is pretty straightforward, and features such as sleep tracking and heart rate monitoring are easily accessible.
There's also a pedometer which was fairly accurate for the most part, at least when I compared it to the steps logged onto my Fitbit Versa Lite. Sleep tracking on the Mi Band 5 includes data like REM sleep, sleep regularity, sleep quality analysis, and an overall sleep score.
As for exercise tracking, there are 11 different sports modes that can be accessed on the Mi Band 5. Metrics do vary from time to time, and you have to keep in mind that this is a sub 50-dollar device. Unfortunately, there's no GPS function on the band so you'll have to configure it with your smartphone.
Another feature of the Mi Band is the PAI score, which is focused on keeping you moving and getting your heart rate going. You can access the PAI scores for a more in-depth look at the Mi Fit app. Battery life is pretty impressive and Xiaomi states that t can last up to 14 days on a single charge. So far this has been accurate although factors such as screen brightness can drain your battery faster. Fortunately, it only takes around a couple of hours to charge.
Closing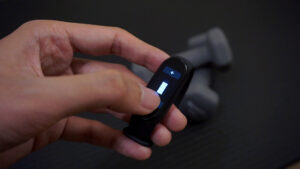 At a very low price, the Mi Band 5 offers a ton of features which are a great addition considering its low price point. It's built rather well and its streamlined compatibility with the Mi Fit app means that this device will hopefully get updates in the long run.
If you're after a budget fitness tracker from a reliable brand, then the Mi Band 5 is certainly worth checking out. Of course, there are alternatives such as the Fitbit inspire and Garmin Vivofit, but these are a bit more expensive compared to the Mi Band 5.