DISCLOSURE: Most of our content uses affiliate links. As an Amazon Associate, we may earn a commission when you buy through the links. Each of your purchases via our affiliation links helps us to support the cost and maintenance of this site.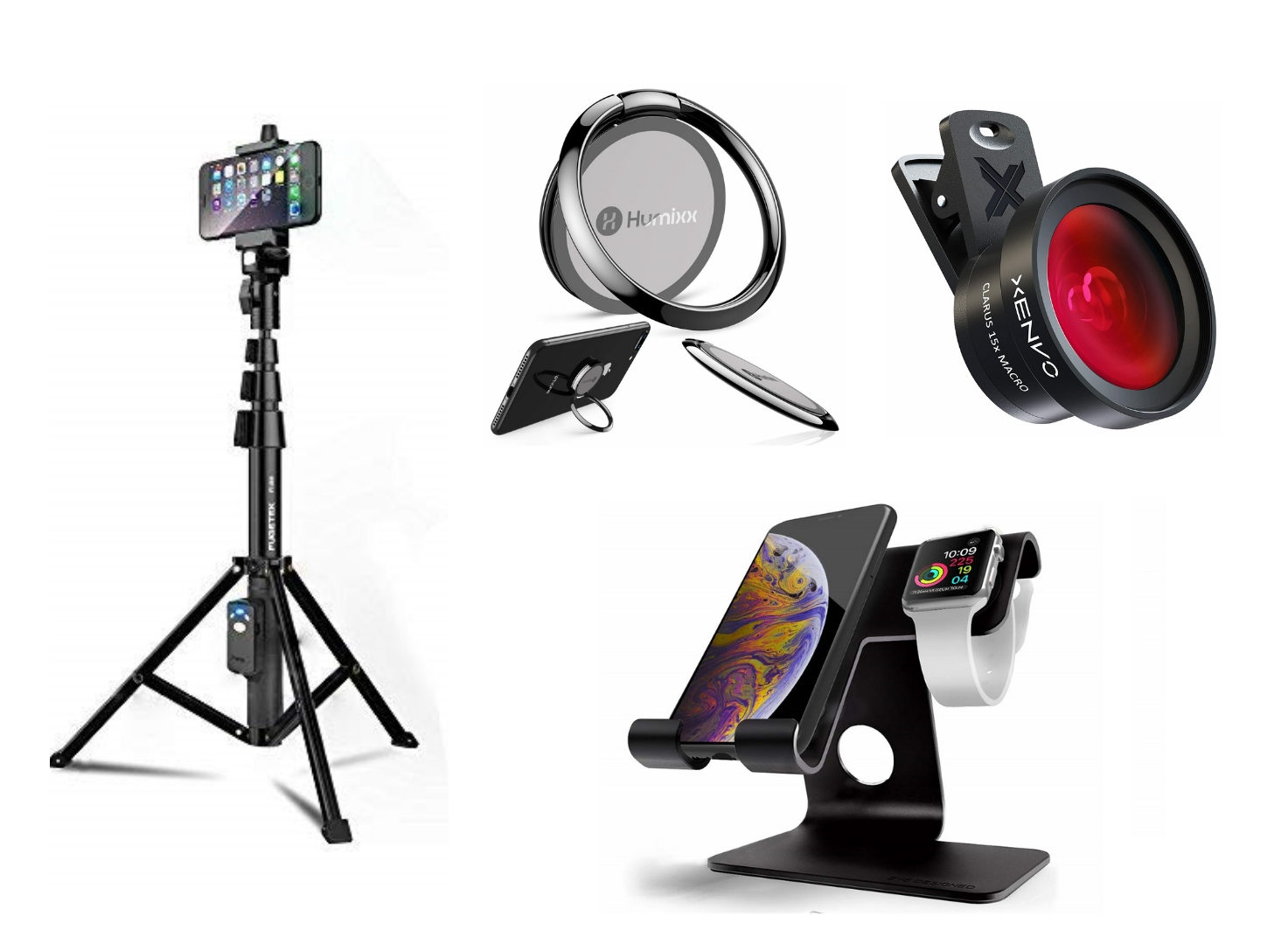 Reminiscing the year 1973 when an early handheld mobile phone resembling a walkie-talkie (weighing over 2 kilograms!) was demonstrated in public brings back interesting memories.  That big and heavy portable cellular phone was later known as "the brick".  
Yesterday feels somewhat like a joke if we think about how the world of technology has evolved 50 years to today. 
Mobile or cellular phones (usually abbreviated as "cell phones or cellphones") are now becoming more thinner, and lighter.  Even more, the introduction of bezel-less and curved screens is something that was previously unimaginable as realistic, or even feasible.  
The term "smartphone" was recently coined to distinguish a new breed of devices from a typical mobile phone due to more powerful processors, screen resolutions, storage, connectivity, and complex software applications.  
It's no surprise then that the market for accessories in mobile devices has essentially spilled over and are now flooding the consumer tech industry.  It would take a a lot of time for you to find any must-have accessories you may need.  
Through this post, I'll help you snag the cheapest and the best-quality budget accessories that won't hurt your savings.   
#1

Humixx Phone Ring Holder  
Ring holders are one of the most simplified accessories for your phone that make sense. 
Smartphones are always packed with premium build quality, featuring shiny and glossy finishes at the cost of drop-free handling.  Every time we pick up our phone,  we always keep it close with a good grip trying our best not to drop it.  
This ring holder from Humixx could help with that.
First of all, I am satisfied with the simplicity and sleekness of its design compared to the other brands.  I know this is not the slimmest design you can buy but this is one of the finest you can get for a reasonable price. 
Made up from high-quality zinc alloy and stainless steel, you can assure the sturdiness of this product that can last for a long time.  I like the 4-layer coating finish which prevents the color from fading away.  It also feels smooth and looks shiny, matching the premium texture of your phone.  
Of course, one of the best features that a ring holder can offer is its multifunction ability to serve as a kickstand.  I really commend the smart idea behind the notion of the ring holder.  I find it useful and practical.  
Due to its metallic build, you can easily mount this ring holder to your magnetic phone holder in your car.  
#2

Phone Camera Lens
Are you a smartphone photography enthusiast?  Do you ever need some sort of upgrade to snap a wide angle view with selfies or with your friends, or to capture a close-up macro shot on the great outdoors? 
This GLHMOGM Lens Kit can do all the tricks for you.  
Truth be told, this is not the cheapest model you can buy in the market, but this is the newest model in 2019 and a top tier in its class. 
Its lenses guarantee that you will be able to capture a super wide size of 0.4x – 120° angle and a 20X magnification in macro shots. 
The build quality of the lenses is also notable made with aircraft-grade aluminum and premium optical glass and aerospace metal.  
I also like the gripping power of its lens clip.  It is firm and holds steady. 
I respect the design of the macro lens.  It has an extended flower bud lens hood purposely built to reduce glare effects.  Only a few phone camera lenses out there have this kind of concept and you can take advantage of this particular tweak. 
This also has an extra mini GlowClip LED light included in the package, a lanyard, and a travel case as well.  
I am sure you'll love the warm and natural light coming from the GlowClip LED.  It is no doubt much better than the built-in flash of your smartphone.  
Now, you can shoot like a pro in disguise!
#3

Jackery Mini 3350mAh Portable Charger 
Everyone knows the importance of having extra power to beef up our phones. 
There are many instances that we forget to charge our mobile phone before we leave our homes.  It's almost a given scenario that we experience battery shortage at important occasions where we wish to call someone or when simply waiting for an important message.  But what else can you do if your phone dies?   
Obviously, it's now become a basic fact that most phones cannot live without the reinforcement of power banks.  As the technology in consumer electronics progresses, the demand for a power source likewise increases.  
We are fortunate that there are many alternatives to lend more juice to our phones. 
The Jackery Mini 3350mAh is by far the smallest portable charger you can buy in the market.  To figure out how small it is, think of a lipstick which is identical to its size.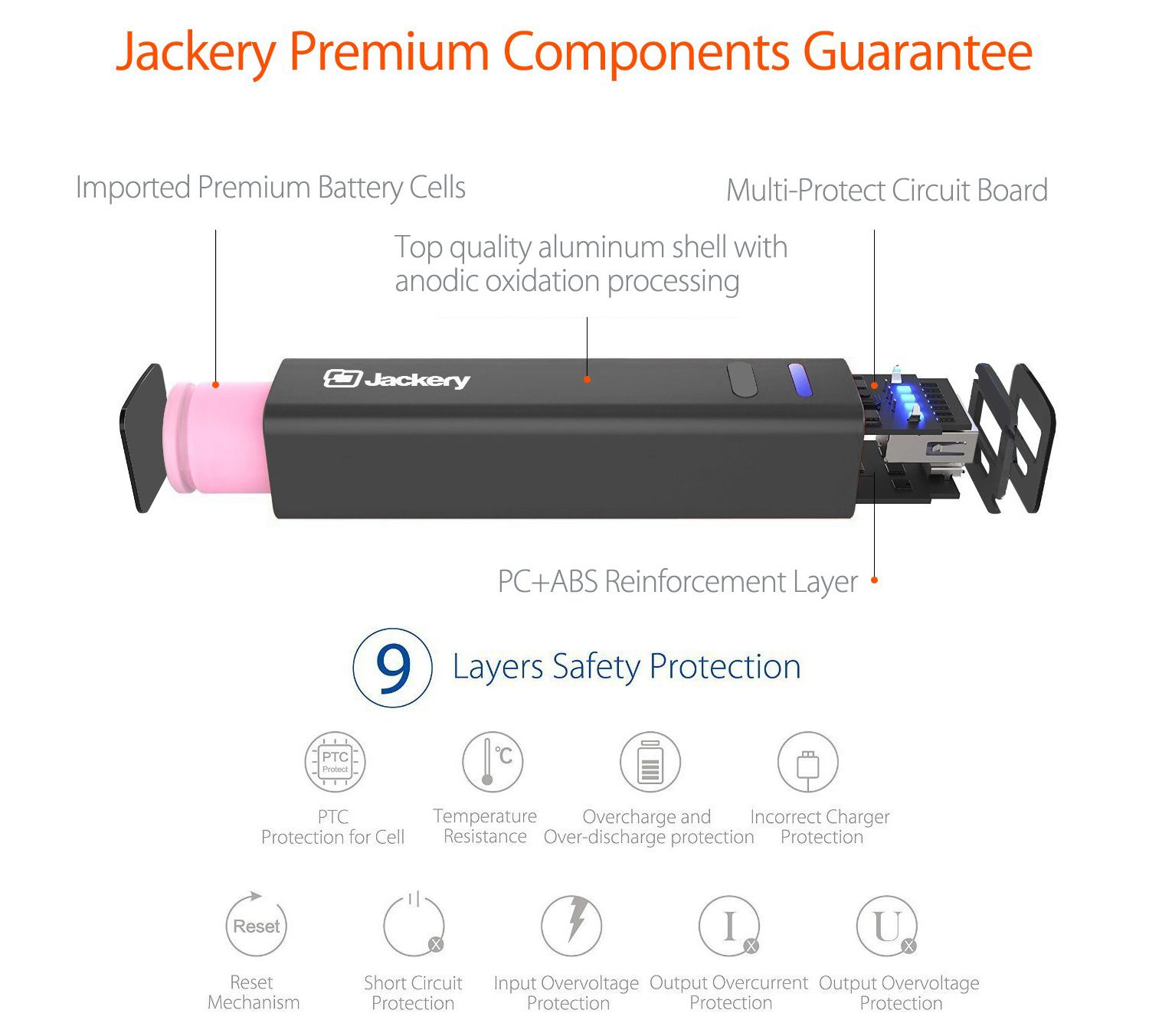 Do keep rational expectations though.  With its small size and 3350mAh capacity, it can fully charge your smartphone but probably not a tablet. 
If you want to use this in extreme cases, it can give you a sufficient boost to power your phone.    
If you are a frequent traveler or the nature of your work and lifestyle demands a constantly-charged phone, I would recommend its beefy sibling, the Jackery 6000mAh.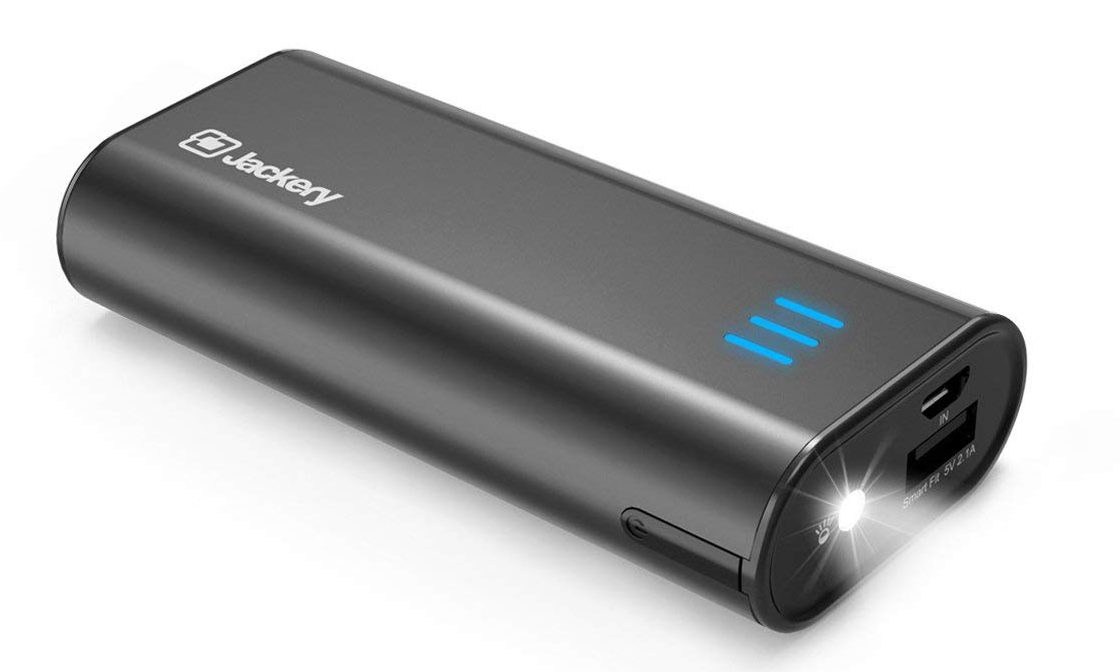 #4

Anker PowerCore 10000mAh Redux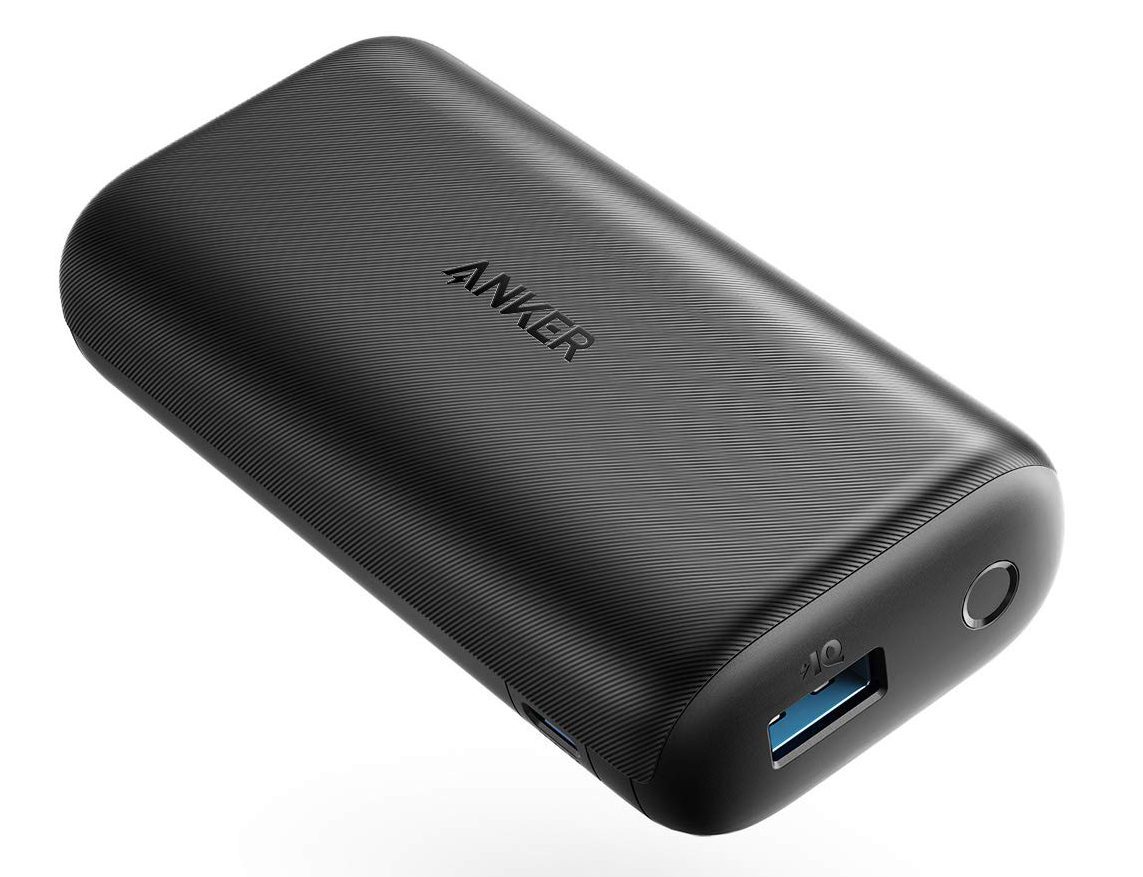 I know – there are some power banks out there that offers much higher capacities.  But in my personal opinion, I really like the portability feature.  It is somewhat unwieldy to carry a power bank bigger than your smartphone. 
That is why the Anker PowerCore 10000mAh Redux makes this list.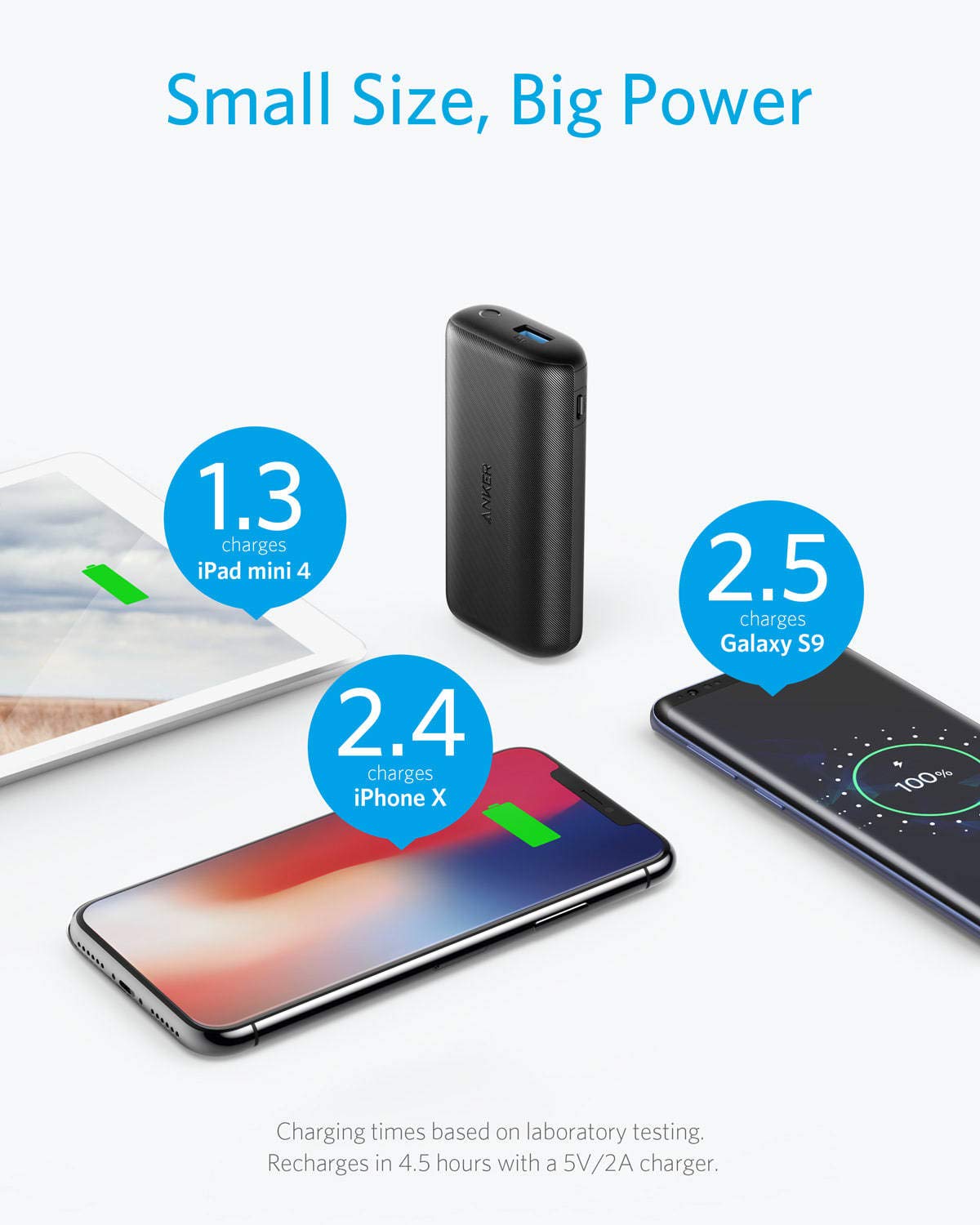 This is a redux/reboot model of its previous incarnation with the same name, the Anker PowerCore 10000.  As you can see, the size is reduced to give you the slimmest form yet bearing the same power capacity. 
Its miniature size and large capacity are the icing on the cake.
#5

Yootech Wireless Charger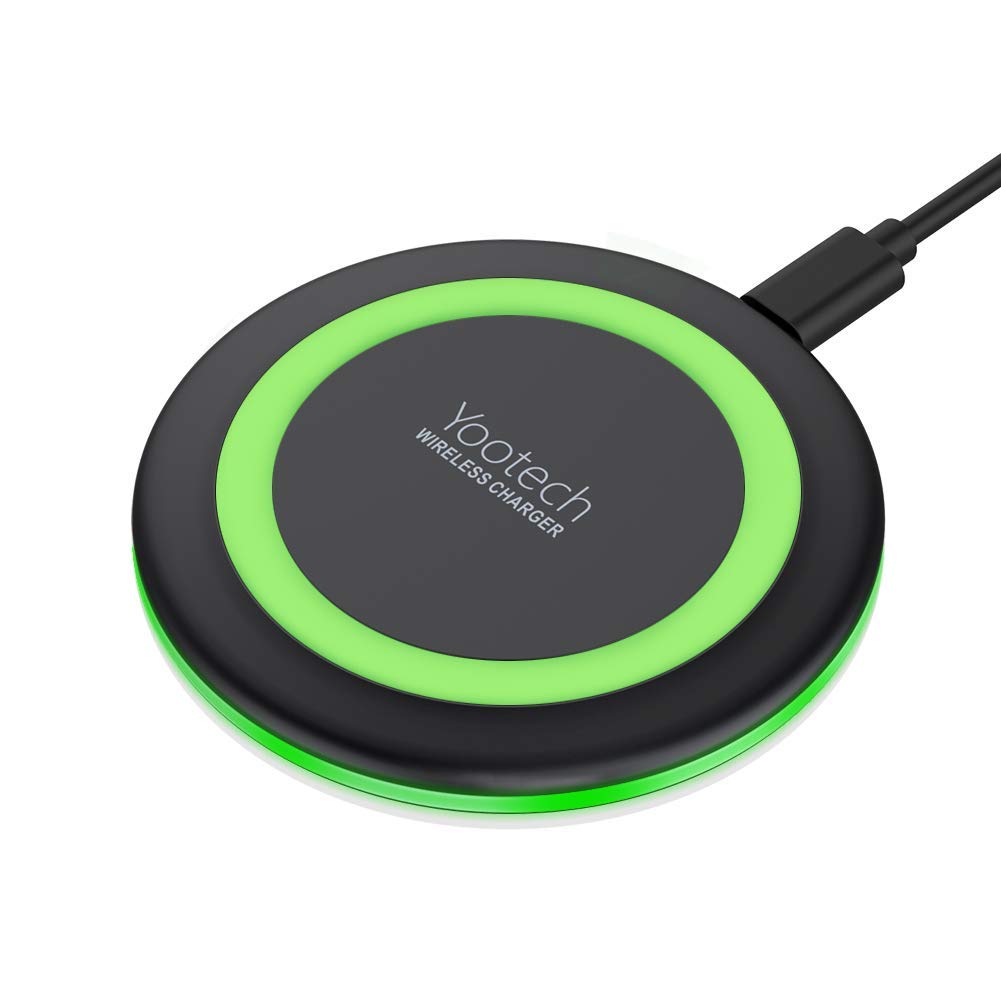 It seems natural these days to charge and plug your phone whenever you need that power to go on with your day.  
Nowadays, our modern tech lifestyle demands more energy, and it has become a bit tiresome and annoying to plug your phone from time to time.  There's no doubt that charging your phone wirelessly is now the most convenient way of providing more juice to your phone. 
It is plain and simple, and much less of a hassle. Just place your phone on top of the charger and there you go! 
The Yootech Wireless Charger is a great accessory you can get at a fair price. 
It has a multifunctional protection technology that controls the temperature to prevent electric surges and short-circuits.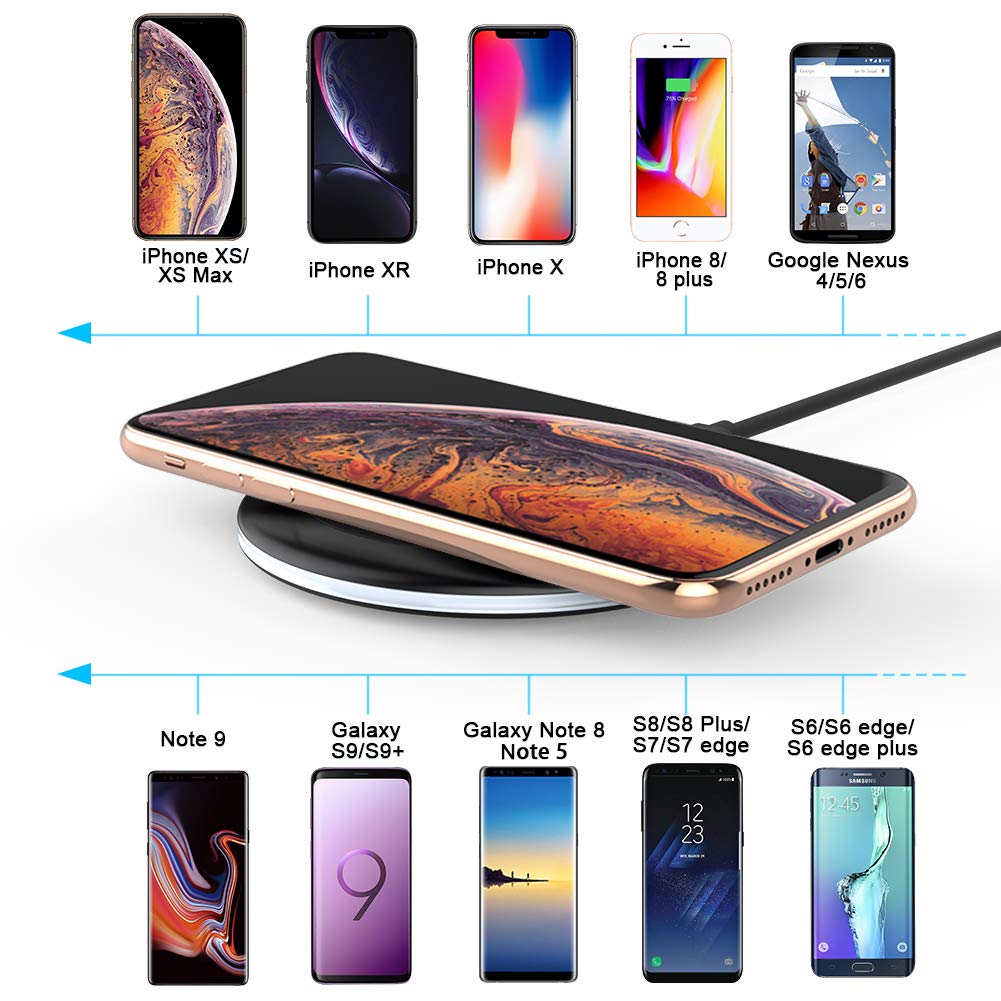 You don't need to remove your phone case to make it work.  It can charge even if your phone has a rubber, plastic, or TPU (thermoplastic polyurethane) case.  Unless the casing of your phone is too thick and not exceeding about 4mm thick, everything will be fine.  
#6

Apple Watch Stand and Universal Station Dock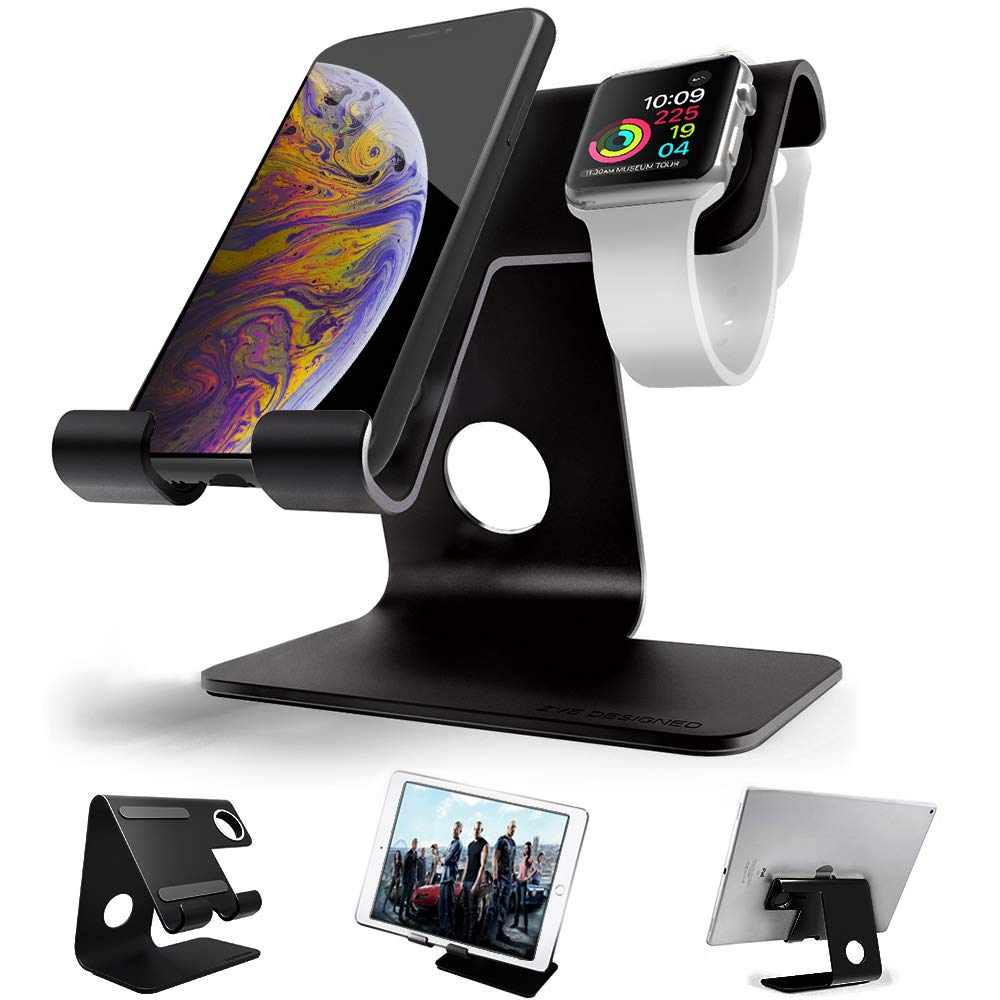 This product may not seem like a major breakthrough in mobile accessory technology. 
This is just a plain stand and a station dock for your mobile phone, tablets, e-book readers, and other gadgets.  
What makes it stand out though is its multifunctional form. 
As you can see, this is a universal stand that can accommodate any device you might have.  Though it perfectly fits with the Apple iPhones and Smartwatch, it can also accomodate your android smartphones, Nintendo Switch, or even larger tablets. 
I like the quality of its aluminum build.  It feels smooth with a premium finish.  The rubber pads at the bottom make it steady and stand firm.  It also prevents slipping and surface scratches.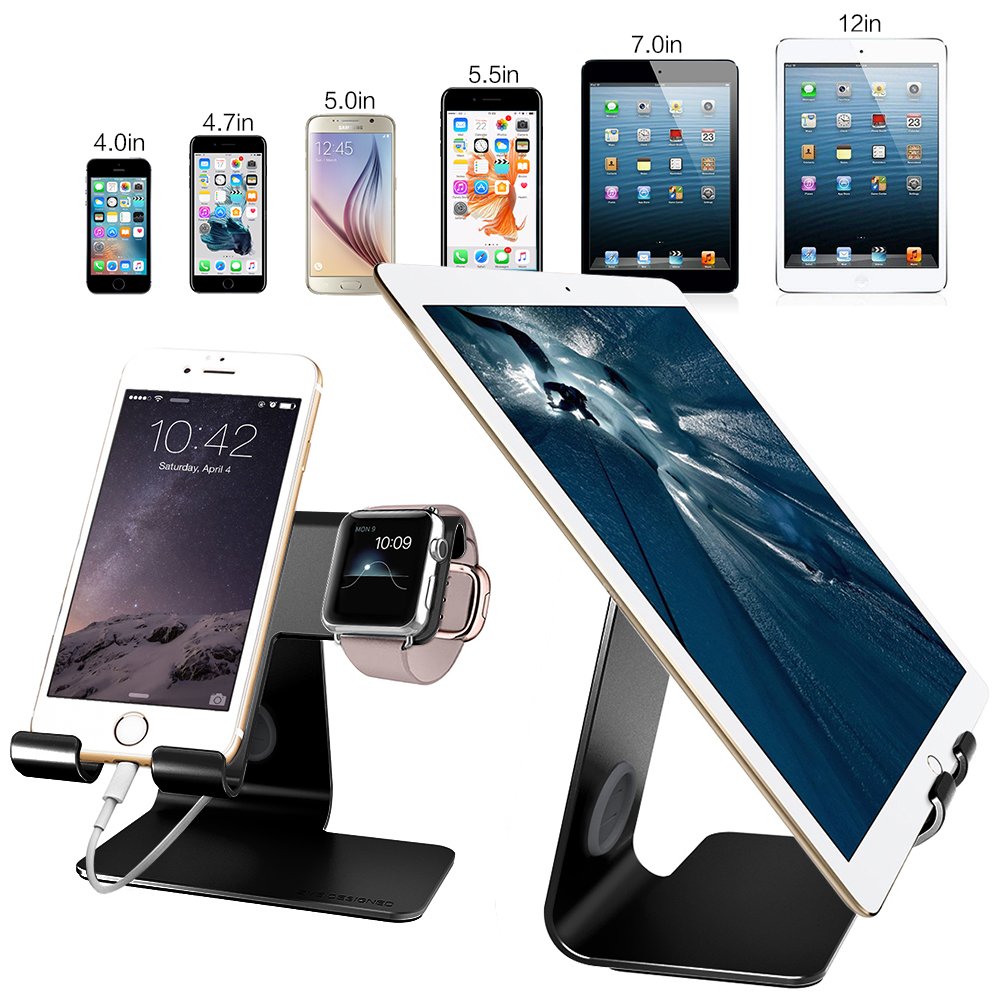 What matters is that you get a full package in one place – a phone charging stand holder, a tablet dock, and a cradle for smartwatches. 
Just in case – if you prefer a stand holder alone exclusively for your mobile phone, I would highly recommend the Lamicall Phone Dock.  It also has a premium aluminum build, and is lightweight and stable.  

#7

UBeesize Adjustable Camera Stand Holder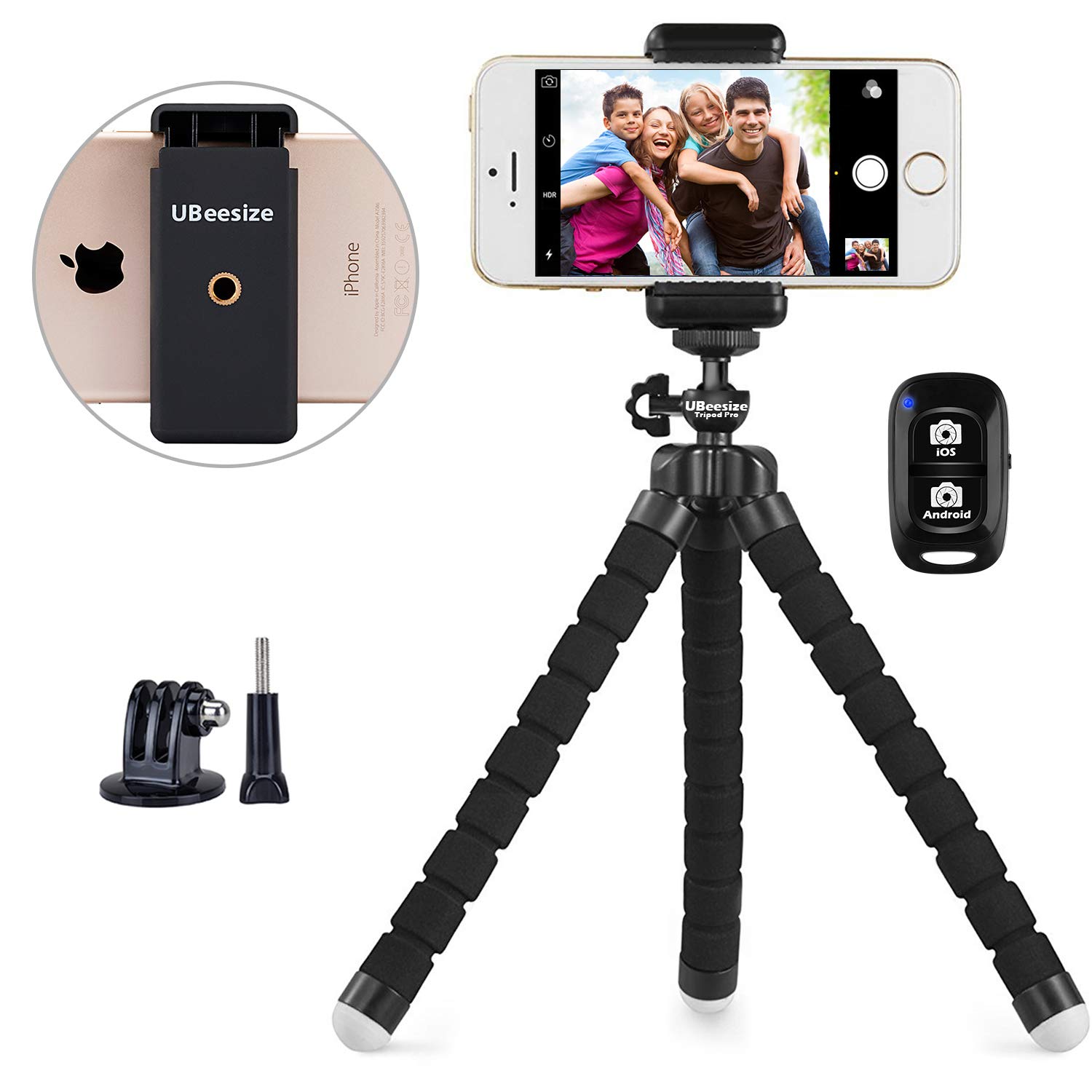 Tripods are part of our modern lives especially for photography where you can make great use of it.
With the aid of a tripod, you can capture that special moment without the need for someone else to handle your phone.  It also allows you to take videos or photos more steadily without rattle. 
The UBeesize tripod is certainly useful, since its octopus-like legs are adjustable and flexible. It can hold and hang around whenever it is possible. 
Thanks to its wireless remote which is included in the package, it features hands-free operation and is serviceable in shooting a group picture or capturing beautiful shots with a wide-angle view.

#8

Fugetek Selfie Stick & Tripod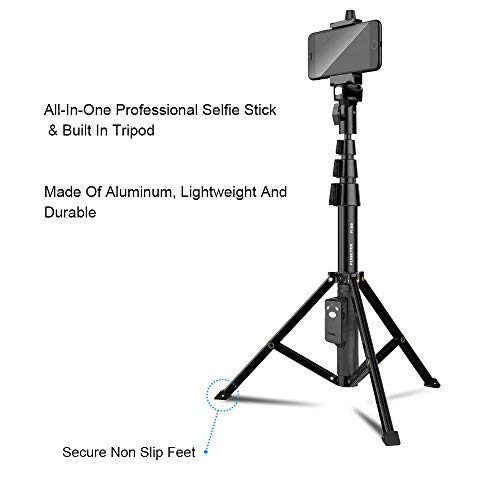 This is a taller version of the UBeesize tripod.
There are some limitations of making use of smaller and shorter tripods, that's why I included in this list a more pragmatic tripod.
Fugetek provides a logical way of creating more professional and versatile tripods .  
Made of heavy duty aluminum, this one is tough and lightweight.  
It is impressive that its legs are extendable up to 51 inches tall.  It is also collapsible to 19 inches for compact storage and portability.  
I like the rubber fitting on the handle which offers a good grip and is easy to grasp.  
With its wireless Bluetooth remote (included in the package), there is no hitch or mess in taking photos with a selfie or a band.
It really feels practical to have a tripod that is convertible into a selfie stick.  I am sure, you will enjoy its efficacy and effectiveness.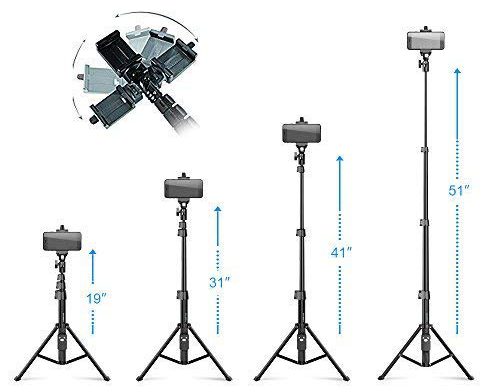 #9

VUP Running Armband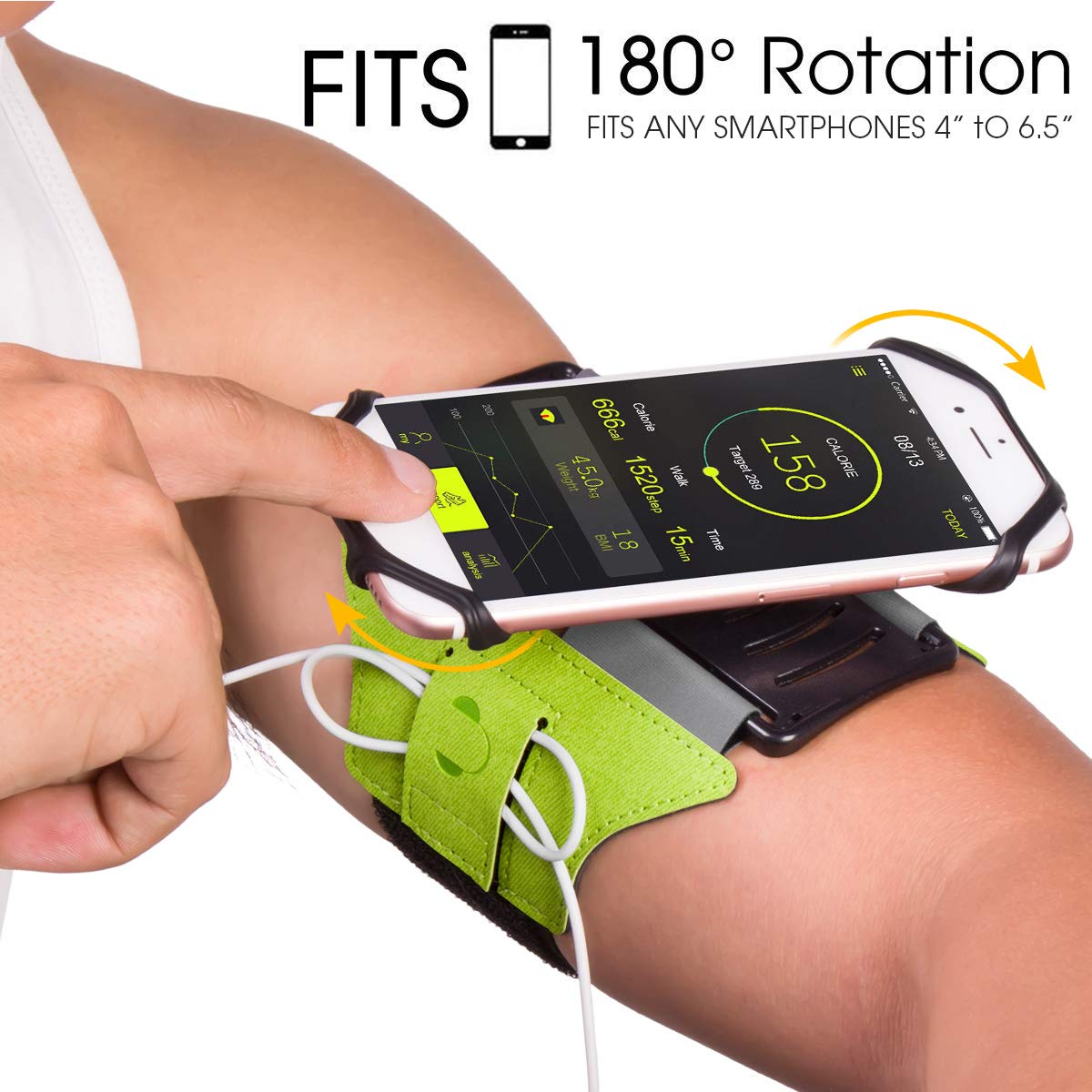 Armbands for phones are quite indispensable tools if you tend to merge sports and technology in daily living.  It's a good buddy that works great during your workout routine either on the gym or outdoor activities like jogging, hiking, or biking.
The fabric made with this armband is sweat resistant and odor-free.  If it starts to feel messy, you can wash and clean it with water.   
I do like its ability to rotate your phone to 180 degrees while worn on your arm.  Unlike other products in this category,  it solves the problem of viewing your phone in landscape mode.    
Do not underestimate the strength of the straps and rubber on this one.  They are highly elastic and strong.  Once you do a rigid test in a high-intensity exercise and see yourself its stability, it does prove its reliability.
I particularly like the design of the cord holder.  It neatly keeps the long cord of your phone and improves your freedom to move while you are in action.      
This armband is compatible with 4 to 6.5-inch smartphones. 
For  the fitness enthusiast, I strongly recommend the Flipbelt.  
This is a good alternative if you are somehow tired of wearing an armband.  With multi-access pocket openings throughout the belt, you can keep your phone and your keys securely. 
It's the simplicity of the design that wins me over.  No buckles, fastening or straps needed.  Just wear it and everything is all set. 
This product is washable too.  
#10

Metal Bike & Motorcycle Phone Mount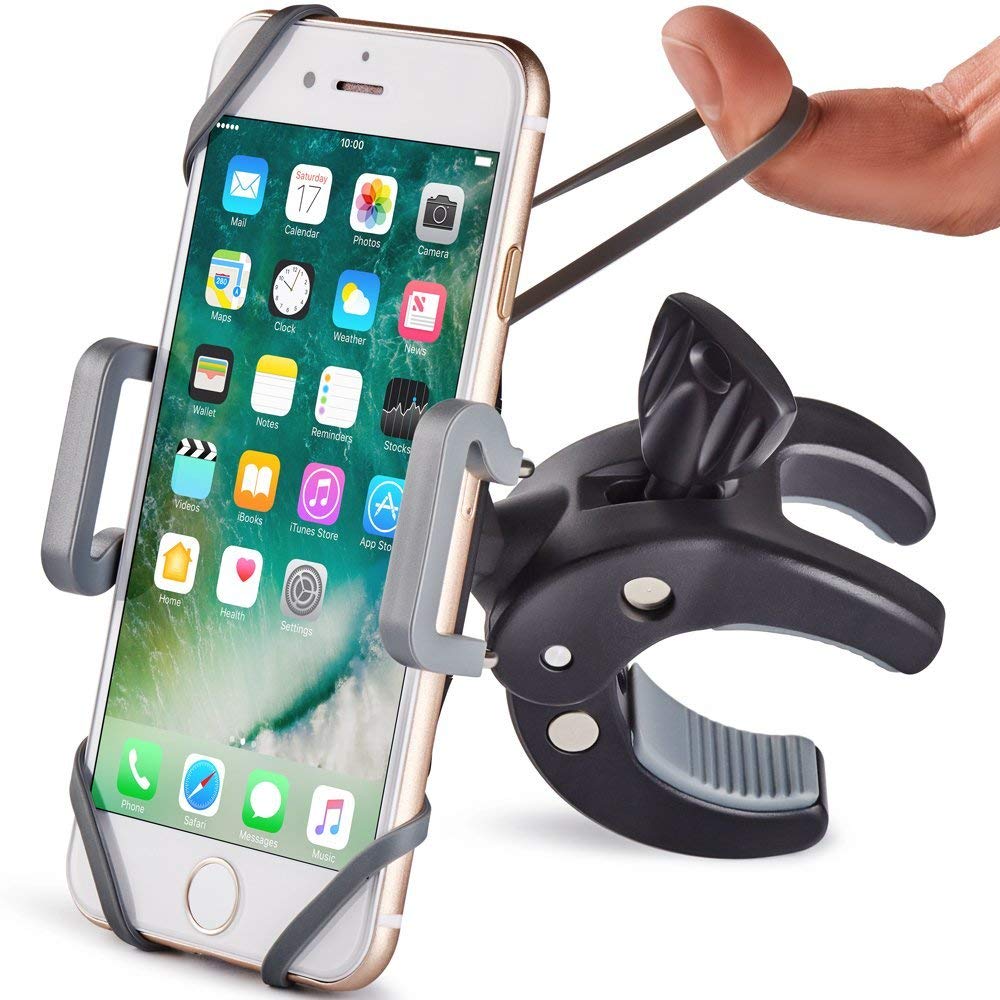 To be honest, this is not the cheapest phone mount you can buy in the market.  
But why do I highly recommend this to everyone? 
It's quite common for phone mounts to be made of plastic. This product is one-of-a-kind, being that it's made of heavy-duty metal.  It has a unique metal claw clamp that can clamp onto various sizes of handlebars from o.2 inches to 1.9 inches in diameter. 
With no installation tools required, you can adjust the crowfoot clamp manually by hand.   
I really appreciate the adjustable free-size phone clip holder.  It's stunning to see the mindful design and engineering on this mount that enables it to fit phones up to 3.7 inches wide.  Moreover, you can rotate your phone in a 360-degree angle without any sweat. 
This is absolutely a universal smartphone mount holder for all.  
You need not worry should you take your expensive phone out for a spin – this cankeep it secure and in place. 
#11

Beam Car Air Vent Mount Holder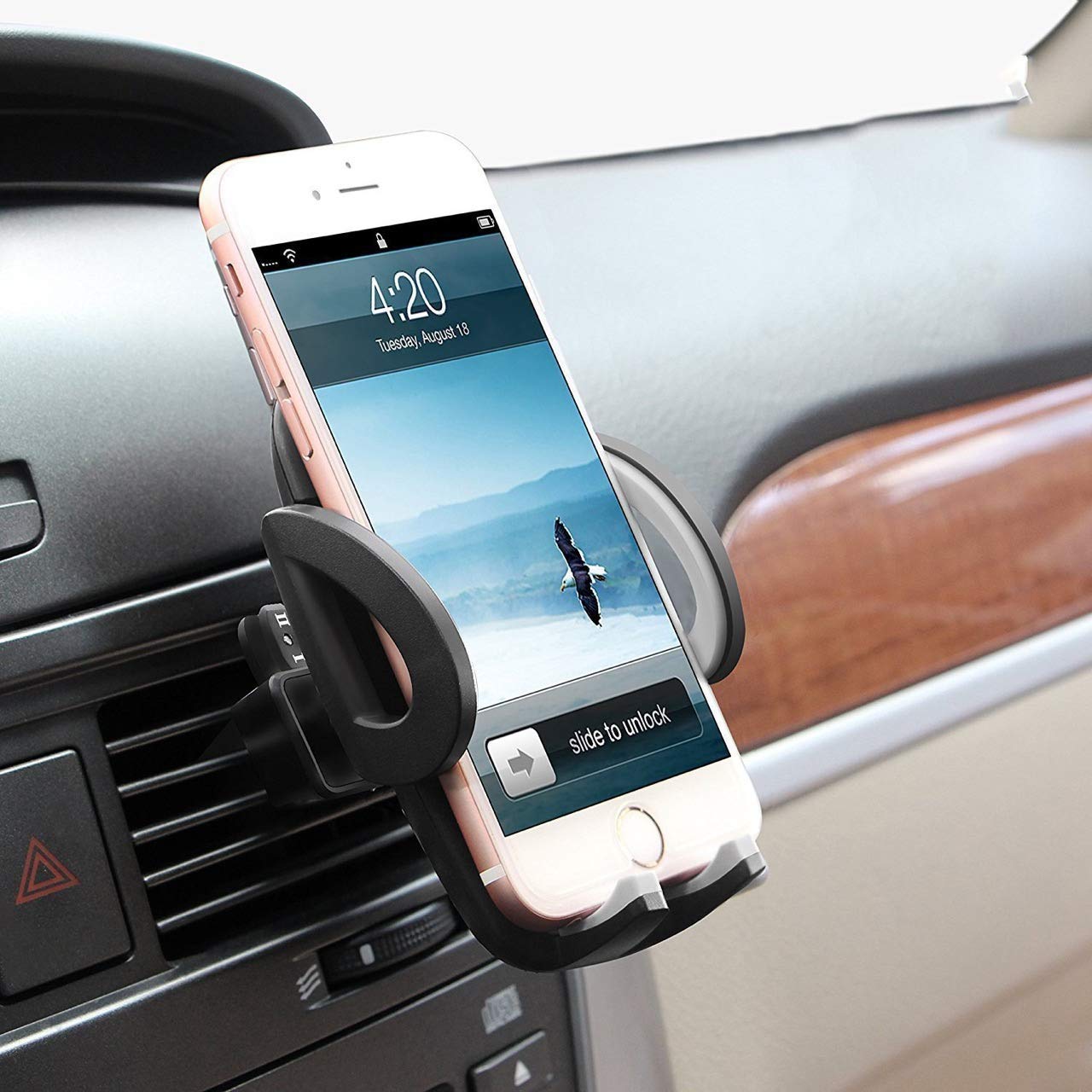 Of course, mobile phone mount holders are not only limited to sports bikes and motorcycles.  They're pretty useful in cars too!
So, what's the deal then?  Smartphone cradles can be quite useful, especially with hands-free operation.
The cradle is nicely-designed.  Once you assemble the unit, there are no other complex process needed for installation.  All you need to do is clip it over on the air vent of your car and you're done.
You can easily configure the quick release button at the back of the unit to slide and adjust the width of the holder.  It is wide enough to hold a 1.9-inch phone to 3.7-inch.  The soft padding at the interior gives extra protection to your phone. 
It's also nice that you can rotate your phone in 360-degree angle.  It also gives you an option to view your phone at the wider angle possible. 
This product is built with plastic though, which explains why it comes at a low price.  Albeit, it is quite steadfast and can withstand everyday use.  
The Bottom Line 
Mobile and smartphone accessories are obviously offer reasonable upgrades for people who live tech-oriented lives.  
Having these accessories though adds a bit of flair to your device set-up, and enables productivity as well.
Not only are these worth your time and cash, but also enable you to further enjoy your device.