DISCLOSURE: Most of our content uses affiliate links. As an Amazon Associate, we may earn a commission when you buy through the links. Each of your purchases via our affiliation links helps us to support the cost and maintenance of this site.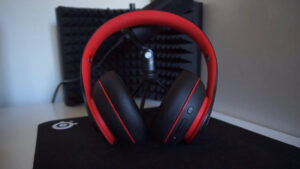 When Anker released the Soundcore Life Q10 wireless headphones earlier this year, it took the budget headphone market by surprise. The Soundcore Q10s offered great sound quality at a price of just around 50 bucks.
Now, Anker has since released the Soundcore Q20 and the much newer Q30 headphones, and this begs the question – are the Soundcore Q10s still a great purchase for the price?
Features
If you've been following these headphones on the web, you've probably heard about the great features on these – of course, there's the impressive bass boost feature, up to 60 hours of battery life on a full charge with USB Type-C charging, and a pretty comfortable design, which all make for a very impressive and worthwhile purchase. And considering that you don't get such features on a lot of competing headphones at the same price, the Q10s do stand out from the rest of the pack.
Personally, I do enjoy the 60-hour battery life and USB Type C compatibility. This means that I won't have to charge it very often, and even when I do there's a ton of compatible charging cables lying around for me to choose from. I mean, come on it's 2020 – USB type C should be a standard on all electronics.
Build Quality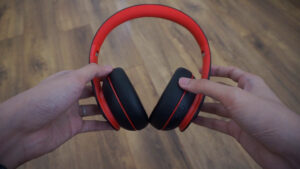 As far as build quality goes the Soundcore Q10s are sturdy for the most part. Of course, it comes with an adjustable headband and this allows you to find the perfect fit when wearing the headphones. It's pretty comfortable and the cups do fit nicely on my ears, and the beauty of this simple design is that they don't start to feel uncomfortable after long periods of time. Of course, the Soundcore Q10 features a folding design for easy storage and this should pair perfectly with a carrying case.
---
RELATED TOPIC: Anker Soundcore Life Q30 Review: A Worthy Upgrade

---
There's also an aux cable in case you wanna go wired and save up on battery with the headphones. Operation is pretty easy – the power button also acts as a pause button and can even summon Google Assistant, while the volume buttons also double as forward and replay tracks if you hold on the plus or minus buttons for a couple of seconds. Then of course there is the bass boost button which we'll go into later.
A couple of issues I do have is that the padding on the cups can feel too soft at times and this leaves me wondering how well they'll hold up against wear and tear in the long run. Also, the Q10s are not water resistant so you'll probably need to have an umbrella should you decide to wear these in the rain. Of course given the budget price these are reasonable trade-offs, but again, they would have been welcome features for sure.
Audio – Any Good?
Now where these headphones definitely shine is the sound quality. The Soundcore Q10s have an impressive sound overall, and there's a mostly perfect balance between the mids, highs, and bass that you get when listening to music. To be honest, though, I am not an audiophile but for my needs the Q10 definitely delivers. Compared to cheaper Bluetooth earbuds that I regularly use like the Mi True Wireless Earbuds, the Soundcore Q10 really stands out when it comes to sound quality. For example, I listen to a lot of heavy metal music and as such, there's a heavy focus on precision and instrumental arrangements in these songs, and to be able to listen to my favorite tracks with clarity and quality is impressive. I don't get the impression that I'm listening to my music through a tin can.
Now, these headphones can get really loud and as such, I've never felt the need to listen to them all the way with full volume. The Bass Up feature does a good job as well – you can trigger this with the press of a designated Bass Up button and the difference is immediately noticeable. I wouldn't say that it's a tremendous change in sound quality but it's definitely a welcome feature. Unfortunately, though I haven't been able to access the bass up feature with the headphones in wired mode, but again we have to consider the price of these headphones. The same goes for active noise cancellation which is sadly absent on the Q10s.
Bluetooth connectivity is likewise amazing. The Bluetooth 5.0 technology in the Q10s offers seamless connectivity, and even at certain distances, the Q10s do not disconnect from my smartphone. For example, I left my phone playing music in the downstairs kitchen and my music still played smoothly despite moving up to the second floor, which personally I find really impressive.
The Bottom Line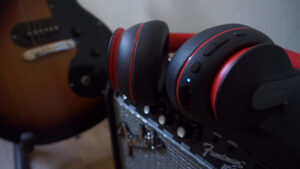 All in all, I'm pretty impressed with the value for money that the Soundcore Life Q10s offer, and if you're looking for something affordable then these should come in pretty handy. Although if you're after something with features such as Active Noise cancellation, then you might wanna shell out a bit more for the Life Q20 or even the Q30.