DISCLOSURE: Most of our content uses affiliate links. As an Amazon Associate, we may earn a commission when you buy through the links. Each of your purchases via our affiliation links helps us to support the cost and maintenance of this site.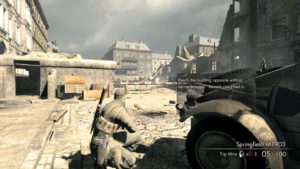 When Sniper Elite V2 first came out in 2012, it offered an entertaining third-person adventure set during the Second World War. Now in 2019, developer Rebellion Developments has opted to release a remastered version for the Nintendo Switch. Does the game still hold up?
Reporting for Duty
You play the role of Lt. Karl Fairburne, who is sent on a mission concerning the development of the German V2 missiles used in WW2, and the scientists behind the fearsome weapons. The game takes place throughout several areas in the European theatre, which brings Karl to different locales such as war-torn Berlin, a weapons facility, and more.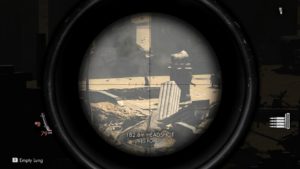 Despite being a seven year-old game, V2 Remastered does a good job of bringing over impressive graphical production and visuals to the Nintendo Switch. Lighting, shadows and colors look pretty impressive on the console's 6-inch 720p display, although I did notice some lag during some cutscenes. Thankfully though, the actual gameplay runs smooth and makes for one enjoyable gaming experience. The game also occasionally slows down (in a good way) when you fire at the enemy, giving you a cool, slow-motion view of the bullet as it enters through their digitized torsos.
The game also includes a "photo mode" which will let you adjust lighting and saturation to capture impressive stills during missions.
Caught in the Action
Having played my fair share of WW2-based FPS games over the years, I really enjoyed V2 Remastered's third-person approach to gameplay. Simply put, the game will have you utilize stealth-based tactics to achieve your objectives (this is a sniping game, after all). You start out with a sniper rifle, an SMG and a silenced pistol, and it's up to you how to use these weapons to take down enemy forces. See a sentry posted around the corner? You'll have to decide whether to strike from a distance, take him out more silently, or go all-out Stallone and send a bulletstorm his way.
You'll also have to make use of explosives. You can get grenades, but every now and then missions will require you to plant explosives in certain areas of a level and set them off later. The game also gives you trip-mines to use for traps, should you need to outwit the enemy.
The controls work fairly well, and even though I haven't played shooters in quite a while, I was able to get accustomed to the controls pretty quickly.
The Bottom Line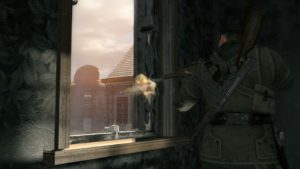 I'll say this: Sniper Elite V2 Remastered is an enjoyable game. It reminded me a lot of the times I played the original Medal of Honor games on PS1, as well as the times I played the Call of Duty DS ports. As a Switch game, it definitely brings some much-needed WW2 action to the Nintendo Switch, and despite being a game from 2012, still looks and plays great.
You get entertaining gameplay, solid controls, as well as DLC included in the remaster package, which makes V2 Remastered one of our recommended games for Nintendo Switch.