DISCLOSURE: Most of our content uses affiliate links. As an Amazon Associate, we may earn a commission when you buy through the links. Each of your purchases via our affiliation links helps us to support the cost and maintenance of this site.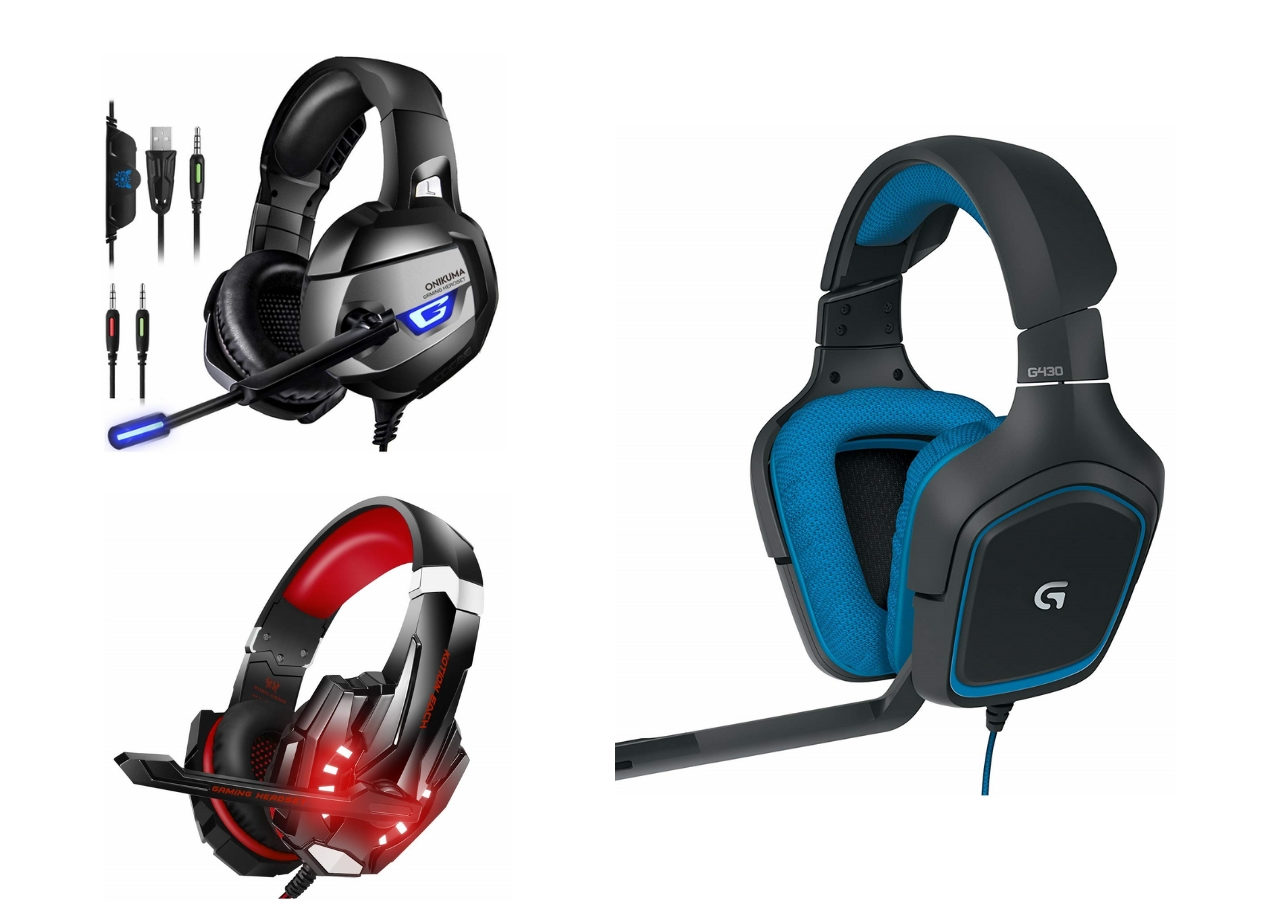 Playing games today whether online or offline on any kind of platform such as the Xbox One, PS4, PC and mobile devices, and on Nintendo Switch is certainly different from gaming experiences of yesteryear. 
A lot of Millennials are now in the definitive age of gaming, and the demands for superior sound and audio experiences has raised the bar.  This is in part due to the development of gaming headsets which give the gamers around the world a whole new gaming experience. 
Gaming used to be a primarily visual affair, but nowadays is not limited to eye-popping graphics.  The dimensions of videogames as perceived by our naked eyes become more realistic with the aid of our other senses, including our hearing. 
Now, if you're looking for a gaming headset that will enhance your gaming experience, I can help you find great ones that won't break your savings.  Yes, for under $30.00, you can experience immersive gaming sessions without spending a lot.   
If that feels right for you, let's go ahead and check out the Top 4 we have on this list.  
#1 VersionTECH. G2000 Stereo Gaming Headset 
The main issues with some gaming headsets is their compatibility with different consoles and platforms.  As time changes, a lot of modern gaming headsets are now becoming more compatible with various platforms available on the market.  Compatibility is essential for gamers who use multiple platforms.   
The VersionTech G2000 Stereo Gaming Headset is one of those in this list that offers multi-platform system compatibility.  
Build and Features  
It is essential for a lot of gamers to have a microphone that can pick up vocal input clearly for clear communication with the other players.  This headset has its edge with this criteria compared to other competitors since its microphone is built with noise-canceling capacity. 
I like the flexibility of the microphone.  It can be adjusted in a 360-degree angle and its omnidirectional antennae can pick up voice equally at all angles or directions. You can also set up the volume of the headset through its external audio control.  
For a budget price, it's great to see a braided wire (2.2 meters length) which is not usually cheap at all.  Its durability could last for a long period of time.  
The high-grade 50mm driver with neodymium magnets can produce decent bass with sounds such as explosions, grenade blasts, or even a dubstep drop.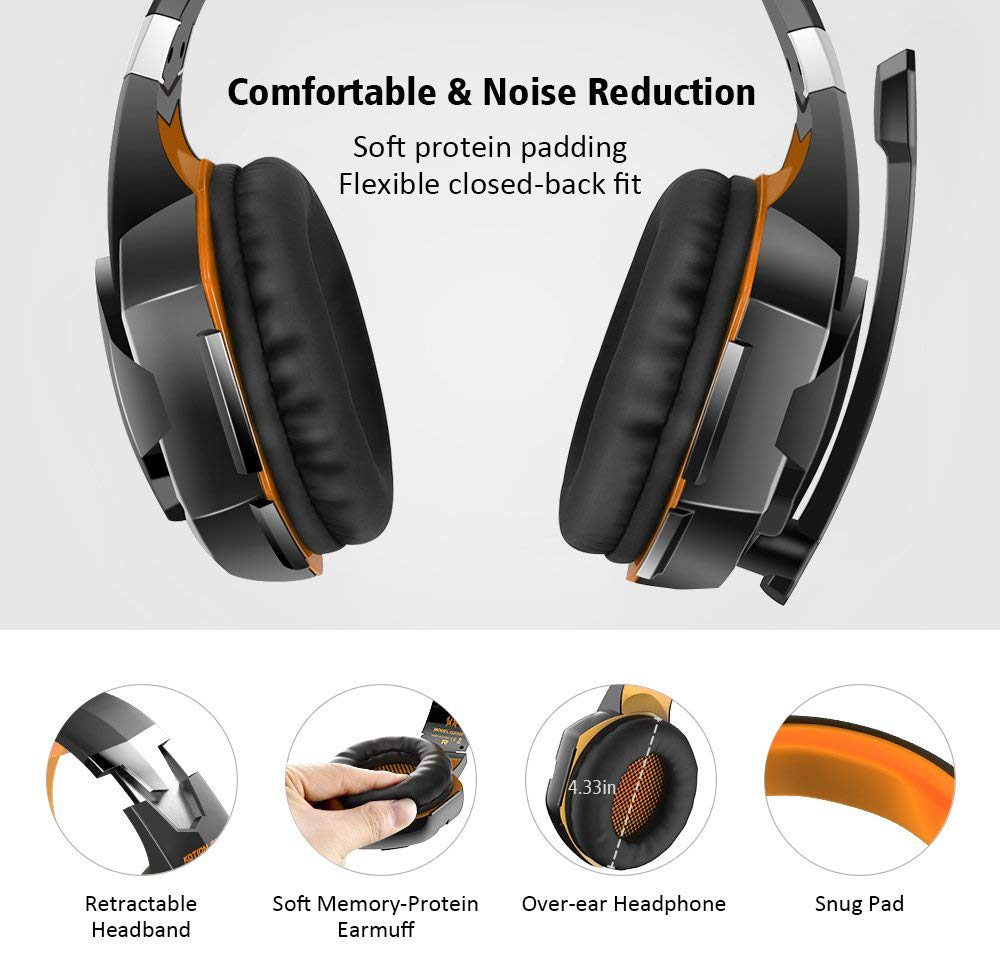 Another important feature essential for a lot of gamers in choosing a headset is comfort.  Playing games for hours could hurt and heat up your ears because due to bad structure of earcups and headband. 
The VersionTech has a soft padded retractable headband design that fits on the head without any constraint.
Do note that the ear cushions are not made of genuine leather. It is constructed with synthetic-based materials.
Nonetheless, the headband has an elastic cotton support pad that distributes the headset weight to decrease pressure on the head.  Ear cushions are skin-friendly and can also reduce sweating and remain dry in long-term use.  I found the size of its earcups is big but this is an advantage as it encloses ears of various sizes for different ages.  
Since gaming headsets are now Plug and Play, there's virtually no hassle to set it up and no installation required.  Just plug it in and there you go!
If you like LED lights for that cool headset vibe, the Version Tech features this as well! It has LED lights on earcups, and microphones which showcase gaming atmosphere.  
Drawbacks  
1) Don't expect high-quality audio sound in this price range;  2) There are some compatibility issues with Xbox One and PS4;  3) Durability is compromising. 
Platform Compatibility
This headset supports PS4, PS4 Pro/Slim, Xbox One, Xbox One S/X Controller, PC, Nintendo Switch/3DS, PSP, Laptop, Computer, Tablet, iPad, Mobile Phone.
Please note that you need an extra Microsoft Adapter (can be sold separately) when connecting with an OLD VERSION Xbox One controller.
#2 ONIKUMA K5 Stereo Gaming Headset 
Onikuma's experience with over a decade of production of headphones and headsets and other electronic products boosts its reputation as the World-leading Gaming Headset manufacturer.  With its entry – the Onikuma K5 Stereo Gaming Headset – it will certainly never let you down, as far as quality goes.  
We're fortunate that a credible brand can be afforded by a lot of gamers.  Let's take a closer look at how this headset performs. 
Build and Features  
The signature of the company focuses on the innovation and design of its headset products.  
As it appears, there are no excessive LED lights outside of the earcups.  The logo at the earcups and the edge of the microphone are well-lit.  The headband is wide and also supported by soft padding to hold a good fit on the head.  
The braided cable is strong enough to endure frequent use in the long run.   
The earcups are quite big and are made thicker to isolate ambient noise.  The ability of this headset to block out background disruption is fairly impressive.  The earpads are formed with soft and breathable materials but could make you feel slight discomfort after more than an hour of gaming.  

The microphone is also flexible and can be adjusted at a 160-degree angle and features the same omnidirectional antenna which can able to pick up your voice in 360-degree circumference.
This headset comes with the clarity of 7.1 Surround technology.  Well, that could not be as good as advertised.  Still, that is not too bad for that price range.  It will not blow you away but you can feel the intensity of sound effects and the punch of bass during game sessions.    
If you are using PC, do note that the USB interface in this headset just powers the LED lights.  You need to plug the 3.5mm jack splitter in order for the headset and the microphone to work.  
Overall, the quality of plastic materials used are not subpar at all.  The construction is well-finished and deserves praise for the price.
Drawbacks  
1) The size of this headset can appear huge and bulky;  2) Ear cups may leave you uncomfortable for extended gaming and can make your ears feel hot and sweaty; 3) The quality of the microphone is mediocre.  
Compatibility Platform  
This gaming headset works on Nintendo Switch (audio), Nintendo New 3DS LL/3DS (audio), Nintendo 3DS LL/3DS (audio), Windows PC, Mac OS PC, iOS device, Android device, PS4, PS Vita, PSP, Xbox 360 and Xbox One.  Xbox One needs an accessory to support.
#3 BENGOO G9000 Stereo Gaming Headset 
Is the Bengoo G9000 a twin replica of VersionTech G2000?  Well, not exactly.  
By merely looking at the image, you might get confused that they almost appear very identical. They might look similar in design but you can pick up a color that will easily distinguish the difference between each model.  
Surprisingly, they are both equal in this price range, specifically if you preferr the blue one.  VersionTech G2000 does not increase in price if you want another color. 
The Bengoo G9000 in contrast charges additional bucks for other colors they offer. 
Build and Features  
The Bengoo G9000 uses Thermoplastic elastomers (TPE) materials or thermoplastic rubber.  TPE is known due to its resistance to stretching and protraction with the ability to return to its original shape afterward.  With that being said, it is the strong point of this headset.     
The earmuffs are made of second-generation soft memory protein earpad (synthetic leather).  With the price you pay for this range, you do sacrifice a bit for comfort.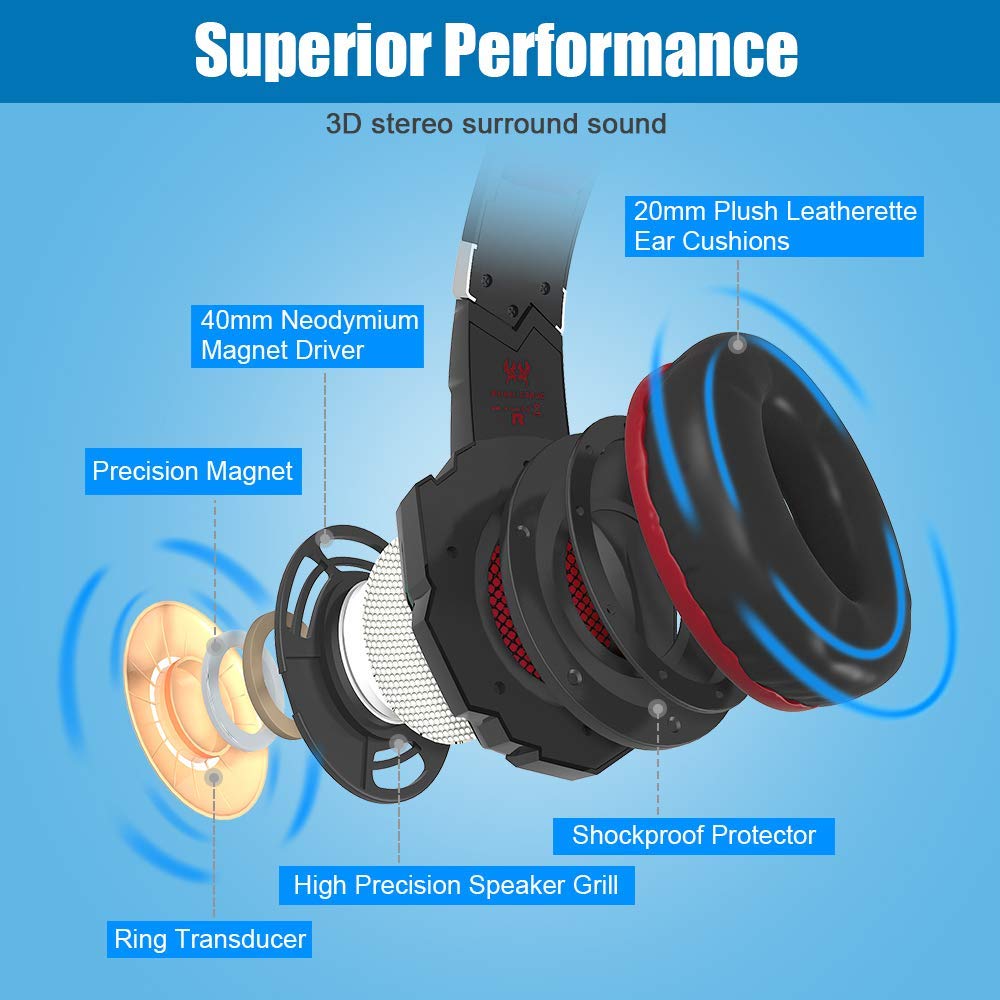 Its 2.1-meter anti-winding braided cable is decently durable.  It also has a rotary volume controller which allows you to control the volume or mute the mic with ease.  The LED lights are active in both earcups, similar to what you get with the VersionTech G2000.
Like the other products in this list, its microphone features the same omnidirectional antenna which can able to deliver and receive sounds in different directions.  Apparently, the microphone can be adjusted at a 120-degree angle.  
This headset also features a surround sound performance and it does its job pretty well.  Its capacity to block out noise is fair to middling.   

It is important to note before buying this headset that you must need an extra Microsoft adapter when connecting with an old version of the Xbox One controller.  A Microsoft adapter is not included in the package and is sold separately.  This means that it will take a bit of an extra toll on your pocket.
You will also need a 3.5mm jack splitter cable (not included) when connected with a PC if you want to use headphone and microphone at the same time.  
Drawbacks  
1) Lacks durability;  2) The design is fairly large.
Compatibility Platform  
It supports PlayStation 4, New Xbox One, PC, Nintendo 3DS, Laptop, PSP, Tablet, iPad, Computer, Mobile Phone. An extra Microsoft Adapter (Not Included) is required when connecting with an old version Xbox One controller.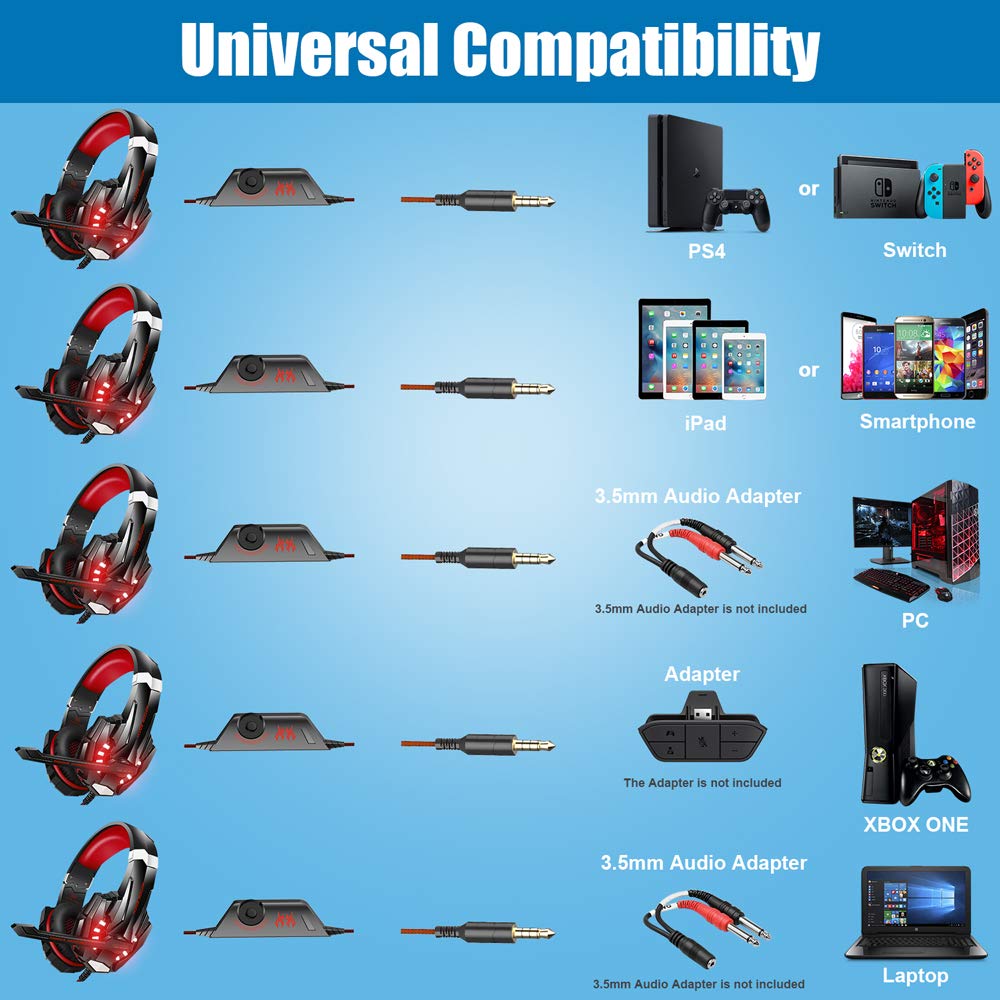 #4 Logitech G430 7.1 DTS and Dolby Surround Sound Gaming Headset 
No dazzling LED lights and no artsy look.  This is what Logitech G430 Gaming Headset essentially is – minimalist, plain and simple.  It is also lightweight and is pretty solid.  Is this the headset that could bring down the hordes of competitors?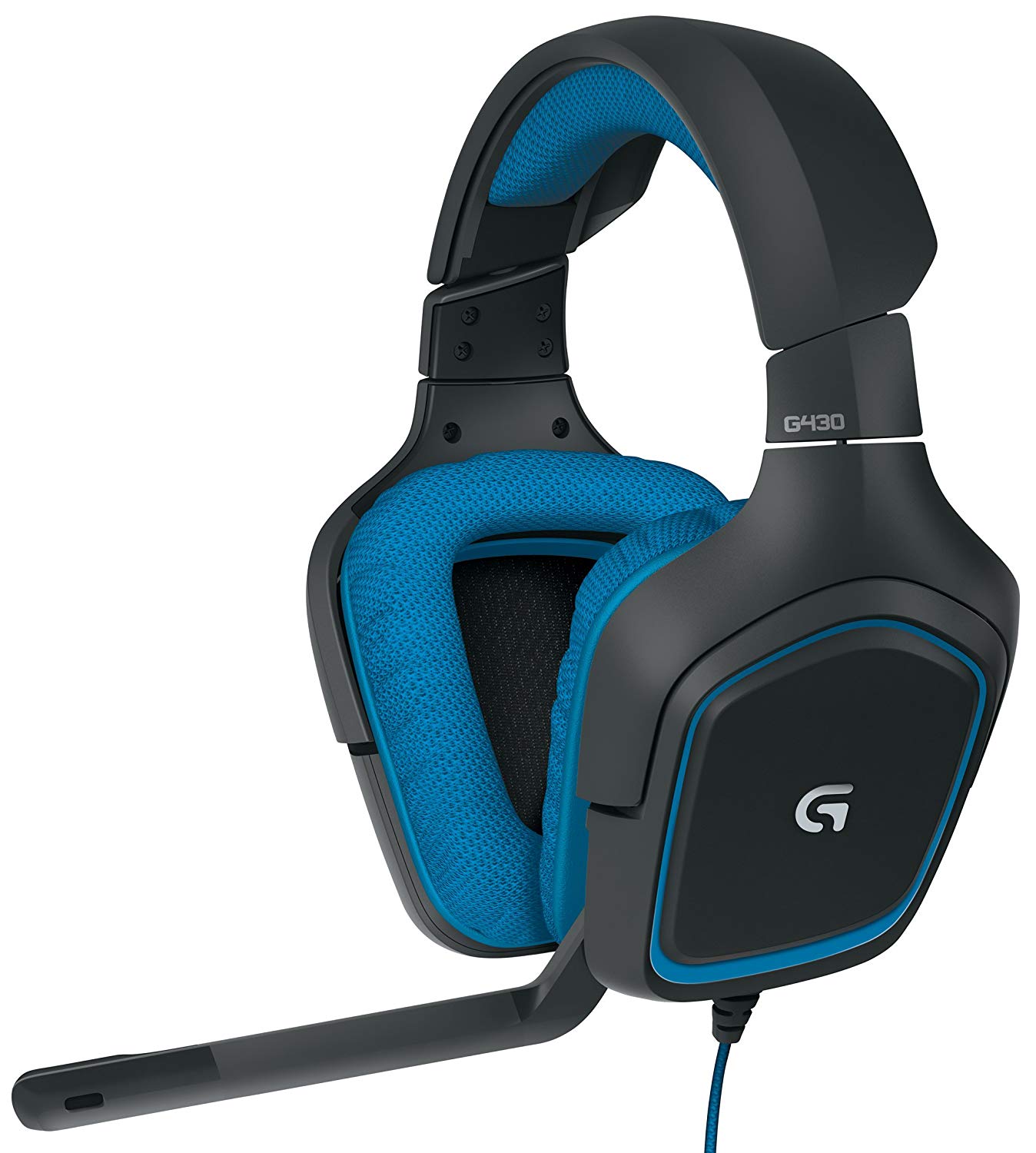 Build and Features  
Fortunately, this headset sets a good standard of comfort even in long gaming sessions.  The headband makes you feel less stress and tension compared to the first three in this lineup. 
The foam padding of the ear cups which are made of soft sports cloth is removable and washable.  The cushion has good airflow and does not get too warm after using it over time.  You could even swivel the earcups at a 90-degree angle.  Does it affect your comfort though?  Yes it does.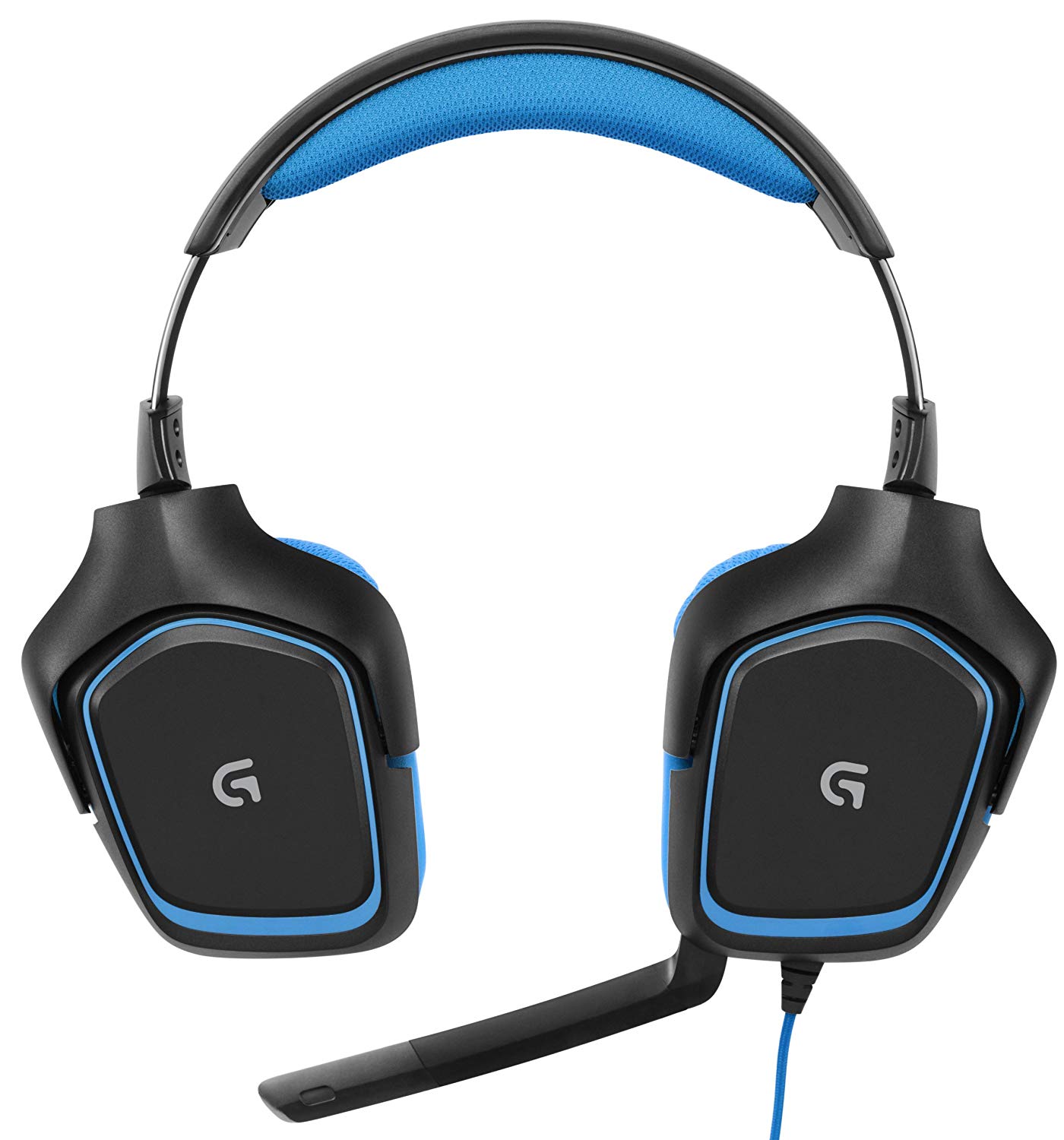 It is ergonomically designed to maximize a personalized fit of the earcups on your ears.  You can appreciate that feature of this headset as only a few headsets possess the same features of the earcups that can be pivoted or rotated.  
The feature of the microphone is quite interesting because it employs a unidirectional design which receives a signal from one direction instead of omnidirectional that captures a signal from all direction. 
So, which one of the four microphone designs holds the most value for your money? I'd advise that you check this link if you want further reading and information on omnidirectional and unidirectional microphone functions.  
What I can tell you though is the impressive and powerful audio quality you get with the headphone's DTS (Digital Theater Systems) and Dolby 7.1 Surround Sound.  They are both features that will undoubtedly improve your gaming experience by providing you with vivid soundstage gameplay and lively cinematic audio.  
Just make sure that you have installed a Logitech Gaming Software to enhance the Surround sound effects.   
Drawbacks 
1) The braided cable is thin and may not last long;  2) The top padding on the headband is a little bit stiff and inflexible;  3) Quality construction is poor. 
Compatibility Platform  
Works with PS4 and Windows 10, Windows 8, Windows 7 or Windows Vista computers.

The Bottom Line  
Finding a decent pair of gaming headsets in this price category is not just as easy as say, picking a pie that you want to snack on. 
Every time we shell out our money for shopping, we want to spend in a manner that what we pay for won't rob our pockets unnecessarily.    
What can you get for a $35.00 gaming headset? A lot, surprisingly.
The sound quality, comfort, microphone clarity, and durability may vary from each brand.  Bearing the cheap price in mind, you cannot bid for the superb performance and quality grade of materials compared to a $100.00 tagged headset.  These are mostly built of plastic of which sturdiness and durability can unfortunately be the weakest point.  
Of course, you can shell out a bit more and get superior performance aside from this list with brands like Sennheiser, SteelSeries, HyperX, Turtle Beach, and Astro.
Though for an asking price of $35.00, these headsets are by far the best reasonable value you can get.