DISCLOSURE: Most of our content uses affiliate links. As an Amazon Associate, we may earn a commission when you buy through the links. Each of your purchases via our affiliation links helps us to support the cost and maintenance of this site.
At the dawn of gaming in the '80s when systems like the FamiCom, Sega Saturn ruled the household, barely anyone ever needed or considered a computer mouse as a gaming peripheral.
But as time changed, the gaming universe evolved as well.  
With the introduction of personal computers (PC), the gaming experience was essentially accelerated and became mainstream.  It was apparent that the production of the gaming mouse was then intensified and skyrocketed to serve the needs of gamers with regards to precise timing, controls, and all-over maneuvering during play sessions.  As a result, the demands and competition to bring the best gaming mice in the market have overflowed. 
Even so, due to continuous innovations of gaming mice peripherals in recent years, gaming experiences have leveled up and companies and manufacturers forged a new battleground in the gaming industry – to provide gamers with the best gaming mouse possible . 
Did you know that the word computer "mouse" is an acronym.  It does not actually refer to a real rodent but it is, in fact, stands for "manually-operated user-select equipment".
Now that we're aware of the large industry behind this peripheral, does the brand and price of your gaming mouse matter to you? 
If you are an enthusiast, we can help you figure out the best gaming mice that are worth buying – here in this list we'll provide you with a wide range of products and prices. 
Hopefully you can find some elements that are valuable compared to other brands.  For this reason, we narrowed down our list through a category to make the selection easier based in your personal preference. 
The Logitech G-Series 
The G-Series is a set of gaming devices developed by Logitech for serious gamers.  
Founded in 1981, Logitech has been in the industry developing personal computer and mobile peripherals for more than three decades now. 

This data shows that in 2008 of December, the company reached a milestone production of one billion mice.  It is no surprise then that most products in this list are Logitech-branded, but we still included other brands that we found competitive and worth the price.  
Best FPS and eSport Mice
Logitech G Pro
If you are a fan of FPS (First Person Shooter) games, this mouse is an important tool to have.
This is a professional gaming mouse.  Worry not –  it is engineered to pass the standards of performance demanded by eSports and other such competitions.  
Featuring an advanced optical gaming sensor, tracking accuracy is on par with precise targeting and high-speed maneuvers.  In general, a mechanical mouse is not anymore suitable for gaming due to low response rates.  For this reason, most gamers opt to use an optical mouse which is best if paired with a surface gaming mousepad.  
The DPI (dots per inch) of this mouse range from 200 to 12,000.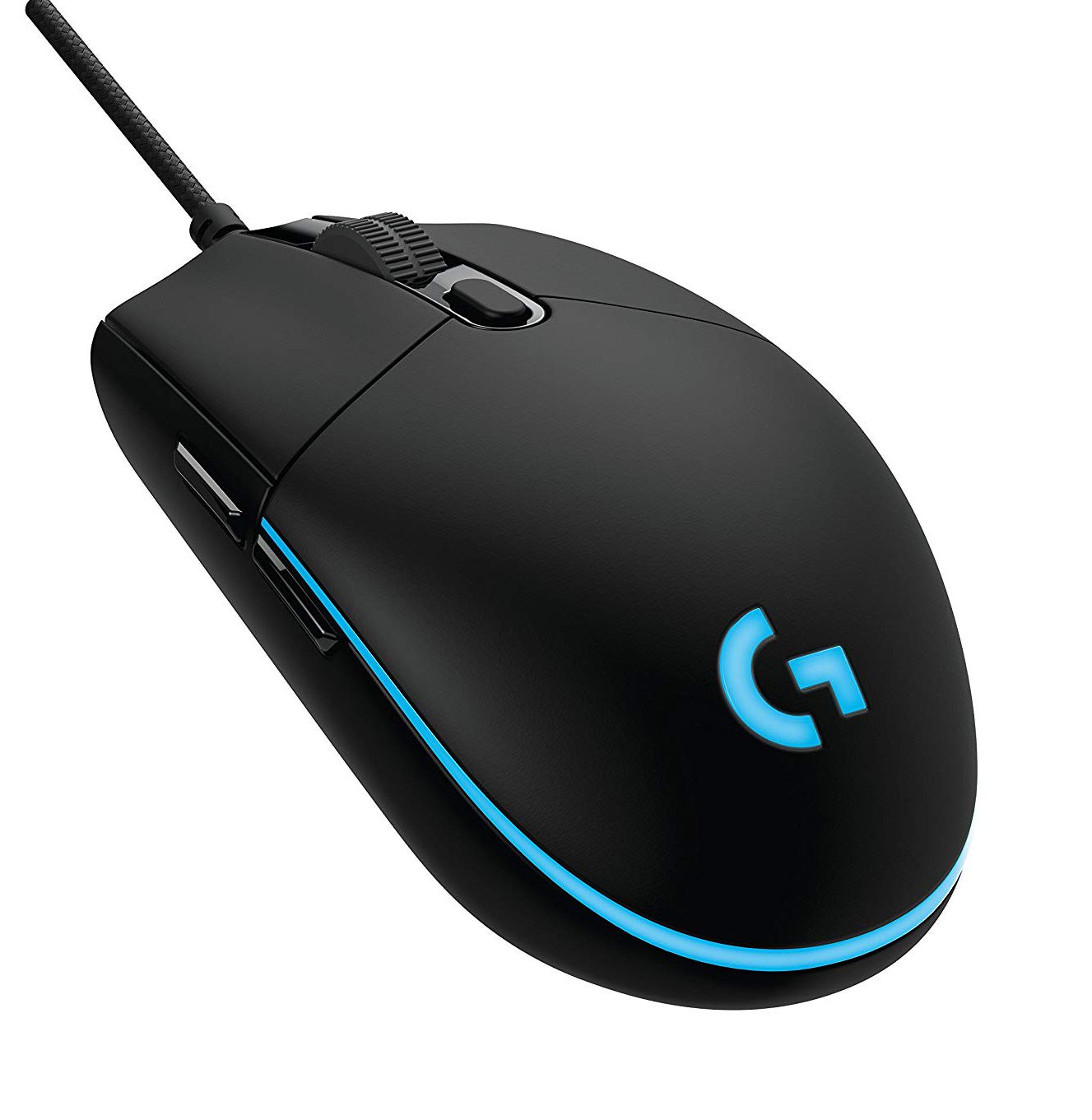 For gaming purposes, always look for higher dpi.  The higher the range the faster you can move the mouse on a screen. 
Speed does matter in a match.  I like the metal spring button inside this mouse.  It can resist the tension of coercive clicks throughout the game.  
If you are looking for customizable RGB lights, this could match your preferred style and colors. 
You can take advantage of its six (6) programmable buttons for faster game action.  The onboard memory is also useful and valuable in saving your preferences and stores them directly to the mouse – this includes your custom commands without the need of reconfiguring your settings every time.  
The Features
Sleek and classic design
Fit for small hands
Aimed for eSports gameplay
Lightweight
Customizable RGB lighting
Onboard memory
200 – 12,000 DPI
4 on-the-fly DPI shifting
6 customizable buttons
The Setbacks
Too small for big hands
Plastic feels cheap
Durability issue
Logitech G203 Prodigy
This is a re-engineered version of the Logitech G100S. 
I really admire the design of both mice which sports the classic look and feel of a standard mouse.  Nonetheless, this by far has an advanced gaming-grade performance up to eight times faster response compared to typical mice.  
Though its DPI is not actually remarkable,  ranging from 200-8000, it can be compensated by its on-the-fly DPI shifting feature.  You can configure the sensitivity of the mouse through its Logitech Gaming Software.   
Like the Logitech G Pro, it also has built-in onboard memory inside.   
This mouse also features the Logitech G Pro showcasing the same six (6) customizable buttons and programmable RGB lighting. 
The main distinction between the two is the price. 
This Logitech G203 is obviously much cheaper and almost half the price than the Logitech G Pro.  
The Features
Sleek and classic design
Fit for small hands
Aimed for eSports gameplay
Lightweight
Programmable RGB lighting
Onboard memory
200 – 8,000 DPI
4 on-the-fly DPI shifting
6 customizable buttons
The Setbacks
Too small for big hands
Plastic feels cheap
Software issue with  Mac users
Logitech G402 Hyperion Fury
This is quite a different look and design compared to the first two models, but I can tell you that this one is bold and furious. 
It is the legacy of Logitech that the company never ceases to refine every corner of its products – and this model is probably one of the outcomes of its continuous innovation.  It is boasted as the world's fastest gaming mouse. 

Showing off its exclusive Fusion Engine technology, it can track at a speed of 10 meters per second (420 ips) with a 1-millisecond report rate.  This mouse is also packed with 32-bit Arm processor. 
I know, it is all technical, but in the abstract, this mouse can incredibly track highest speeds.  
In the games such as FPS where speed makes a difference, this is a first-rate weapon to have in your arsenal.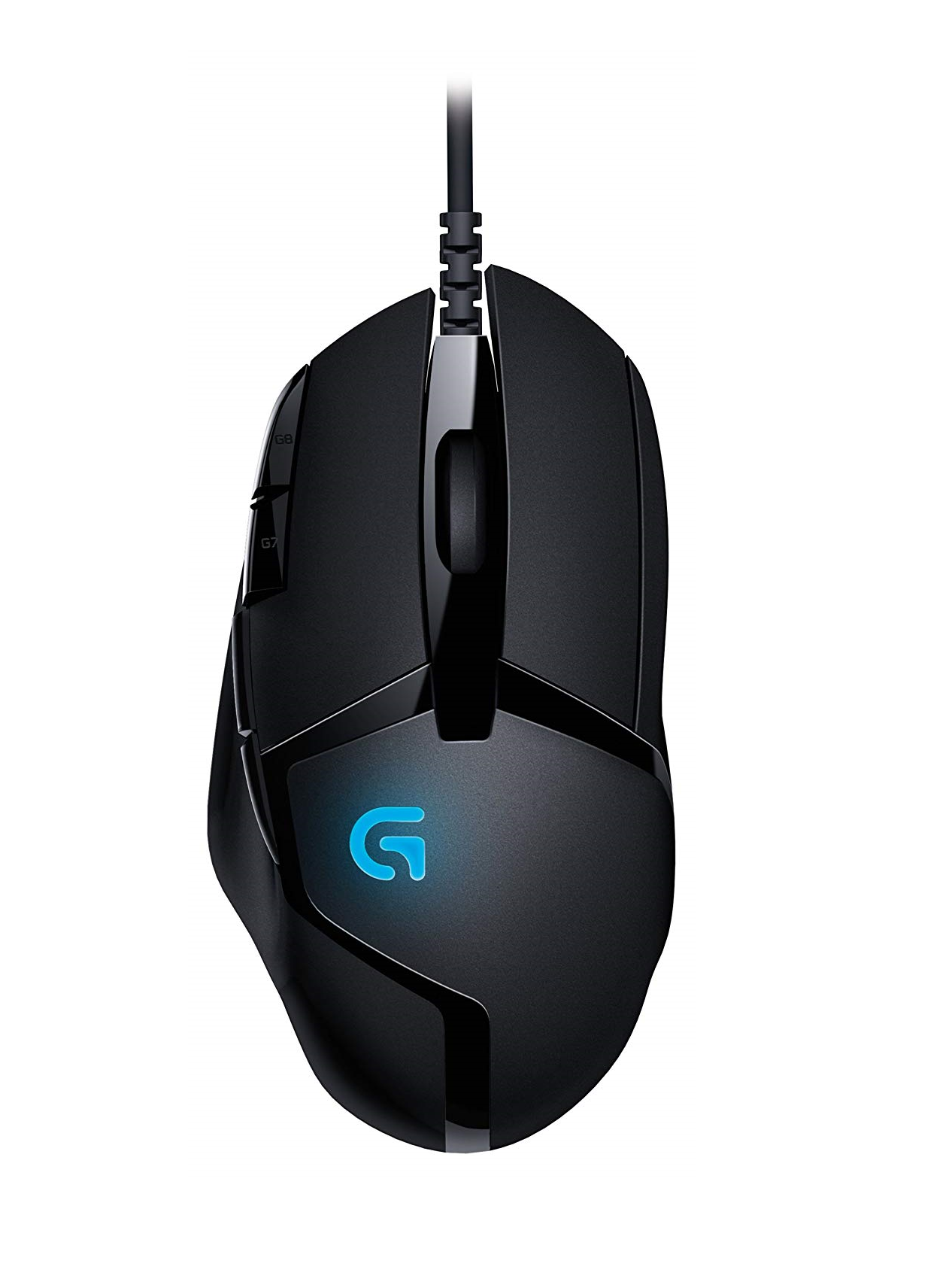 The Features
 Modern design
Lightweight
32-bit Arm processor on board
Onboard memory
250 – 4,000 DPI
4 on-the-fly shifting
8 customizable buttons
The Setbacks
Comfort issue
Not suitable for claw grip
Awkward thumb button placement
Best Wireless Gaming Mouse 
Logitech G900 Chaos Spectrum Ambidextrous Mouse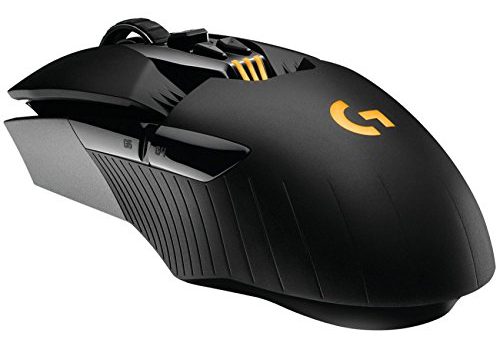 This is another professional grade mouse from Logitech.  But this time, you can elect to use it wirelessly.
If a wireless mouse matters to you, this one is a good preference.
I am not a big fan however of the runtime period of its battery which only lasted for 30 hours in a single charge.  I just feel it troublesome to charge every time the battery is depleted.  Thankfully, it has the option to go wired.
What I struck me as the showpiece of this mouse is the ambidextrous design.  Whether you are a left-handed or right-handed gamer, it is functional in both grips.  
The pivot button concept of this mouse with 11 extra programmable buttons is also a noteworthy mention.  
This mouse is lightweight, playful and game-ready. 
The Features
Wireless
Suitable for right-handed or left-handed user
32-hour battery life in a single charge
Pivot button design
Programmable RGB lighting
200 – 12,000 DPI
5 on-the-fly shifting
11 customizable buttons
The Setbacks
Poor design.  Not ergonomic
Not for shorter hands
Not comfortable for long use
Logitech G602 Lag-Free
This mouse is totally wireless.  Unlike the Chaos Spectrum, there is no wired cable alternative. 
But herein lies the strength of this little brute:  this mouse is powered by two (2) AA batteries which can last up to 250 hours (equivalent to 10 days).  I know, you may worry about weight, as two batteries inside this device could add significant weight.   The simple trick is to remove one battery to reduce the density.
Do you want to save the battery?  If you are not gaming in particular, you can make use of its Endurance Mode.  Just simply slide the switch down and it will extend the battery life to a staggering 144o hours (equivalent to 60 days). 
If you want to get back its agility, slide the switch up to gain its Performance Mode.  You can access the physical switch located at the middle on top of the gear.  Click here for instructions. 
If you want to experience its lag-free experience while gaming, you can use the extender cable when using nano receiver for best results.  
The Features
 Wireless
Optimized for lag free gaming
Natural palm-shaped grip design
Up to 25o hours of battery life
250 – 2,500 DPI
11 customizable buttons
The Setbacks
No customizable RGB lighting
Quite heavy due to battery load
Wireless receiver issue
Razer DeathAdder Chroma  
If form factor is your primary concern, the Razer DeathAdder Elite could make a killing. 
In fact, this is applauded as the world's most popular gaming mouse. 
As it appears, it gives off the feel of having a standard mouse but with better performance.  Due to its ergonomic design, it is reshaped to effect a comfortable grip and control.  The rubberized grip on both the left and right sides provide a better snatch in the handheld.  
I am not a big fan of Razer but I really hold big respect to their contribution in the gaming industry.  Since the establishment of the company in 2005, the Razer brand is credited as one of the pioneers in the global gaming ecosystem.  
Do note that the ergonomic design of this mouse fits snugly for right-handed persons only.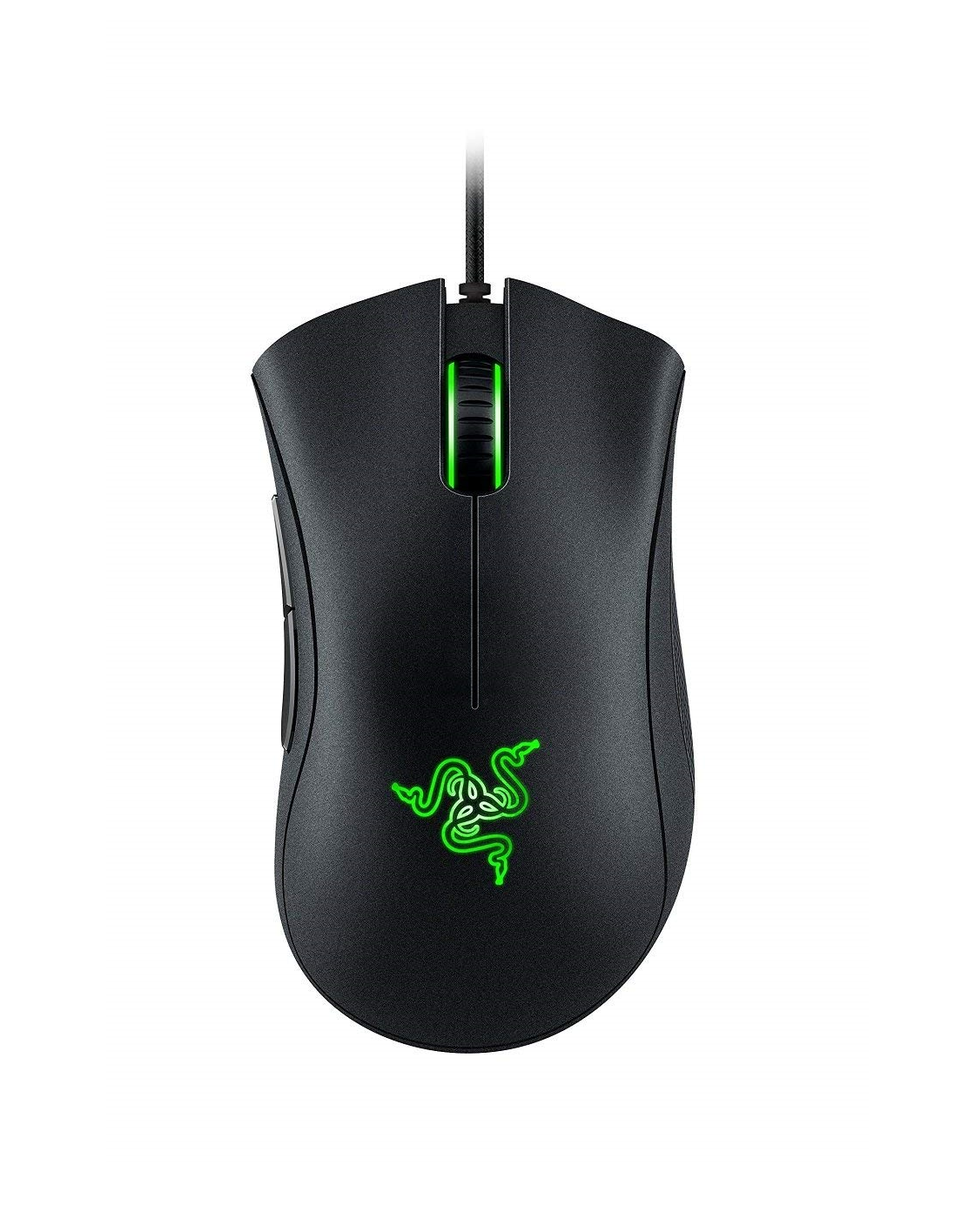 The Features
Ergonomic for right-handed
Comfortable grip
Customizable Chroma lighting
Fast-tracking sensor
16,000 DPI
The Setbacks
No onboard memory
Plastic feels cheap
Durability issue
Best Budget Gaming Mouse 
Redragon M601 
These days, it can be hard to find a budget gaming mouse that can contest the prowess of premium models.  
Fortunately, the Redragon M601 can beat the odds.  
For $12, who thought that you could get a customizable gaming mouse for that price?  While not exactly on par with the ergonomic design of the Razer Death Adder Chroma, the contour shape provides a good grip without hurting your hand after a long duration of playing. 
The 8-piece weight tuning piece is included and you could find it useful support for better scrolling.  
I appreciate the Teflon feet pads underneath the device, it adds a little bit of control and mobility over the mouse.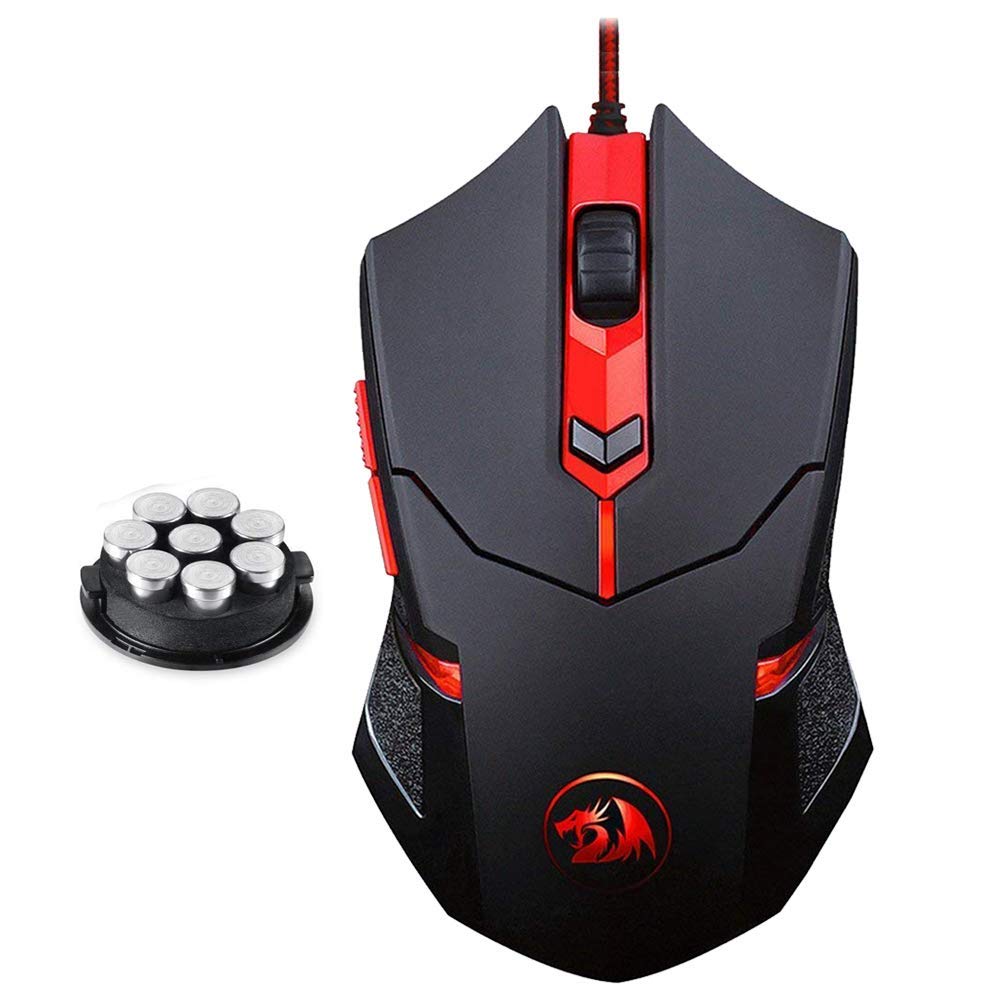 The Features
Customizable tuning weights
Onboard memory
Strong braided fiber cable
Comes with travel case
3,200 DPI
5 customizable buttons
The Setbacks
Poor tracking sensor
Poor Left and right buttons
No customizable RGB lighting
Durability issue
Not for serious gaming
PICTEK Gaming Mouse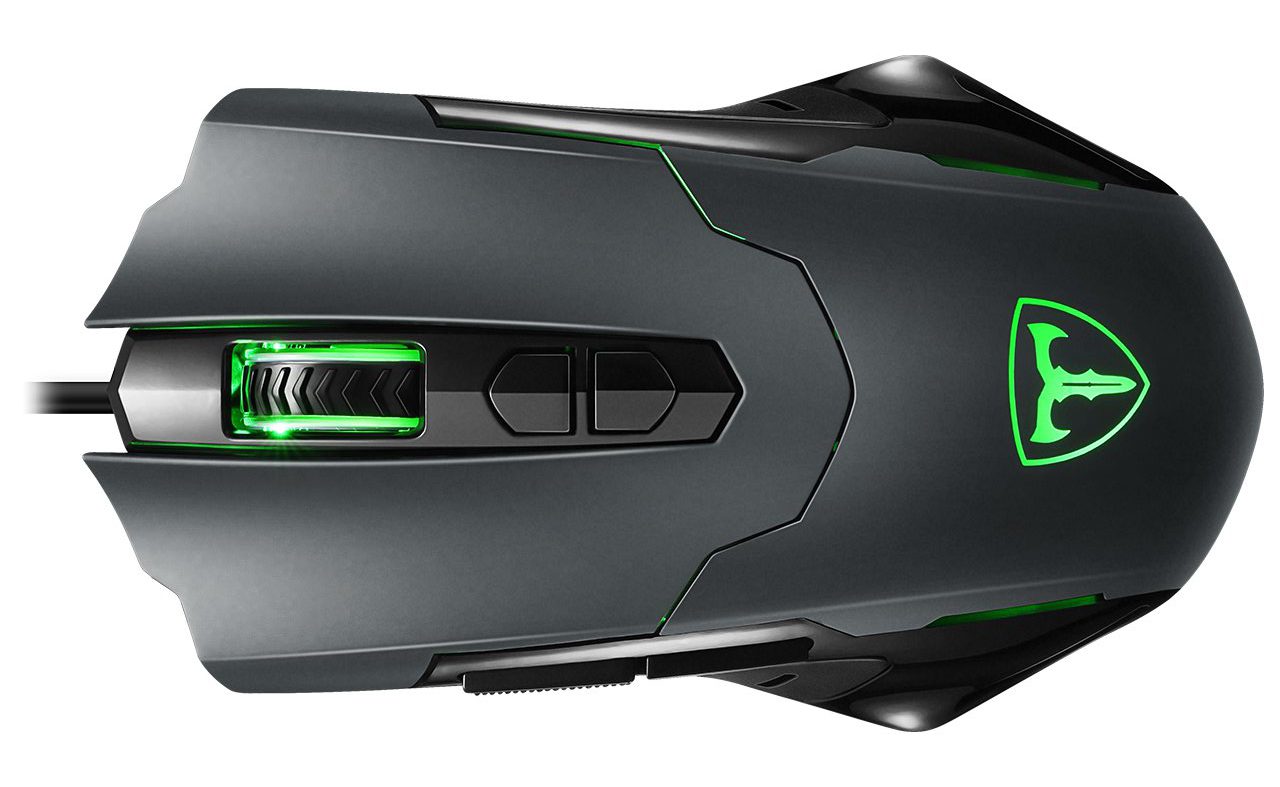 What can you expect for a $14 tag?  Well, this is certainly not something that you can throw out in the garbage. 
You can porbably say that the Pictek brand, as well as the Redragon, are something commonly unheard of and outlandish.
If you are in a tight budget though, this bargain priced product has something to offer. 
This is a programmable gaming mouse with seven (7) buttons.  It can be programmed through its own gaming software.  You can find the instruction on how to do so at the user's manual. 
The symmetrical shape and claw-grip design is an advantage if you get used to holding the mouse with your claw.  
The customizable LED lights of the backlights for personal customization is something that I find fun to do with this mouse.
The Features
Claw-grip designed
Customizable RGB lighting
7,200 DPI
7 customizable buttons
The Setbacks
Poor tracking sensor
Cord is too short
No onboard memory
Not for serious gaming
SteelSeries Rival 110  
It is fortunate that SteelSeries, a trusted name in the gaming industry, offers low-budget gaming mice.  
We have to give kudos to the universal design of this device which can accommodate different types of the grip whether you are a claw, palm, or fingertip gripper.  
The big feature of this mouse is the exclusive TrueMove1 optical sensor.  It has the ability to sense low-latency which delivers a more natural and precise mouse movement.  

What I like most about its RGB lighting is the GameSense factor that is perceptive and creates illumination based on the in-game events you are playing. 
The inclusion of the onboard memory to this device is a bonus that you won't want to miss. 
If you count the features and price ratio, there is no reason not to get this.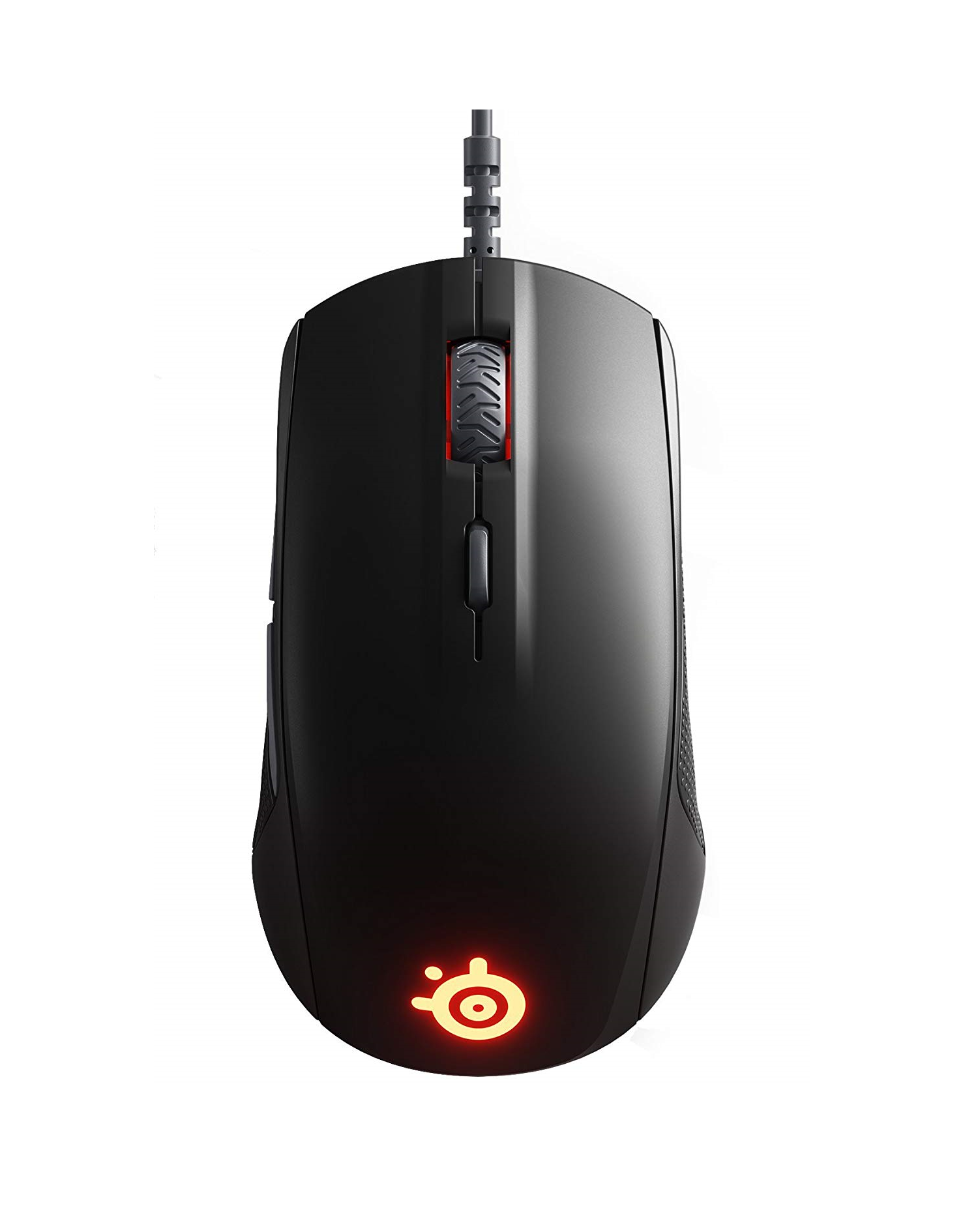 The Features
Sleek and classic design
Lightweight
Ergonomic design
Responsive sensor
Quality plastic materials
Customizable Prism RGB lighting
Onboard memory
7,200 DPI
6 customizable buttons
The Setbacks
Thumb buttons are small
Poor Mac user support
Best Programmable Buttons for MMO 
Logitech G600 
If you are in the process of improving your skills with Massive Multiplayer Online (MMO) games, having programmable buttons integrated at your mouse is an edge in the battleground.
I know, if you are not yet used with the buttons, it may take some time to practice before you gain mastery using a gaming mouse with programmable buttons.  Sooner or later though, your playing technique will improve when you adapt the setting.  
This mouse has 20-MMO programmable tuned buttons including the 3 primary buttons and 12 unique thumb panels, carefully positioned for optimal and quick access. 
I am really impressed with the quality of this product.  The price fairly compensates the build-up materials.  The plastic finish feels premium.  The cord or cable is made up of carbon.  It is 2 meters length is long enough to navigate the mouse at any position without shortage.   
Summing up the features and excellence of this device, it all comes with a price however. 
Fortunately, you can avail the best deal at Amazon.  
The Features
Laser sensor
Dual-dish thumb panel
G-shift ring-finger button
Customizable RGB lighting
Onboard memory
50 – 8,200 DPI
20 customizable buttons
The Setbacks
Too small for large hands
Not ergonomic design
UtechSmart Venus  
While the brand is not as celebrated tag as the Logitech.  But this is a game breaker. 
Unlike the Logitech G600 which has an optical sensor, this mouse is equipped with a laser sensor.  If you want to take advantage of the propriety of a laser sensor which works smoothly in any variety of surfaces, this one is an acceptable option.
There are 12 side physical buttons but you can combine the programmable buttons and adds up to 19 buttons through its driver software.  
I think that the extra-great feature of this mouse compared to Logitech G600 is the inclusion of its weight tuning feature.  Inside the component are the 8-piece weights for optimizing the load.  
It is just a matter of lightness or heaviness.  There is no guarantee that using weights will make you a champion though.  Your natural craft and ability are the ones that count in the skirmish. 
The Features
Laser sensor
Optimizable weights for tuning
Programmable RGB lighting
50 – 16,400 DPI
18 customizable buttons
The Setbacks
Poor software interface
Side buttons are too stiff
Poor customer support
Best Tunable and Weight Balancing 
Logitech G502 HERO 
This is the newest breed of Logitech's customizable gaming mouse which was released in October 2018.  
The Logitech G502 Hero is the successor of the throne of its award-winning and two notable predecessors, the G502 Proteus Core, and the G502 Proteus Spectrum. 
Breathing with the same strength, it improves the sensor from 12,000 DPI to 16,000 DPI.  The clicks life span also increased from 20 million to 50 million clicks. 
G502 Hero maintains the five (5) 3.6 grams customizable metal weights.  It is quite heavy for some but you can set your preference to tune it up or not to use it anymore.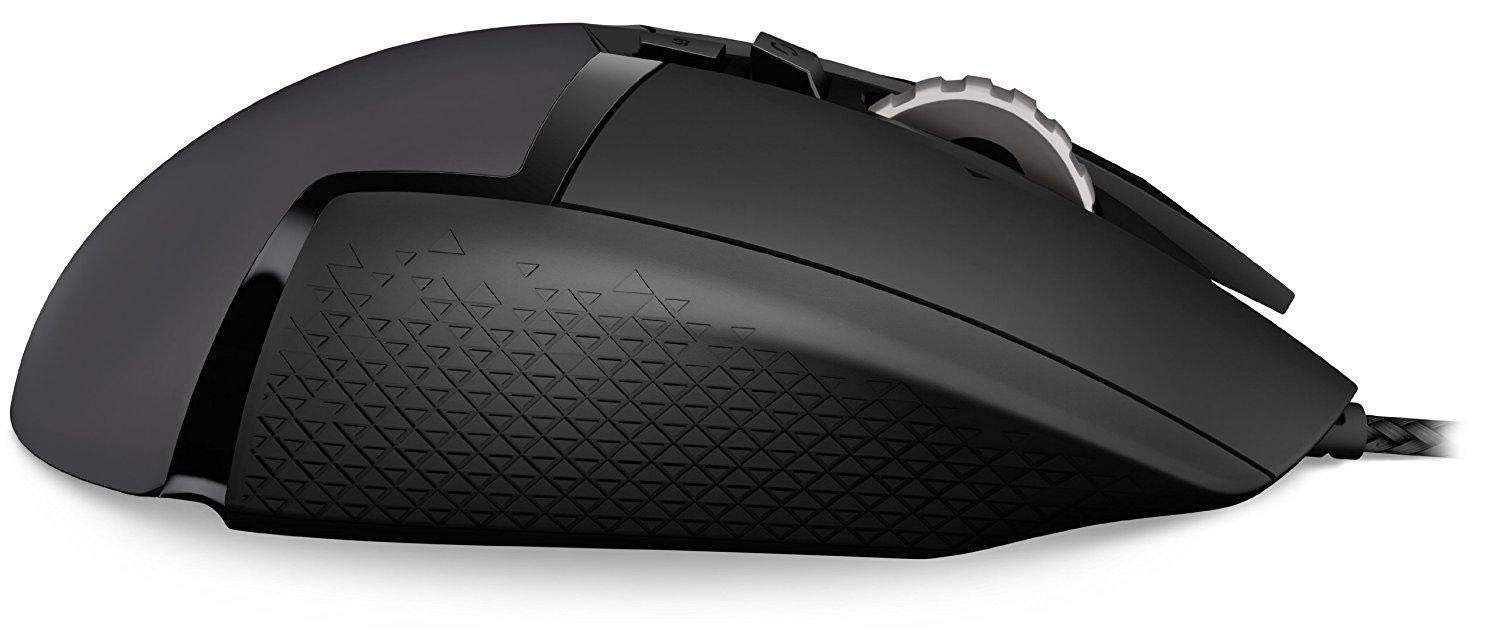 I am not a fan of its metal scroll wheel.  I prefer rubber rather than metal.  But I found it helpful when scrolling long web pages.  It is so much easier to scroll and the pages really fly fast.    
This is not a big leap from previous models though, as the design is almost the same.  Though it is notable that the G502 Hero is much clickier and sturdier.  
It is just a minor calibration of its sensor that improves the performance slightly better.   
If the price is your concern, the G502 Proteus Spectrum offers a lesser price.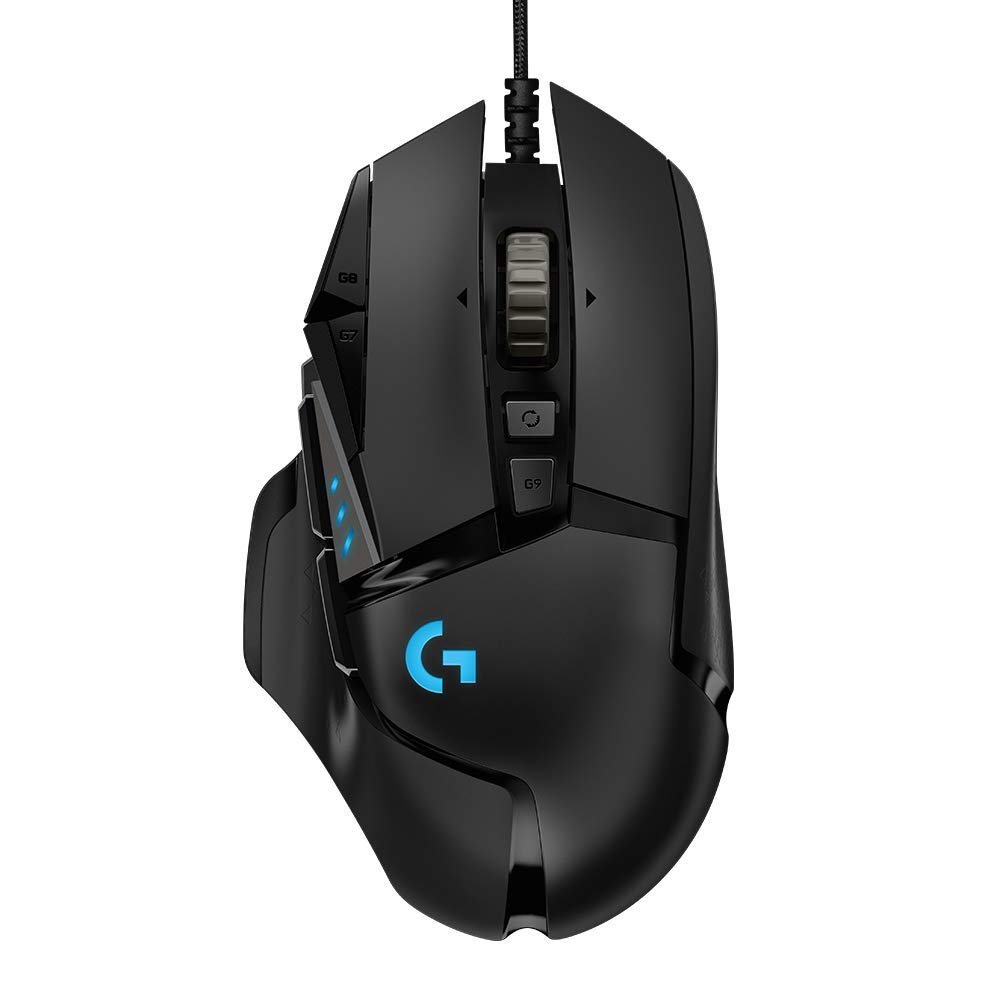 The Features
Five weights (3.6g each)
Programmable RGB lighting
Onboard memory
200 – 16,000 DPI
11 customizable buttons
The Setbacks
Scroll wheel tactility issue
Not suitable for smaller hands
Buttons accessibility issue
Too heavy
CORSAIR M65 Pro RGB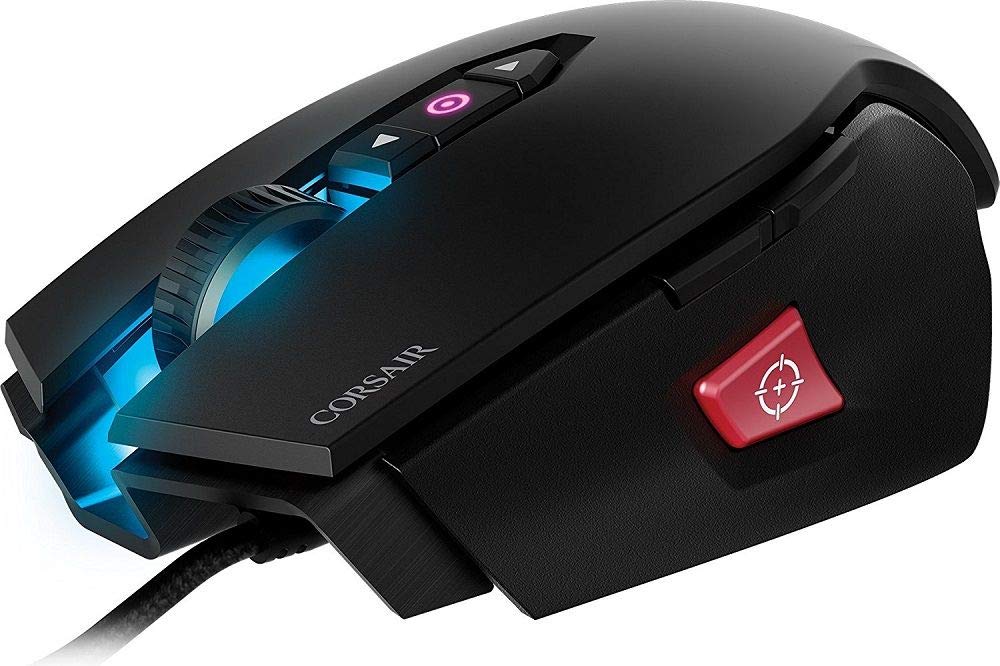 If you think that the Logitech G502 is the only one standing brave in the arena, you are wrong!
The Corsair M65 Pro is a challenger that won't let its honor down. 
True, this device has something sweet to offer.  The aircraft-grade aluminum structure of its unibody is a solid punch when it comes to durability and toughness.
Its 12000 DPI sensor is not that much compared to 16,000 DPI of Logitech G502 Hero.  So, what is the score?  The advanced surface calibration system of this mouse is functional at any surface.  It is no longer an issue whether you play with a mouse pad or not.  You can play right and confident at any type of surface you are on. 

It is evident that the scroll wheel is also made of metal as the one on the G502 Hero. The tweak is that the metal is wrapped with rubber.  Since I was accustomed to a rubberized scroll wheel,  I am satisfied with its texture.  At any rate, that is just is my minor personal inclination.  
I like the idea of its weights which were placed on three different points.  Two on the front and one at the end forming a triangle shape.  It is accepted that the idea of the design is to set the gravity at the center of the mouse.  
For FPS gaming, this stuff could lead you to the game due to its adjustable sniper button.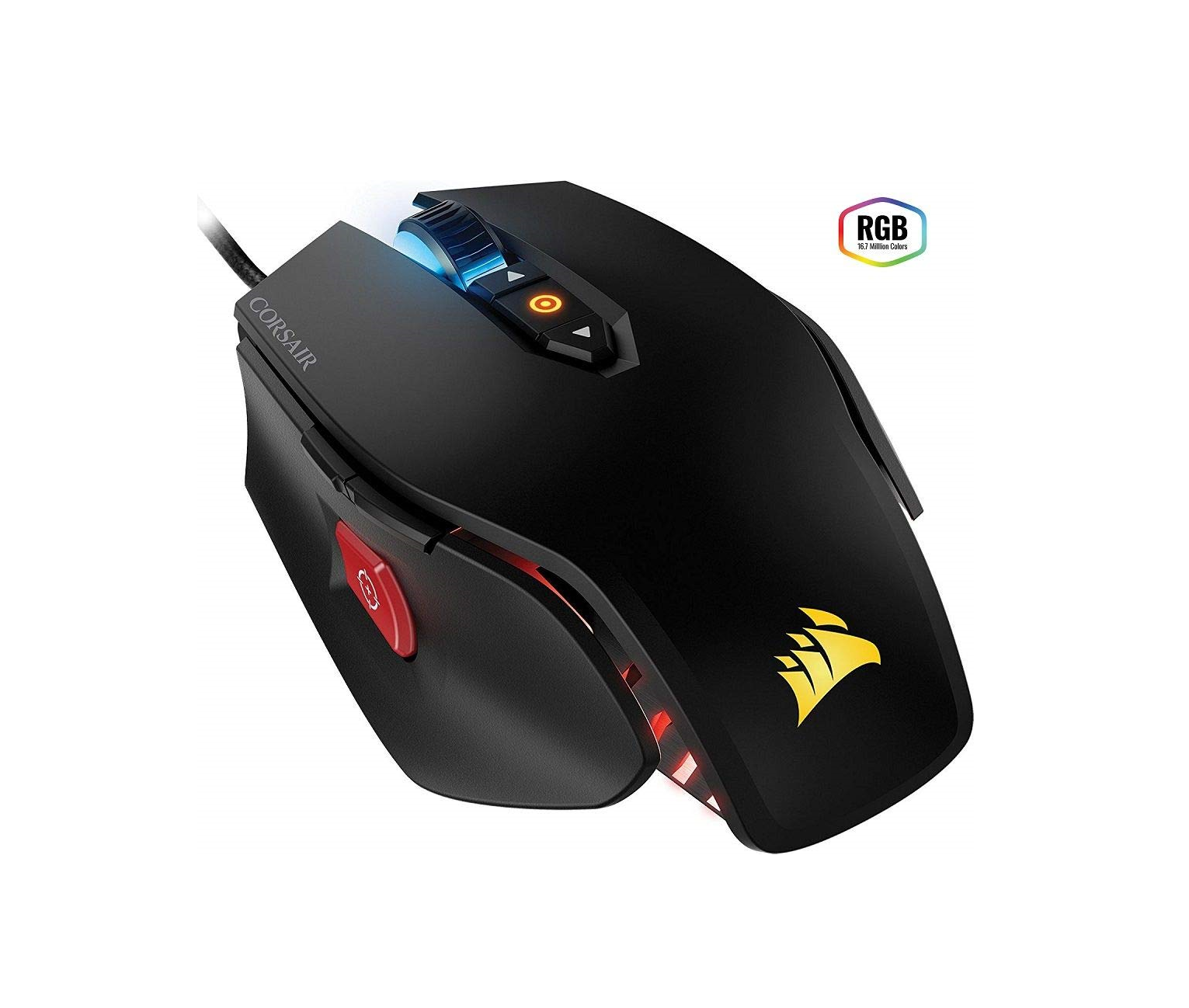 The Features
Three tuning weights (5.5g each)
Aircraft-grade aluminum unibody structure
Durable and lightweight
Advanced surface calibration works at any surface
Adjustable DPI sniper button
Onboard memory
Programmable RGB lighting
12,000 DPI
The Setbacks
Scroll wheel issue
Double click left button issue
No included tool for weights screws
Poor software interface
Not suitable for big hands
SteelSeries Rival 600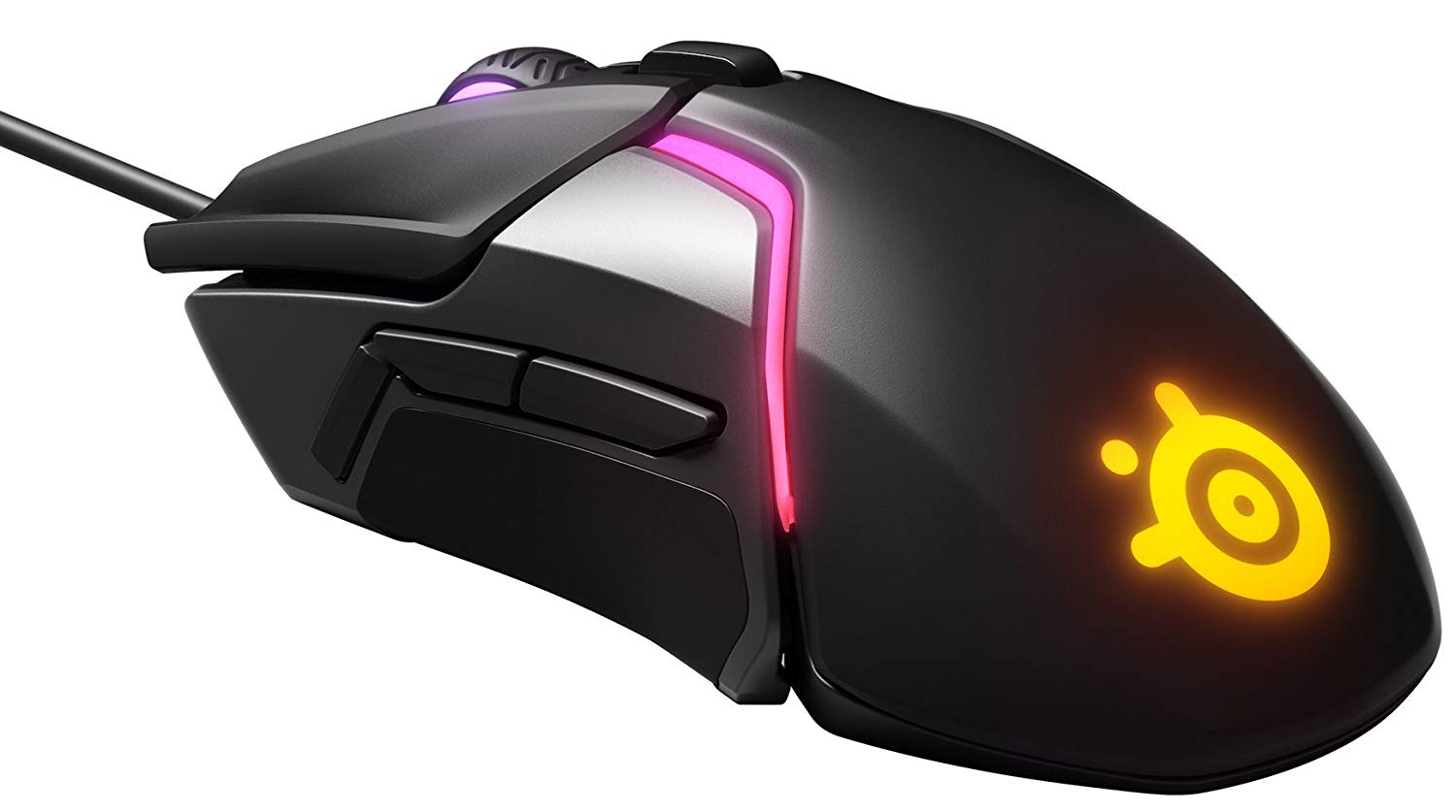 The SteelSeries Rival 600 has its own weaponry to stand side by side for a showdown.   
First and foremost, the TrueMove3+ dual sensor is a top class dedicated system to detect the lift-off distance.  This plays a big role for professional FPS gamers.  Since it has a dual sensor, the secondary sensor is designed to customize the setting as to when to stops or starts tracking every time you lift the mouse.  You can do all that stuff through its Engine software.  
Of course, this also has RGB lighting which is not really unusual. It is no different to see the colors compared to the other mice.  If you care about the heaps of customizable colors, you will appreciate the lights coming on the scroll wheel, the zone illumination on the left and right, and the radiant logo behind.  
Though it is wired, the cable is detachable with a micro-USB connector on the other end.  This is a fair solution to carry and keep your mouse in good form. 
One thing that the Rival 600 could stand in the match is the design of its tunable weights.  Both sections on the side are magnetic which makes it easy to install the weights.  There are eight (8) weights included measuring 4g each allocating four (4) slots at both sides. 
I am not a professional or hardcore gamer and I don't think that weights are significant in FPS but with respect to the design of tuning its density, the Rival 600 has made a distinctive theory of calibration. 
The Features
Eight weights (4g each)
Lift-off distance sensor
Fiber-reinforced plastic
Ergonomic design for right-handed
Cool customizable RGB lighting
Good software interface
Detachable cable
Compatible with Mac users
100 – 12,000 DPI
7 customizable buttons
The Setbacks
No braided cable
Slippery finish
Poor design on side pads
Not suitable for shorter hands
The Bottom Line
I know that you might get confused as to what is best for you on this list.  You don't need to choose the most pricey either the least expensive one.  
As a rule of thumb, the value should be equaled by its performance. It is true that the type of your gaming mouse can affect the quality of your gaming performance particularly if you are in into eSports.
Gaming mice are not equally created and so are gamers.
Definitely, it is a no-brainer to choose a gaming mouse that fits the kind of games you play in.