DISCLOSURE: Most of our content uses affiliate links. As an Amazon Associate, we may earn a commission when you buy through the links. Each of your purchases via our affiliation links helps us to support the cost and maintenance of this site.
We've just seen Samsung launch their new Galaxy Note 9, and it's turned out to be quite a feature-packed smartphone, which showcases some of Samsung's best in recent years. It's got the latest software and hardware developments from Samsung and proves to be a definite evolution of their Galaxy Note series.
With all that said, however, the phone comes with a pretty hefty price tag, and you may be looking for a smartphone that's a bit more affordable, but with the same looks and features – enter the Samsung Galaxy Note 8.
So, with the Note 9 on the loose, should you still buy the Note 8? Let's take a look and find out. We'll cover some basic points as to why the Note 8 can still be a great smartphone purchase.
Pricing
Let's start with the most obvious reason to get a Galaxy Note 8. When a new flagship smartphone is launched, you can most certainly bet that we'll be seeing price drops on last year's models. And from the looks of it, this continues to be the case with the Note 8, and pretty soon you can expect retailers to start slashing their prices.
LIKES: Price drops. More affordable option compared to Note 9.
The Note 8 was launched in August last year with a price of around $930, and we can expect this price to get lower as the Note 9 gains more traction.
Design and Display
As far as looks go, the Galaxy Note 8 looks a lot like the newer Note 9, and we mean a lot. Sure, the camera and fingerprint sensor on the back have been moved, but visually the rest of the phone looks similar to this year's Note. You still get the premium Gorilla Glass + metal build that Samsung uses for its flagships.
And let's not forget that stunning display. Samsung has included a QHD+ Super AMOLED screen on the Note 8, which measures 6.3 inches. It's also got an 18:9 aspect ratio, which has become the standard for Samsung's flagship phones. Additionally, it has Samsung's Edge functionality, which hosts a ton of features, such as Edge Lighting notifications, People Edge, which lets you pin contacts to your screen's edge, App Edge, which somewhat does the same but with app shortcuts and more.
Internal Specs and Camera
For a smartphone launched last year, the Note 8 still features some pretty awesome specs. You get a powerful Snapdragon 835 chip, along with 6 gigabytes of RAM. The phone comes with different storage versions which include 64, 128, and 256 gigabytes of storage. The only downside will probably be the 3300 mah battery, which is a bit small for such a power-packed phone.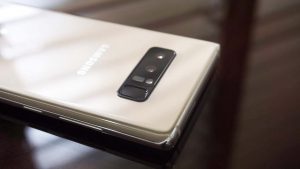 Battery issues aside, the phone still performs great. The 6 gigabytes of RAM and the Snapdragon CPU go great together, and as far as we can say, lag is nearly non-existent, even when browsing through menus and playing games. Gone are the days when Samsung's Touchwiz plagued the hardware with lag. It may be a year old, but the Note 8 still packs a punch.
DISLIKES: Outclassed by Galaxy Note 9 in storage options and S-Pen features.
Next up, Samsung has included a dual 12-megapixel main camera, which takes some pretty great shots. Images have good quality, and there are a ton of customization options for the camera app as well. There's also an 8-megapixel front camera for your selfies and whatnot. For a year-old device, the camera still holds up well and remains perfectly serviceable.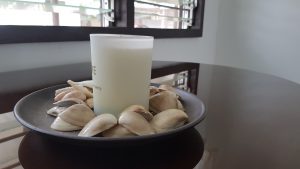 The S-Pen
The S-Pen has always been a defining feature of the Note smartphones, and the one on the Note 8 comes packed with multiple functions. These include the Live message feature, which lets you create animated GIFs, Screen-Off Memo, which lets you write notes when the screen is off, translate and magnify, and more.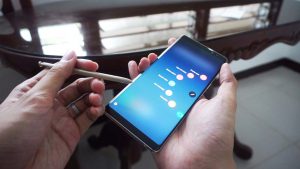 Sure, the Note 9's stylus may have Bluetooth and remote features, but if you're not really after those, then the Note 8 should suffice. You still get a highly-functional smartphone stylus, and Samsung's special pen features add to the overall experience.
The Bottom Line
To sum things up, the Samsung Galaxy Note 8 remains a great smartphone for those looking for a large, stylus-equipped device. While the Note 9 offers some software and hardware updates, the Note 8 will be the more affordable option. If you're not really after the Note 9's features, then the Samsung Galaxy Note 8 will be just right for you – camera, performance, stylus and all.