DISCLOSURE: Most of our content uses affiliate links. As an Amazon Associate, we may earn a commission when you buy through the links. Each of your purchases via our affiliation links helps us to support the cost and maintenance of this site.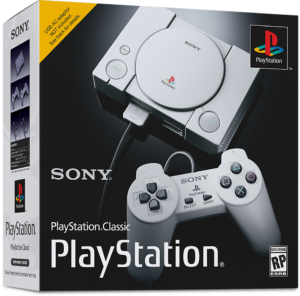 Let's face it – as advanced as new video games and consoles are today, there will always be gamers (including yours truly) who will still be fans of older games and older video game systems. Retro games and even newer games styled in retro fashion have always existed, and this trend of fandom for yesteryear's gaming experiences has made its presence felt whether it be through second-hand consoles, mint collector's items, emulation, and whatnot. A good example of this undying wave of gaming nostalgia would be Nintendo and its release of the NES and SNES Mini consoles, miniature versions of Nintendo's earliest video game systems.
Which now brings us to Sony. The Japanese electronics giant has established its success in the video game industry thanks to its PlayStation brand of gaming systems. Now, Sony looks to challenge Nintendo in the retro-console reboot department with the impending launch of the PlayStation Classic, set to hit shelves on December 3, 2018. But should you buy it? Let's take a look.
What is the PlayStation Classic?
Similar to Nintendo's NES and SNES Minis, the PlayStation Classic is a replica of the original PlayStation, first launched way back in 1994. Of course, this version of the PlayStation is modified to be equipped with newer hardware features and is a whole lot smaller in size. In addition to this, Sony has also included the power and reset button on the design of the console, maintaining the looks of the original PlayStation.
The PS Classic will come with an HDMI port and cable, and a USB Micro to Standard USB cable. In addition, an AC adapter for the system will be sold separately.
One good thing about the PS Classic is that it will ship with two controllers, so multiplayer gameplay is definitely a built-in feature. Of course, it will not be compatible with original PlayStation controllers and memory cards, which have long since been retired.
How do You Play Games on It?
With the original PlayStation, the games were sold in CD format. You pressed a button, a disc tray would pop open and then you'd be able to load your disc inside the console. With this version though, it's a bit different as the PS Classic has 20 built-in games, which admittedly is a lot more convenient.
As for which games are on the console, Sony has included the following titles:
Battle Arena Toshinden

Final Fantasy VII

Intelligent Qube

Jumping Flash

Metal Gear Solid

Mr. Driller

R4: Ridge Racer Type 4

Resident Evil: Director's Cut

Revelations: Persona

Super Puzzle Fighter II Turbo

Tekken 3

Wild Arms

Cool Boarders 2

Destruction Derby

Grand Theft Auto

Oddworld: Abe's Oddysee

Rayman

Syphon Filter

Tom Clancy's Rainbow Six

Twisted Metal
While there are some great classic games on that list, some fans may be disappointed by the lack of more popular PlayStation games such as Crash Bandicoot, Spyro, Tony Hawk's Pro Skater, Medal of Honor, and more. This is one downside that we can see that may affect the PS Classic's market performance. But then again you get some big-name games to go along with the system, which is not so bad.
Should You Buy it Then?
Of course, this question always boils down to personal preferences. If you're a PlayStation fan or even someone who enjoys retro gaming in general, then the PS Classic is right up your alley. It offers hardware that will be compatible with modern TV sets and a list of games which include some unforgettable titles like Final Fantasy VII and Metal Gear Solid. However, if you're bothered by the somewhat-limited games catalogue on the system, then maybe the PS Classic might not be for you.
The PS Classic is set to be launched on December 3, 2018.