DISCLOSURE: Most of our content uses affiliate links. As an Amazon Associate, we may earn a commission when you buy through the links. Each of your purchases via our affiliation links helps us to support the cost and maintenance of this site.
The Nintendo Switch is certainly a unique console as it offers you different ways to play your games. You can play with the Joycons on or off the system separately or as one controller, and as far as gaming goes this just makes a world of difference. But if you're like most gamers out there you might prefer a more classic controller set-up, similar to the one you get on the Xbox or PlayStation. With that said, you might want to invest in a Nintendo Switch Pro Controller, or in a third-party controller such as the one that we have here.
We're going to do a quick review of the Nyko Core Controller, so you guys can have an idea of what it's like if you're planning on getting one. Let's get started!
Packaging and Design
The Nyko Wireless Core controller costs just around 20-30 bucks, and it comes in a nicely packaged box. You get the controller along with a charging cable and some paperwork. The controller itself feels nice in the hand – it comes in a nice matte black paint job, but you can also get it in other colors.
It's not too heavy or bulky either, and personally, I find that it fits just right in my large hands, and is pretty comfortable for extended gaming sessions.
Compared to the Joycons, the Nyko controller retains a more traditional form factor and button layout, similar to the Nintendo Switch Pro controller or the Xbox controller. It features all the same buttons you get on the console, and this includes the home and screenshot buttons. There's also an additional turbo button, but I haven't really needed to use it yet.
The buttons have a nice feel to them and are just the right balance between clicky and mushy. The analog sticks likewise feel sturdy, and glide smoothly in any direction you need them to.
Connectivity & Performance
Connecting the Nyko controller is pretty simple – just navigate to the "change grip/controller" menu on the Switch, and activate the controller's wireless function by holding down the Home and Y buttons. It doesn't take long for the Switch to connect to the controller, and once you've paired both devices, everything else is smooth sailing. The controller was able to last me several hours without needing to constantly charge the battery, and there's barely any input lag, at least from my experience.
If the battery does need to be charged, however, it is nice to know that the controller charges through a USB Type-C port. This is a nice addition, given that a lot of modern devices are now transitioning to USB Type-C as the new connection standard.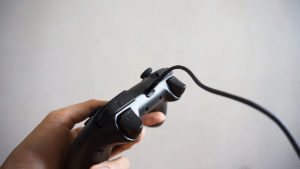 The Bottom Line
So, is the Nyko Wireless Core Controller worth your cash? In my opinion, the controller delivers a pleasant gaming experience, has a nice and sturdy build, and is not very expensive either. If you're after a third-party controller for your Nintendo Switch, then the Nyko controller is worth checking out.