DISCLOSURE: Most of our content uses affiliate links. As an Amazon Associate, we may earn a commission when you buy through the links. Each of your purchases via our affiliation links helps us to support the cost and maintenance of this site.
Recently, Microsoft unveiled its newest line of Surface Products – all of which were impressive, but one little device did stand out: the Microsoft Surface Duo. When Microsoft's Panos Panay held up the device, it seemed to confirm the dozens of leaks and rumors we've seen in the past.
Now personally we are very excited for this device, but what actually makes it interesting or unique? Let's take a quick look at what we know.
Build and Display
Of course one of the biggest features of the Surface Duo is the folding design. While it may be similar to the Samsung Galaxy Fold, Microsoft has taken a different approach by using two 5.6-inch displays which you can fold inward and outward, and will respond to stylus input.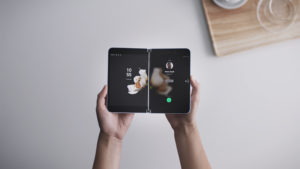 From Microsoft's video presentation it's pretty obvious that the device is geared towards productivity, multi tasking, but at the same time can handle games.
This is pretty impressive because you do get a portable device which can unfold into a larger display to accommodate such uses. And honestly, I'm more hyped up for this one compared to the Galaxy Fold, both from a functional and design standpoint.
We also know that the Surface Duo will come with call and messaging features, which brings back memories of Microsoft's ill-fated Windows phone devices.
Microsoft + Google
Unlike Windows Phone though, the Surface Duo will be powered by Android. Microsoft has announced that they will be working with Google to optimize the software features on this device. This does sound promising as Microsoft has been improving their apps and services on Android in the past few years. YOu can easily find a complete suite of Microsoft apps on the Google Playstore, including the MS Office apps.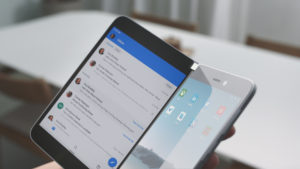 The version of Android on the Surface Duo will come with Google Play services, which let's face it – is a big part of Android as a whole.
What About the Specs?
Unfortunately, Microsoft didn't reveal too much info on the Surface Duo's internal specs. We do know however that the current prototype is running on a Qualcomm Snapdragon 855 chipset, but we could still hope for an upgrade.
As for the camera, we can only hope that Microsoft equips this with a shooter comparable to that of the iPhone or even the Pixel. Time will tell though as the Surface Duo won't be launching anytime soon. We'll see an official launch in 2020 at around Holiday season.
Final Thoughts
In closing, I'm really excited for the Surface Duo. It signals Microsoft's return of sorts to the mobile landscape, and also gives an interesting look at how mobile devices can continue to improve.
Hopefully we get more info on the Surface Duo in the coming months. For now we'll have to wait patiently. If you're really looking to purchase a Microsoft Surface device though, we recommend reading our review.