DISCLOSURE: Most of our content uses affiliate links. As an Amazon Associate, we may earn a commission when you buy through the links. Each of your purchases via our affiliation links helps us to support the cost and maintenance of this site.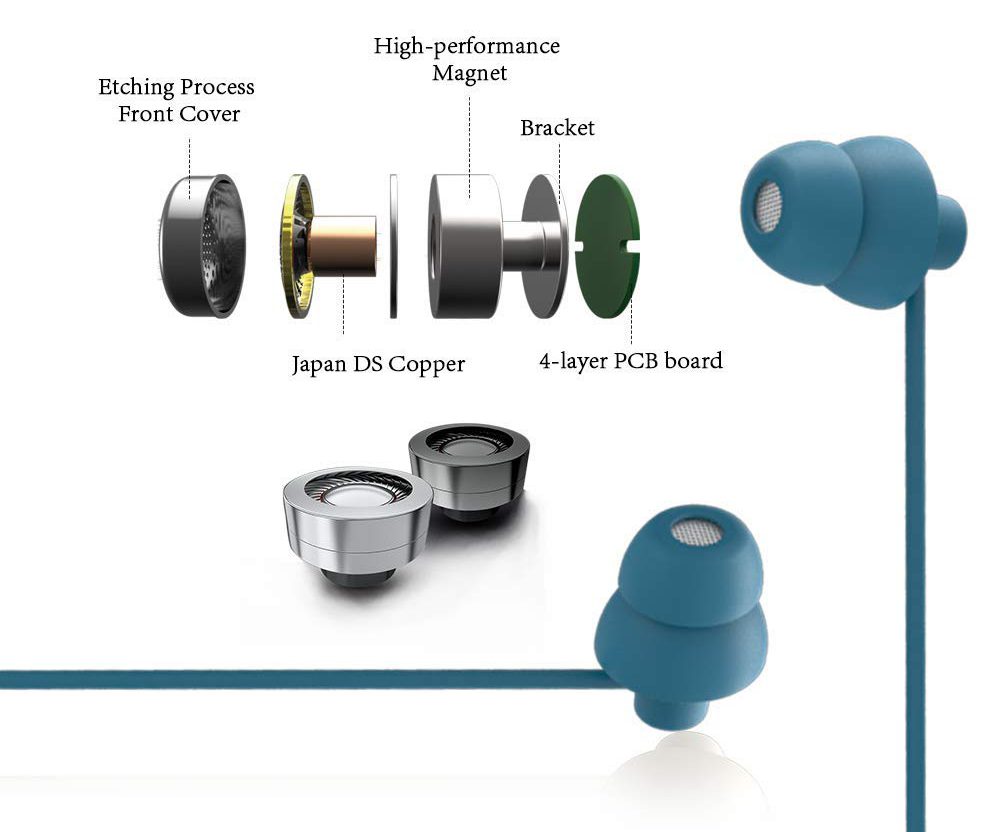 It is undeniable that having a pair of good and quality headphone would change the way you listen to music.  The portability is the golden factor of headphones where you can have a good time to enjoy music anytime and anywhere you go.
We never expect that such a piece of mechanism will bring us into a new level of music experience in our modern days.  We feel relaxed, entertained, and blown away at the moment we put that gizmo in our head.  The invention of noise-canceling headphones even freed us from the annoyance of unwanted noise in our environments. We take advantage of it every time we are on travel by train, on the airplane, or at any moment we need it to isolate ourselves from disturbances.  
With such phenomena, no wonder why the production of headphones including headsets becomes a fad.  In fact, statistics show that headphones and earphones have a market value of 15 billion U.S. dollars in revenue.  So how is that matter?
What matter is that most of us spend money trying to find the best headphone that we feel is something exceptional and sounds great.  But why we should pay for extra bucks if we could spend a lot less with an ideal pair of earphone or earbuds?  Would you believe that an earphone and earbuds could not break in the party?  And for under $30.00, this will change your perspective on how you look at it in this itsy-bitsy tiny little widget.
It's Black Friday time!  Please stay with me while I walk you through in the park of Amazon and look into the 5 most affordable but good sounding earphones.
#1 BETRON DC950 Earphones
This is one of the sweetest spots of the earphones industry that you can always have the option to choose the very least expensive one and Betron DC950 is probably my number #1 on the list.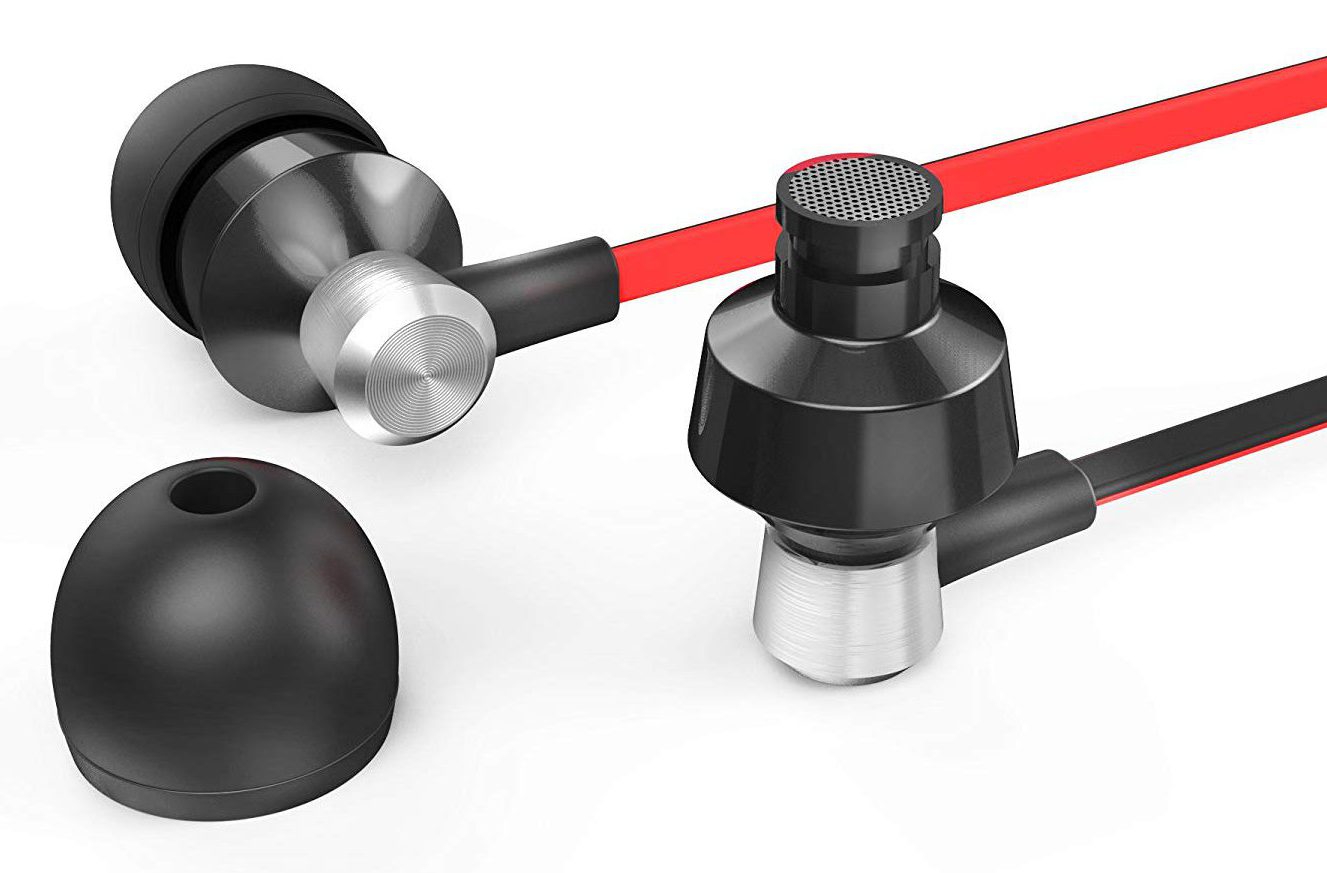 For under $12.00 (without microphone), you can have a pair of earphone with a stylistic design.  It is one of the best design I have seen in this category of budget earphones.  The color combination of its FLAT cable (1.2 meters length) with black on one side and red on the other side is artistic.  Aside from color, I also like the tangle free feature of its cable.  There is no hassle of untieing its cable everytime you want to use it.
With its Deep Bass Ports and 11.55 mm Neodymium driver, it has a frequency response ranging from 20Hz – 20kHz, you can expect with this earphone to deliver a fair to middling bass effect.  Anyway, that is all about the technical side.  Measuring frequency response is a different matter to understand.  I just refer you on headphone.com if you want to learn more.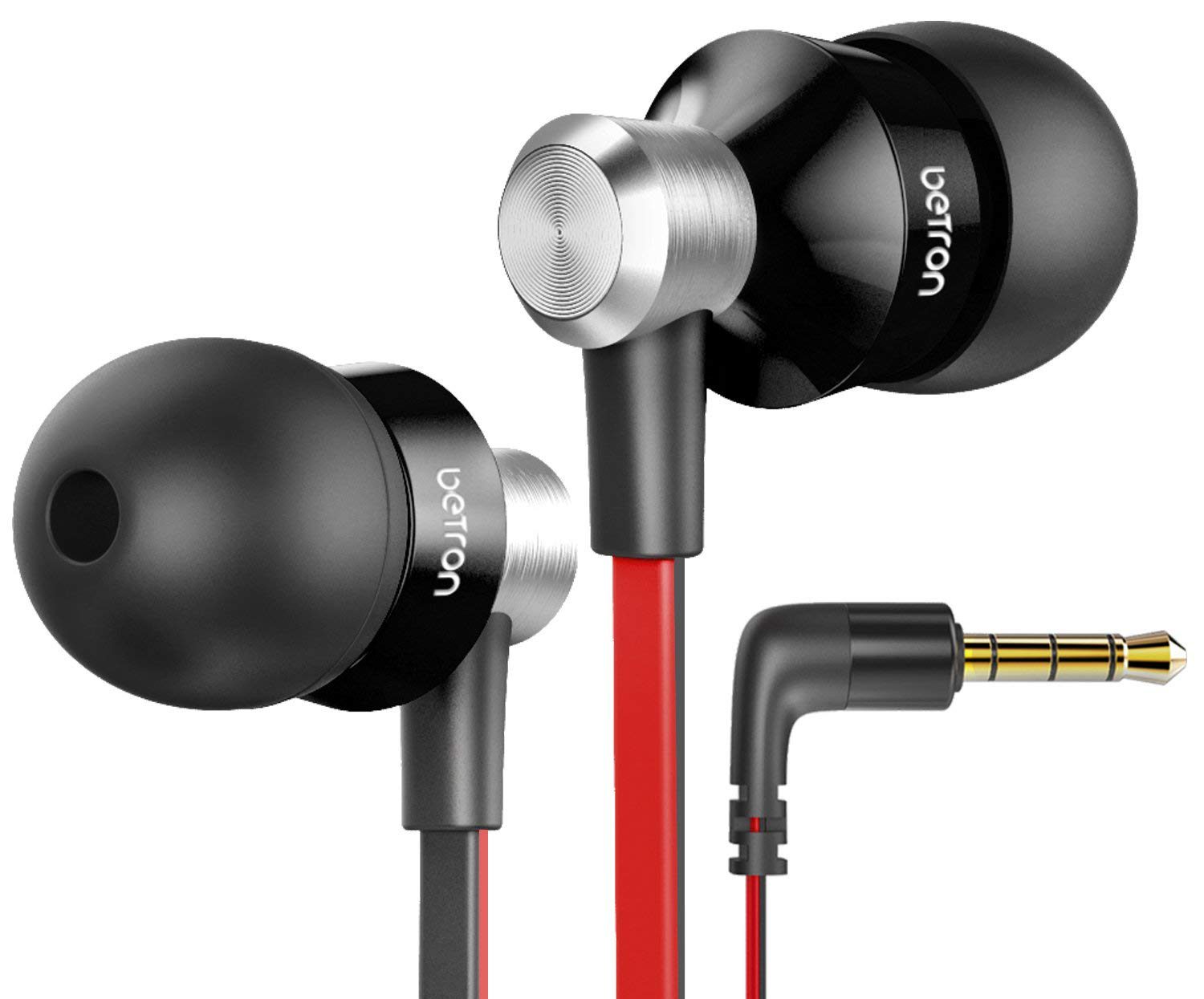 I can never imagine that spending just a few bucks with this earphone, you can still get a carrying pouch on the package.  Thanks for such open-handed generosity.
Though most cheap earphones are built with plastics that justifies its price, the end silver caps of this earphone is made of metal.  Its gold-plated jack end is also a plus that enhances its bass to deliver detailed sound.
Please note that if you want to have a microphone and volume controller, you need to pay for an extra buck which cost $15.00.
You don't need to worry if you have Apple or Android devices.  This earphone works well either.
The Drawbacks
Since the shape of its earbud in both sides are almost parallel from each other, you might take some time to distinguish easily the left bud from the right bud.  But it is not really a dealbreaker.  It is reversible and still works in case you use it otherwise.
I think, my main concern with this earphone is the earpieces or earbud tips which do not fit snugly on the ear.  It cannot stay in if you keep on moving and keep slipping out if you use it during jogging or work out on the gym.  At any rate, this is not a sports earphone.
I have my recommendation on the list below for sports earphone so please continue reading.
#2 PANASONIC RP-HJE125-K Wired Earbuds 
Do not judge the book by its cover.  That mirrors with this piece of earphone from Panasonic RP-HJE125-K without microphone and volume controller.  This earphone as it looks is nothing remarkable in its appearance because what is appealing is wholly in the inside.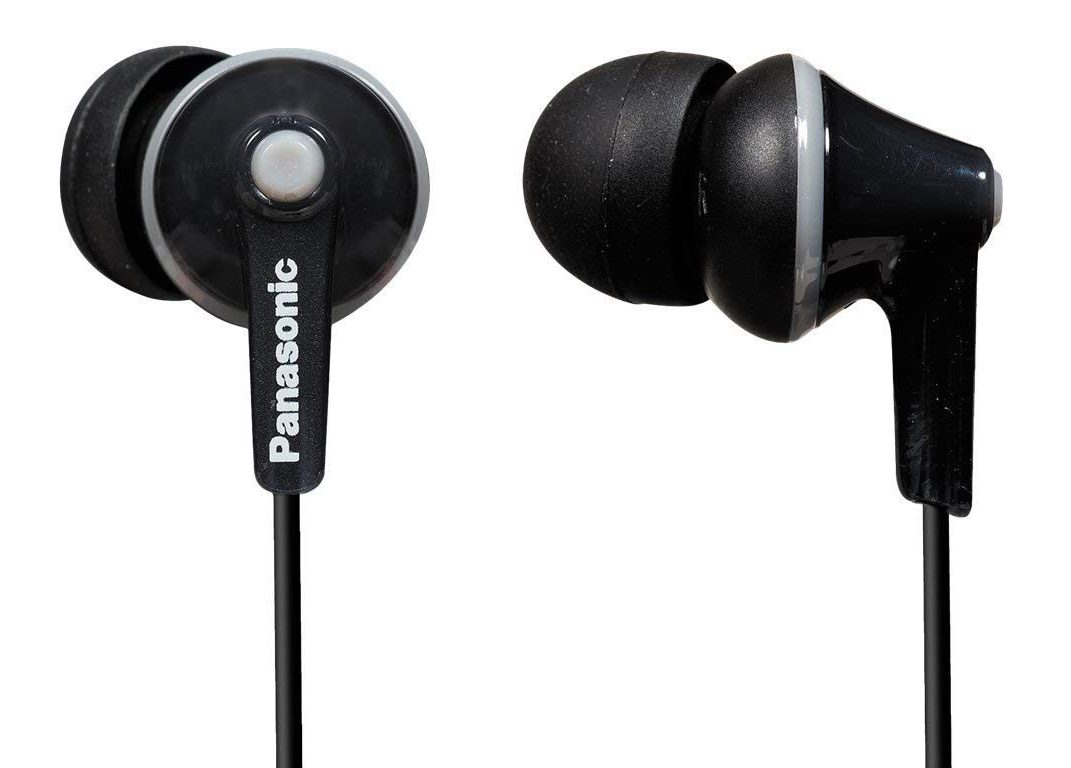 Though it is available in various colors, which is a good score for personal choice of styling, the design is not something you can wow nor can make you roll in the aisles. So, what is the showpiece?  It is the sound quality.  Let us dig the secret behind.
This earphone labeled as "ErgoFit" sounds true.  It is designed to fit perfectly on ears.  It applies the principles of science in Ergonomics to optimize the suitability of its elliptical-shape earbuds on the ear.  As you notice, this earphone is so small (with 9mm neodymium drivers) but that mini size is the reason why it gets through inside and fit easily.  Furthermore, the buds are accurately angled for left and right ears.  It is not reversible and you can distinguish easily even in the dark which one fits on the right and left ears.
With its adeptness that conforms to our ears, you can precisely notice its ability to passively cancel and block ambient noise.  That is the simple principle of the noise-canceling earphone.  The more it seals around your ear canal, the more it can block and isolate the external noise in your surroundings. In effect, you can hear the music much louder and clearer.  I explained it to you further on my review on noise-canceling headphones.
The stereo audio quality which tonally balanced the crisp highs and deep low notes are its best features.  I can even hear the details of every instrument in the music I played whether it is classical, rock, hip-hop, and rhythm and blues (RnB).  To be honest, I could not really believe that this kind of earphone with such a small size could deliver a decent pump of bass inside.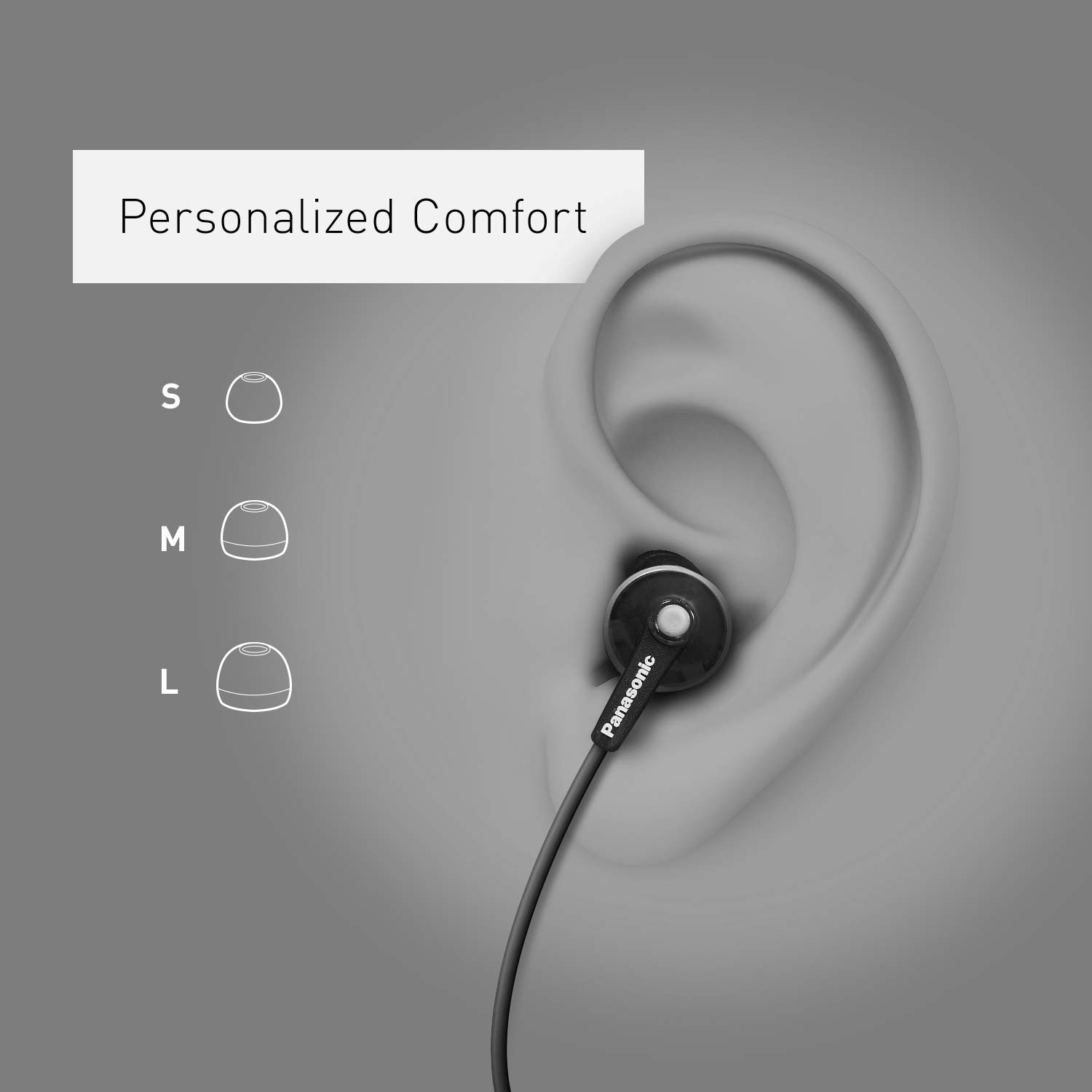 I am not really a fan of earphone since it is my presumption that small size earphone does not have the power to provide a pretty good tone of bass.  Just for curiosity, I bought my first earphone – the Xiaomi Piston III  and to my dismay, what I bought is a piece of junk.  Feeling robbed and disappointed, I never thought that I could give a try once more until I found this Panasonic ErgoFit, this changes my mindset. 
This earphone could not blow you away but you will be surprised by the clarity of its audio, vocal and soundstage performance.  Yes, despite its size and looks, this earphone could give you a rightful magnitude of bass for its price.  
This earphone is compatible with smartphones such as Apple, Android, and Blackberry devices.
The Drawbacks
The main issue of this earphone is its thin and long chord or cable which is not made up of silicone materials.  It feels cheap and tangles easily.  Its chord cannot last in the long run of everyday use unless you care enough and take care of it.
#3 MAXROCK Noise Isolating Sleep Earplugs 
There is no better way of feeling refresh in the morning after a good night sleep.  There is no secret.  Good night sleep is a key to a full energize body which let you to wrap-up the whole day labor.  So, what is the point of using earplugs at night?
If you are troubled of making a better sleep whether it is because of the snoring partner at your side or just a scratch of your Scooby-Doo, well it is a good idea to use an earbud.  You can have the option to buy Macks Earplugs for a value pack but if you want to take advantage of using an earphone not just for sleeping purposes or air travel, Maxrock Sleep Earplugs and Earbuds could be a fine piece of stuff you can have.
What is beneficial from using this pair of earphones is that you can use it intertwined as a sleeping earplug and as an earphone while enjoying music as well.  Specifically, it is made of soft silicone that makes it lightweight and comfortable for long time wearing.  What I most like that captures my interests is its design with double layer ear tips that can fit entirely on ear canals.  Since it has dual ear tips,  it increases the sound isolation and blocks out background noise. By spending a few bucks, this earphone could not only aid you to improve your sleep, but you will also get a decent sound at its price.  Comes with Zipper Carry Case is a bonus of this product.
Please do note that this editor will not be responsible for using this product as an earplug for an extended period of time because it can cause health issues such as earwax blockage and temporary hearing loss.
The Drawbacks
You could not expect a good bass in this too small piece of an earphone.  For an average listening, the sound is not pretty bad at all. 
Persons with large ear canals may also get frustrated for not having a good fit because of the tiny ear tips.  The durability of its materials may not last for a longer use.  Eartips is irreplaceable.
#4 SENSO Bluetooth Wireless Sports Earphones 
Earphones are not created equal.  Each has their own distinctive features.  Most are built for the compliment of sound quality first while some are created just for the seek of sports-minded persons.  Senso Wireless Sports Earphone is one of those you can truly enjoy while doing active sports whether working out on the gym or running on the trails and outdoors.  Though it publicizes as True HD High Fidelity Sound of rock-solid bass and crisp treble, I could fairly say that it is not far from reality but that is not the best feature of this earphone.
This is a sports earbud and so what we are after is to fulfill its purpose to stay firm on ears without falling out whatsoever.
What I like most on its design are its distinct ear hooks which loop and hold fast around the ears.  These ear hooks provide a good grip of its earbud when inserted on the ear.  Thus, it makes you feel fit and safe on ear all the time.
Other features which are compelling are its tangled free chord.  Since this a Bluetooth earphone, it does not need a long cable.  If you are tired of messing a long cable, it is worth to upgrade wirelessly.  It is the best score of having a Bluetooth earphone, there is no coil-and-twist hassle of the cable all around.  Just for one main point, Bluetooth devices need to be charge frequently which could be a fair side of the cable connections.
Yes, you need to charge this unit to actively use the Bluetooth feature to connect to your phones for up to 30 feet.  In just one charge for 1.5 hours, you can use it anywhere for 8 hours with standby time that lasted up to 240 hours.
It is worth to mention that it has an integrated mic which enables you to answer calls on your phone and do a hands-free calling at the same time.  This is also a certified  IPX7 for a sweatproof protection.
I could not hold on to my sit if I would not tell you its 1-year manufacturer's warranty and a 30-day no-questions-asked return policy.  Don't worry, you do not have to be bothered by their customer service, they establish a good customer support for most customer reviews on Amazon.
The hard carrying case is a home run and a great compliment for such a budget price.  Bonus items included are the dual port USB car charger and a 3ft. charging cable for Apple (Lightning connector) and Android (Mini USB connector) devices.
The package also comes with 3 sets of ear tips of different sizes for your best fit.
You cannot ask for more with this piece of earphone!
The Drawbacks
The ear hooks may not fit for everyone, particularly for small ears.  Since every single person had different sizes of ears, you can take at your own risk in trying this product.  Anyway, their customer support is stable and certified for 30 days return guarantee if you are not satisfied at all.
#5 SONY MDRXB50AP Extra Bass Earbud 
If you are a die-hard bass-lover fan, you can't afford to skip this Sony MDRXB50AP Extra Bass Earbud.  In my personal opinion, we cannot feel the beat of the true nature of music if there is not enough bass that pumps through our ears.  Of course, other musical instruments such as piano, guitar, violin, saxophone and many more are elements of music that stir different emotions.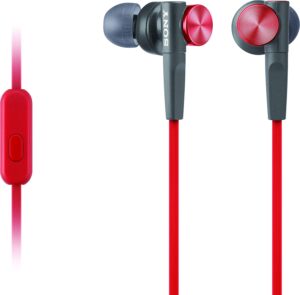 Though bass is the lowest pitch of the musical range, it provides the harmonic and rhythmic support to the other instruments.  In factual, you can actually feel the power of the bass sensed by our sensitive eardrums that goes through our brain and body.
I am not claiming any expertise in the professions of music but what I am talking to is just a personal experience on what I feel about the forcefulness of bass in natural music.  Everyone who really appreciates the liveliness of music in their personal lives could tell you so the same.  You too could also get the drift and hold it.
Needless to say, Sony is not new to the grade of providing extra bass to its line of audio products.  Bass is synonymous to its brand.  And this earphone is one of their product that can give you a satisfying punch of bass in the shell.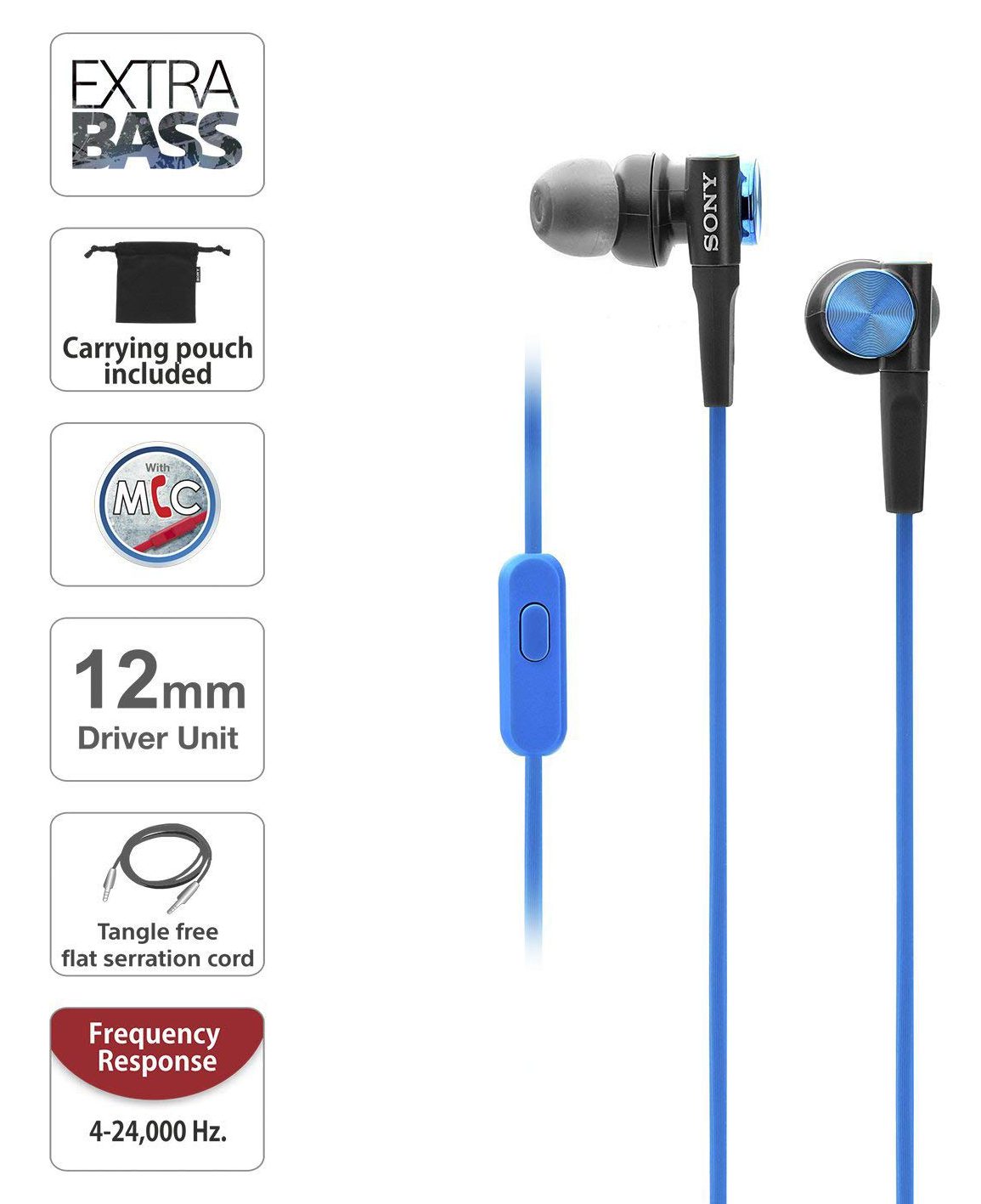 Thanks to its Bass Duct Design that sealed tightly on the ear which further makes it a good isolation earphone compared to its others counterparts.  It also features a flat cord that reduces tangle.  A carrying pouch is also included in the package.  It is just a bonus pouch but not that generous as the Senso hard carrying casing does.
It also has an integrated microphone and multi-function control button for a smartphone.  It works with Android and iOS devices.
Like the Panasonic RP-HJE125-K Wired Earbuds, this earphone also has the right angles between the left ear and right ear.  So, there is no hassle to distinguish which one fits on right or left ear.
The Drawbacks
If you can take a closer look at the picture below, you will notice that this is quite a little bit bigger than most earbuds. 
Its multi-function control button only play, pause, and skip the track.  No volume control.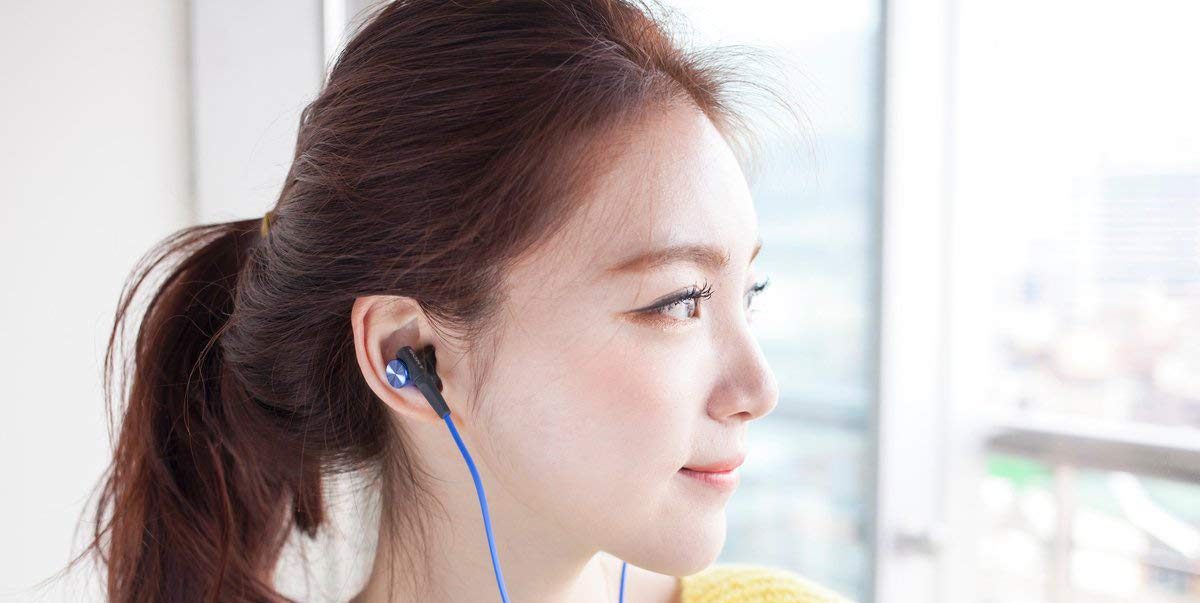 The Bottom Line
It is the most challenging on your part as a consumer to buy a pair of earphone or earbud without having an actual test.  This is the real world of shopping online that most of us merely rely on reviews. 
How can you trust this article?  Despite the number of earphone products out there, what I have listed here is the best earbuds you can buy in just $30.00.
For reasons that these products are on top not solely on my personal experience and opinion but based on customer reviews on Amazon who bought these items.  There is no sweat in choosing one.  
Just please bear in mind that every earphone I enumerated above has qualities and features that may differ from each other.  Always consider your preference before you pick up a cup of tea that well-suited your taste.
One thing for sure, these earphones won't hurt your purse.  It is not the price alone that makes you a winner but the quality you will get can stand in good stead.