DISCLOSURE: Most of our content uses affiliate links. As an Amazon Associate, we may earn a commission when you buy through the links. Each of your purchases via our affiliation links helps us to support the cost and maintenance of this site.
Game controllers – a lot of the time, they define how we play our games. And over the years, console manufacturers have each honed their own version of the "perfect" controller. Whether it be Sony's Dualshock brand or the unique and undeniably comfortable design of the Xbox controller, game pads have been designed to let us play our games more comfortably and accurately, with the precision and handling needed to enjoy the games we love.
Of course, Nintendo is no exception to this matter. The Nintendo switch comes with a unique take on what makes a controller, offering up a pair of compact gamepads which the company brands as "Joy Cons". However, some of us do prefer our controllers in a certain style and shape, which now brings us to this list.
If you're looking to upgrade your Switch gaming experience, we recommend that you check out these nifty little controllers. Let's get started!
Nintendo Switch Pro Controller
Of course, we start with the official Pro Controller from Nintendo. As the Switch only comes bundled with the basic Joy Cons, you do have to shell out a bit more for the Pro Controller, although it won't exactly break your bank either.
Since the controller's Nintendo-branded, you can rest assured knowing that you won't get any compatibility issues when connecting it to your console.

The Pro Controller features a nice, minimalist design, and a more traditional D-Pad for better handling. It also comes with motion controls which are supported in games such as Legend of Zelda: Breath of the Wild, HD rumble for that sweet in-game vibration, as well as built-in Amiibo functionality, so this will be able to scan any Amiibo collectibles you have on hand.
The battery can also last you around 30-40 hours of gameplay.
Nyko Wireless Core Controller
Nyko has been known to make good-quality accessories for Nintendo systems, and the Nyko Wireless Core Controller adds up to that reputation.
The controller comes in different colors, and generally keeps the same button layout you'd see on any modern game controller, such as the Xbox One controller and even Nintendo's own Pro Controller.

It does come with an additional turbo button, which makes it great for retro games.
Like the Nintendo Pro Con, the Nyko Core can be charged through USB-C and likewise supports motion controls, and even has a rumble feature.
At a price less than half of the Nintendo Pro Controller, the Nyko Wireless Core Controller is certainly a steal.
8bitdo N30 Pro 2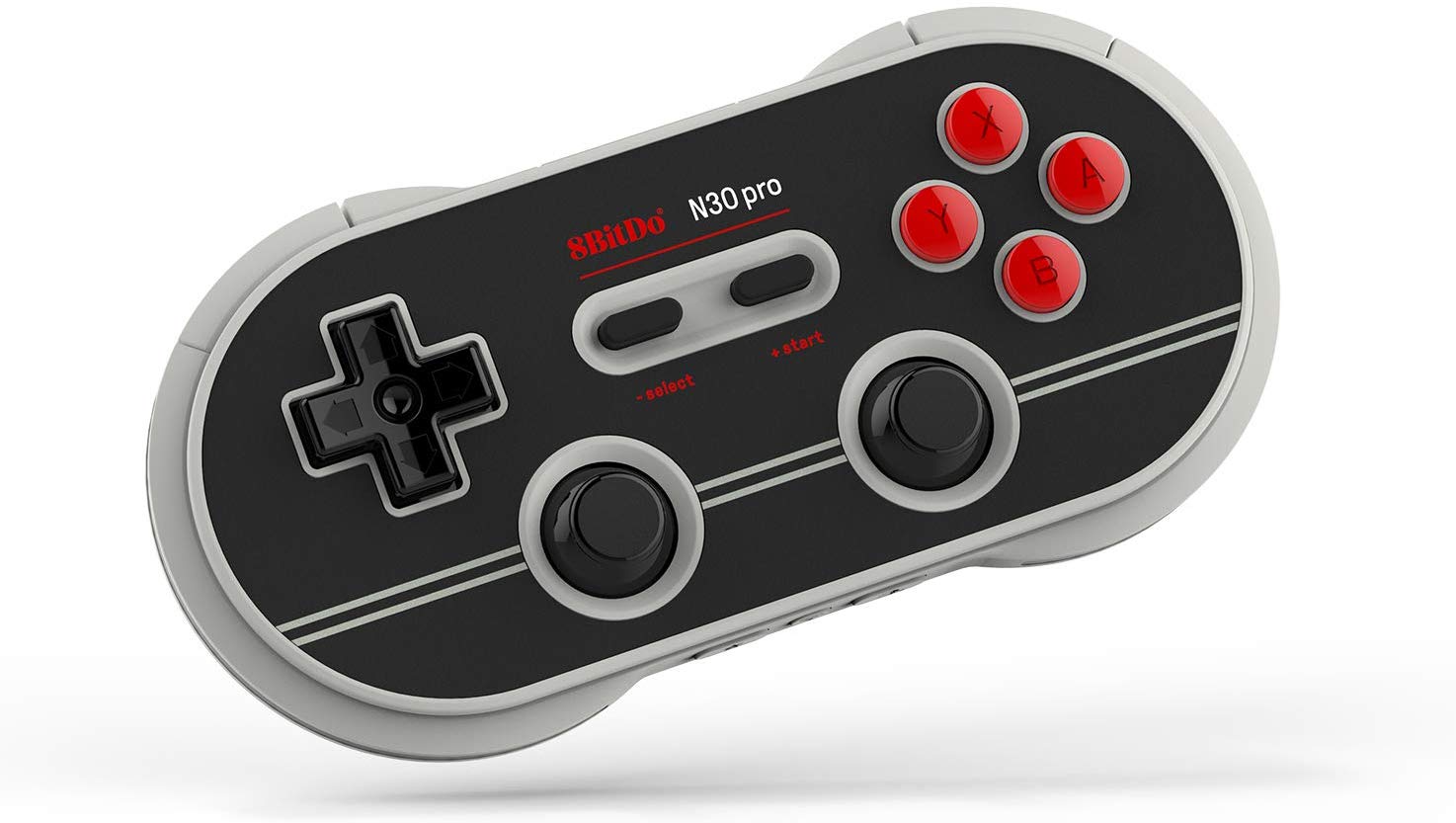 While a lot of modern video game controllers these days look alike, the 8bitdo N30 2 looks unique as 8bitdo has designed nearly all of its controller to resemble classic Nintendo controllers.
The N30 stands out due to its compact size, while still offering a lot of what makes a Pro Controller, well, a Pro Controller.
The N30 can connect effortlessly to the Switch, and also comes with connectivity options for PC and Android. The gamepad features a full suite of buttons, clickable analog sticks, and even a groovy light display to let you know whether it's connected, charging and such.


One thing to note though is that the trigger buttons are designed to go around the edges of the gamepad, an interesting design choice compared to the usual trigger button layout seen on larger controllers.
If you're after something smaller and more pocket-friendly, the 8bitdo N30 2 is the controller to get.
PowerA Wireless Controller – Gamecube Style
The Nintendo Gamecube was originally launched in the early 2000s, and featured a uniquely-designed controller, which came in handy for games such as Super Smash Bros.
If you're after that kind of handling and design, then the Gamecube-styled PowerA wired controller is probably for you.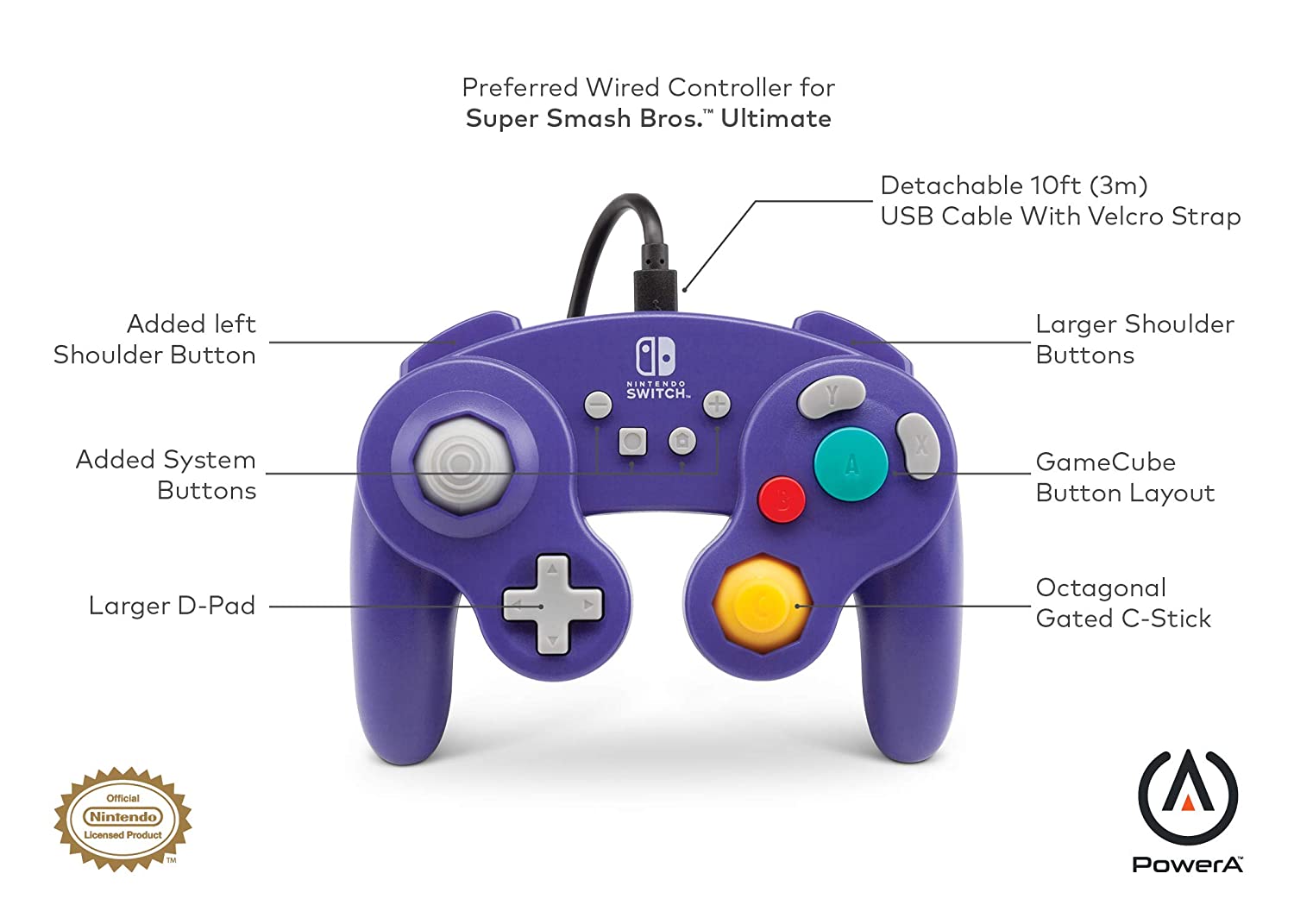 Officially licensed by Nintendo, this controller is a good option if you preferred a wired gaming system. We know that there are some good reasons to use a wired controller. Not only you can save for an extra buck, but it also reduces input latency or lag experience.  Since it is wired, you are free to worry that your battery will run out.  Although we have to say that there are some downsides to the controller.
For one, it does not support Amiibo connectivity and strangely lacks a rumble feature.  In terms of handling, design, and overall feel, you might want to check this one out.
HORIPAD Wired Controller
This is the second wired option on the list. This HORIPAD is also another Nintendo-licensed product and offers a nice design and great handling if you're after such. Hori is no stranger to making Nintendo-licensed accessories and this gamepad is no exception.
The controller features the same layout as the other controllers on this list, but with one hidden functionality – the D-Pad on the lower left of the controller can be removed to reveal a more "traditional" Switch directional button layout underneath.

Sadly though, it lacks vibration feedback, motion controls, and Amiibo functionality.
But if you're just after the basics and want a solid controller from a reliable brand, then this one might be right for you.
PowerA Enhanced Wireless Controller – Animal Crossing
This controller is another entry from PowerA.  It is truly interesting to discover that PowerA has a lot to offer when it comes to the looks and intuitive designs of its controllers.  
There is nothing stunning here that could make you roll in the aisles the very first time you have it at hand. The layout of the buttons seems to be basic just likely as the Nintendo Pro Controller and the Nyko on this list. But if you are the type of person that matters the looks of your controller, PowerA has got it all for you.  

What is impressive is that there are thirty four (34) variants of designs laid on the table.  It is now up to you which one could win you over. 
The Bottom Line
There are many ways to play on the Switch, and sometimes the old-fashioned controller-TV screen setup is the way to go. We hope we were able to help you with this list, and we will be more than happy if you will check out the products we've featured on here.
Do you have your personal preferences? Let us know!