DISCLOSURE: Most of our content uses affiliate links. As an Amazon Associate, we may earn a commission when you buy through the links. Each of your purchases via our affiliation links helps us to support the cost and maintenance of this site.
Samsung's latest Galaxy Tab S8 series devices come with a ton of great hardware and software, and as far as Android tablets are concerned, they are some of the best options we have right now. But they are a bit expensive, and if you're looking for a more affordable Samsung tablet, then the Galaxy Tab S7 FE might be right up your alley.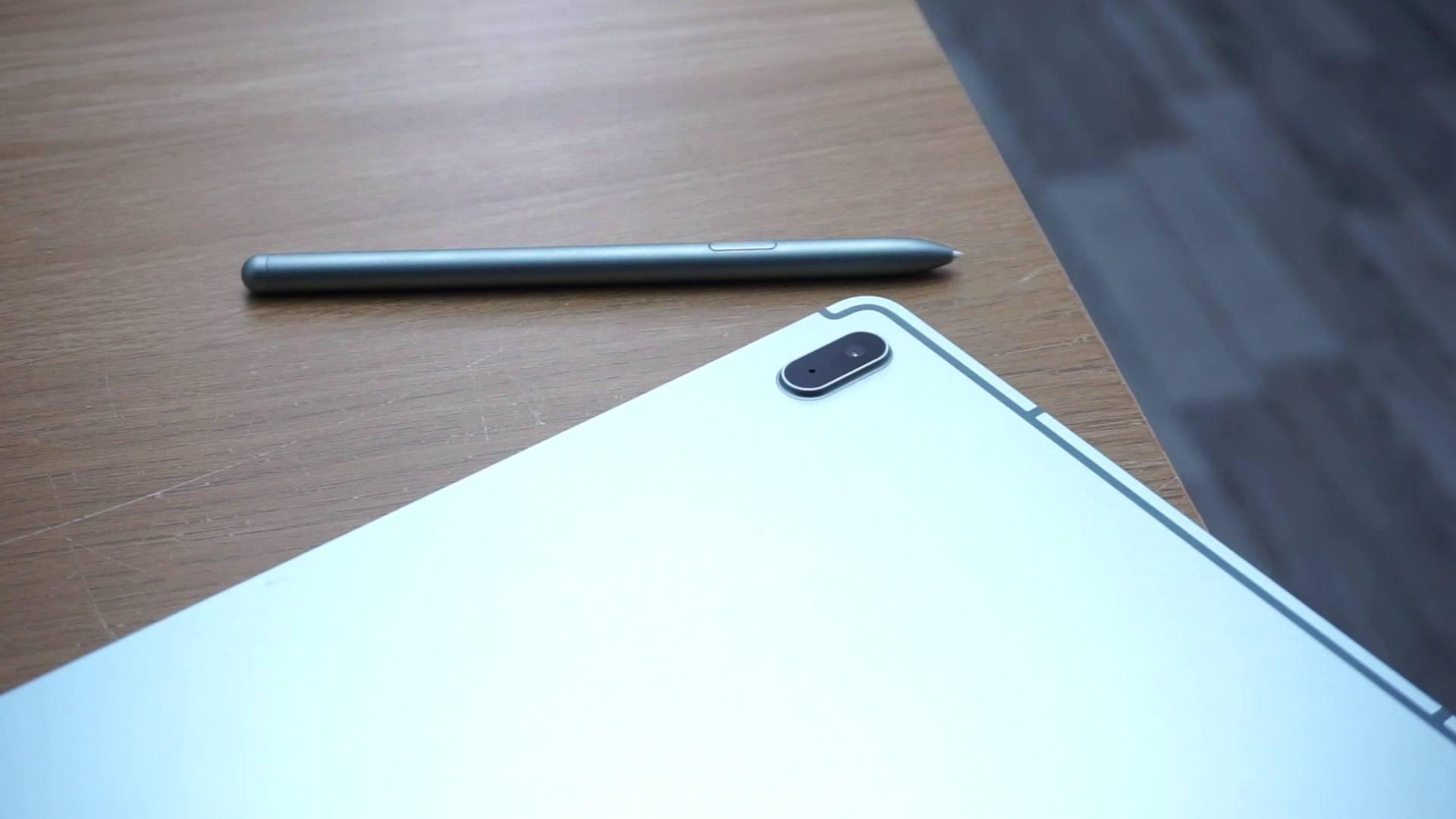 The Galaxy Tab S7 FE comes in a few versions, and we have the base WiFi model here with us. Now we think it's fair to say that Apple has pretty much dominated a majority of the high-end tablet market, and given that they're constantly pumping out new iPads regularly says a lot about the success of their devices. With that said, there are only a select few Android manufacturers willing to pour money and resources into developing premium consumer tablets.
I think that Samsung's Galaxy S tablets are as premium as they come, but they are of course on the expensive side of things. This is where a device like the Tab S7 FE comes in – it carries over a lot of the features that make the Samsung Galaxy Tablets great, albeit at slightly lower prices.
Originally launched back in 2021, is the Tab S7 FE still a great option for people looking for a good value Android tablet? Let's take a look.
Design and Specs
The S7 FE comes in an all-aluminum body which really feels premium, with sturdy build quality. It comes in a bunch of different colors and as you can see we have the mystic green version here with us. The front of the tablet houses a 12.4-inch TFT display with a 1600×2560 pixel resolution. The display manages to look good, and it's got pretty great brightness overall. I would've preferred an OLED display, as well as a higher refresh rate, but given the price it's obvious that Samsung had to make some cutbacks.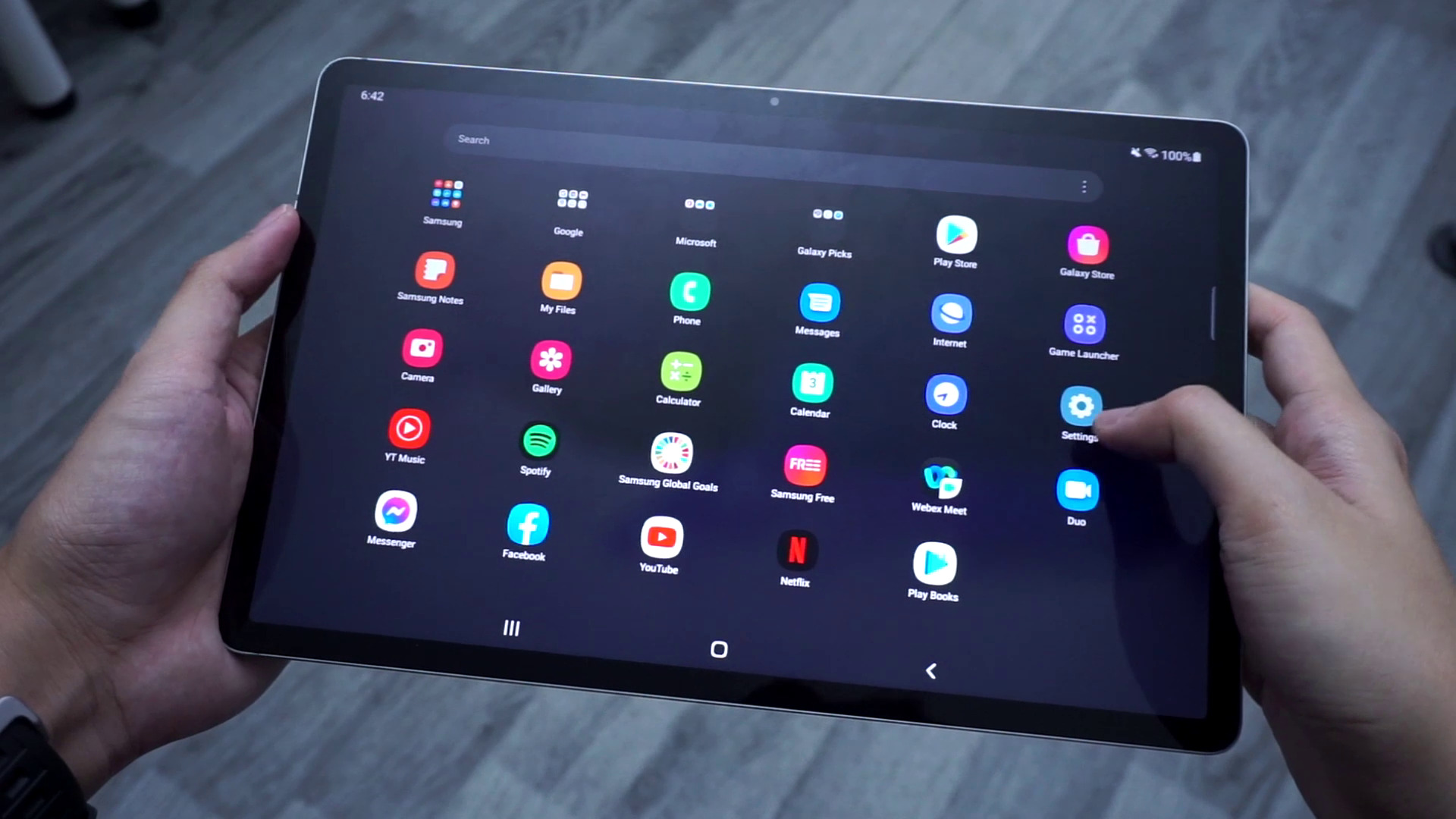 You get an 8-megapixel main camera at the back, and a 5-megapixel camera on the front, and AKG-tuned dual-speakers on the opposite edges of the tablet. There's also a microSD card slot, but unfortunately there's no headphone jack on this device. You can get the tablet either with a Snapdragon 750G chipset for the 5G model, or a Snapdragon 778G chipset for the WiFi variant. There's also a choice of 64GB of storage and 4GB of RAM for the base model, or you can opt to get 128GB of storage and 6GB of RAM, or 256GB of storage and 8GB of RAM, and this whole set-up runs on a pretty large 10,000 mAh battery.
Productivity & Accessories
Now Samsung has designed this tablet with a focus on productivity, and this is all the more obvious with the addition of the S-Pen. For students, artists, and people going about their daily jobs and businesses this is a nice tool, and I've had a lot of fun with the S-Pen so far. You can also use it to scroll through the user interface and tap on display elements in addition to its writing and artistic utilizations. This goes nicely with the large display which makes for some pretty effective multitasking. You can simultaneously open apps in split-screen, and even adjust the display size of the apps that you're using.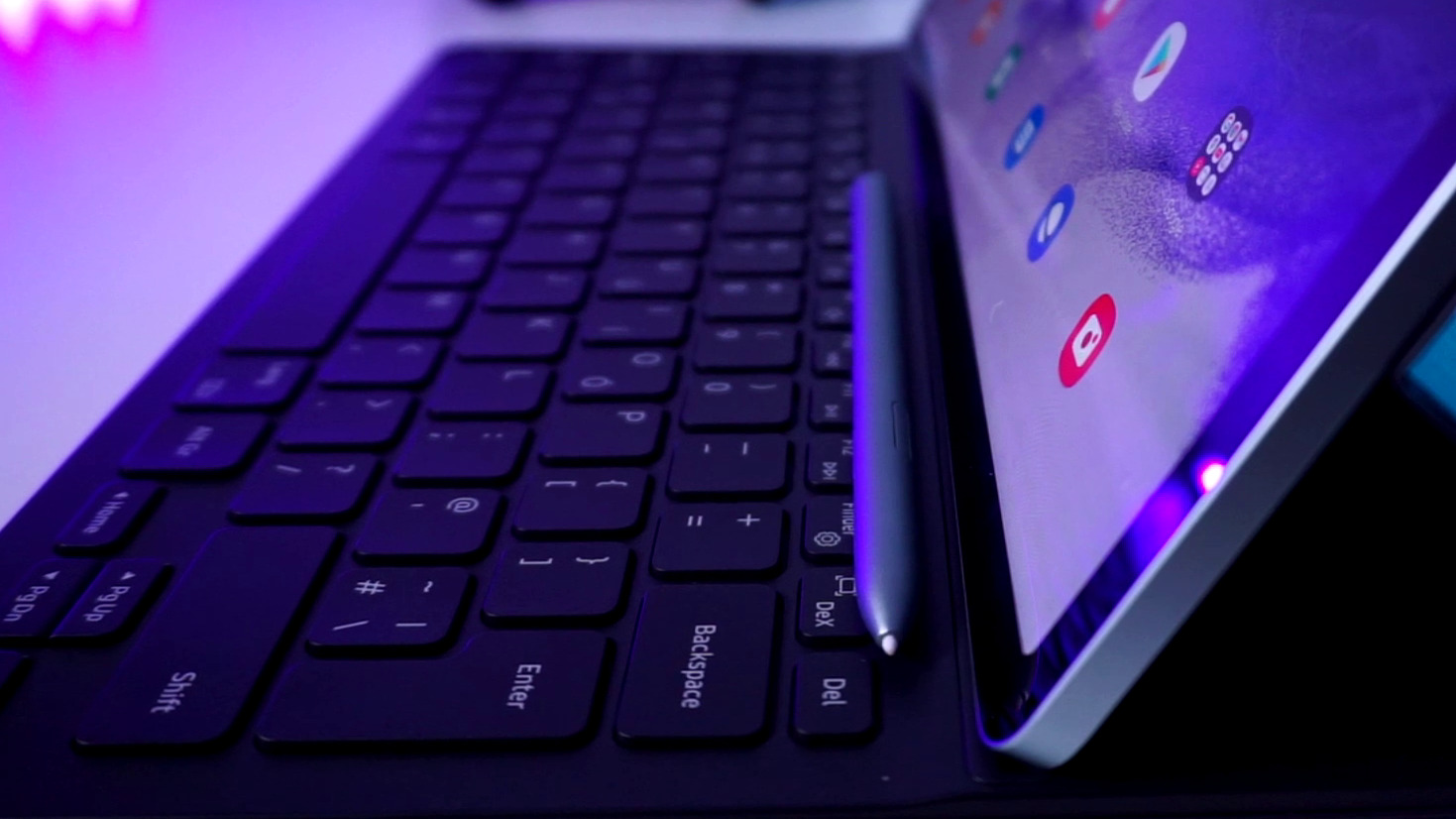 If you really wanna go all-out with the productivity aspect of the tablet, you can also get an additional keyboard cover for the device, which houses a magnetic holster for the S-Pen, and the cover itself connects to the S7 FE via the dock. Once connected it's pretty responsive, and typing documents and notes on your tablet becomes a seamless experience. There's barely any lag or delay which is nice.
The addition of Samsung's DEX feature is a great feature to have. Simply put, DEX turns your tablet's user interface into a desktop-style layout more commonly seen on computers and laptops. It does affect battery life though, but for productivity-focused usage, it's a great addition to the tablet's list of software features.
Of course, the tablet also works great for entertainment and media consumption. Despite the TFT display, colors look nice on the tablet and the resolution makes it great for reading or other visual media. The speakers sound decent as well when watching or listening to content.
One UI & Android 11
Now with this being a Samsung-branded device, it runs on Samsung's One UI which is pretty much on every single Samsung smart device out there. Underneath the hood the tablet runs Android 11, but once you hit the home screen it's obvious that Samsung has customized nearly every visual aspect of the UI to work with their ecosystem. In addition to the Playstore and other Google service apps, you get Samsung's own AppStore, Samsung's own internet browser, Samsung's own note app, and so on. You can disable some of these apps but unfortunately, One UI won't let you uninstall all of them, so you're stuck with a bunch of duplicate apps unless you decide to root your device and uninstall them by that method.
It's not all that bad though, as One UI offers a ton of visual customization options which can be fun to play around with. There are also some additional OS features which aren't usually found on stock Android.
Performance and Battery
Performance-wise, the Galaxy Tab S7 FE does a decent job. The Snapdragon chip onboard does enough to make sure that you get a good experience. Scrolling through the UI and multitasking is generally smooth, although there's a couple of hiccups sometimes due to One UI. Overall though the tablet isn't a stuttery mess and it's pleasantly good as far as device usage goes. You can of course play games on the tablet – graphically intensive games will run, but don't expect performance on par with devices on more powerful Snapdragon chipsets.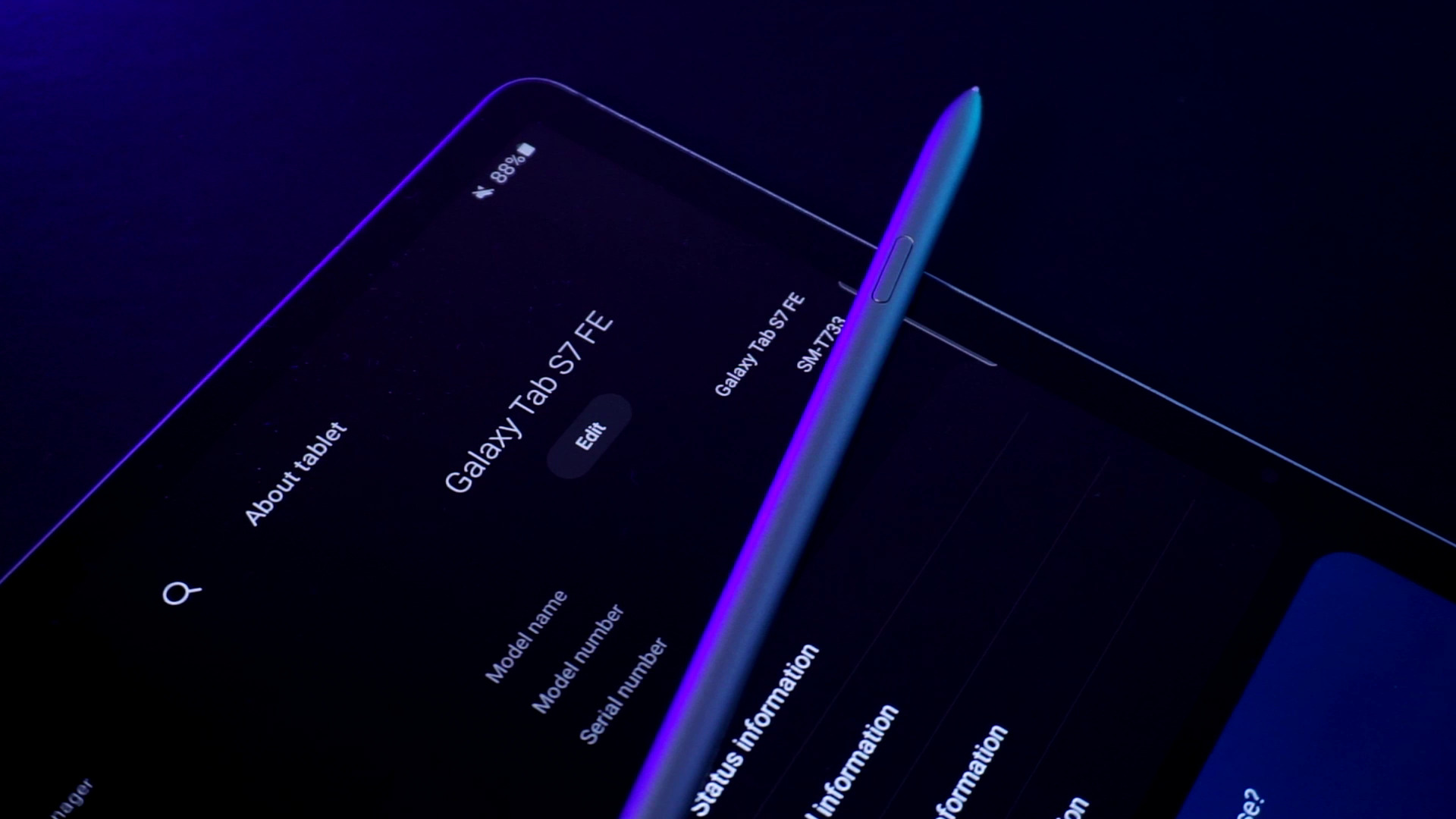 Battery life is pretty impressive. The 10,000 mAh battery can get you through the day with moderate to heavy usage, and more casual tablet users can probably squeeze a few more days before needing to recharge. The midrange chipset and low refresh rate on the display help a lot when it comes to battery life. It does take a while to charge though, so it might be wise to invest in a fast-charger.
Meanwhile, camera performance is so and so. You can maybe use the tablet for video conferencing and such, but I'd rather use my phone for taking photos and videos instead of a tablet, given the lack of lens options on the back of the S7 FE. Quick selfies and social media photos should do fine, but don't expect the best-looking images and video capture on this.
Verdict
In closing, the Tab S7 FE gets a lot of things right – a nice-resolution display, sturdy build quality, good battery life, and decent performance add a lot of value to this device. The S-Pen and keyboard cover likewise are great additions for people looking to add a bit of productivity to their usage. 
If you're after a more powerful tablet then you'll have to spend a bit more to get the performance you want, such as the newest Galaxy Tab S8 devices. On the other hand, if you're after a great-value Android tablet at a reasonable price, then you should definitely check out the Galaxy Tab S7 FE.