DISCLOSURE: Most of our content uses affiliate links. As an Amazon Associate, we may earn a commission when you buy through the links. Each of your purchases via our affiliation links helps us to support the cost and maintenance of this site.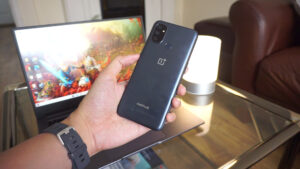 Aside from the newest OnePlus Nord N200 5G, the Nord N100 is the among cheapest OnePlus devices right now, and you can get it for under 200 bucks, placing it alongside devices like the POCO M3, Nokia 5.4, and the Moto G series. Now this isn't exactly the most popular OnePlus device as it does come with entry-level specs compared to what we usually get on most OnePlus phones.
But still, I did use it for some time and I just want to give my opinions and share my experience with this device. Is the OnePlus Nord N100 worth your cash or should you just settle for a different device? Let's take a look.
Build + Design
At this price range it shouldn't surprise anyone that this phone is made entirely out of plastic. It comes with shiny plastic sides and a plastic back panel, although the back does come with a matte texture. It only comes in one color which OnePlus calls "Midnight Frost" and it does have a nice look to it.
Build quality is alright for the most part but I did have some creaking on the left side. There's no water resistance or splash-proof coating on this phone, so you'll need to be extra careful if you're near a pool or such.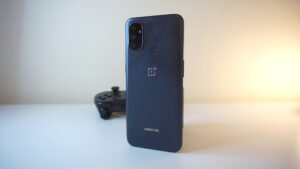 You'll find the volume and power buttons located on the sides of the phone, with the USB Type-C port, headphone jack and loudspeaker on the bottom. On the front you get a 5.5-inch display with a camera cutout, as well as an earpiece that also serves as a secondary loudspeaker. The speakers are loud but don't have a deep bass sound unlike on phones like the Pixel 4a.
Display
The Nord N100 comes with a 6.5-inch IPS display, with a 720×1600 pixel resolution. Now despite the low pixel count, the display does have decent brightness levels, is protected with Gorilla Glass 3, and even comes with a 90hz variable refresh rate, which you can access in its settings. I actually think that this is one of the best features of the N100, although you do lose out on resolution.
Android 10 + Oxygen OS
Another aspect where I think the N100 excels at is Oxygen OS. Now for the most part it is free from bloatware, and the user interface takes a lot of design hints from stock Android. It doesn't feel cluttered like other Android skins such as MIUI or One UI, but it's still very customizable, which I do like.
You can also assign different gestures and shortcuts, for example I am a big fan of tap to wake and tap to sleep, which reduces my need to go around pressing and wearing down my power button. Of course you can assign more shortcuts other than the two I've mentioned.
One downside is that the phone ships with Android 10, and given that we've gotten a lot of Android 12 betas and previews going around in the internet, it would've been better to equip this phone with Android 11 from the beginning. It is scheduled to get Android 11 at some point, but it seems that Android 12 is out of the question so far.
Performance + Battery
Performance-wise, the N100 is surprisingly decent. There's a Qualcomm Snapdragon 460 chipset and 4GB of RAM inside, which is pretty standard compared to what you get on other budget phones at this price range. Moderate use like social media and web browsing are easily handled by the N100, although apps can take a bit longer to load sometimes. 
Games also work well on the phone, and I was able to play games like Call of Duty on this device. But if you're coming from a smartphone with a chipset from the Snapdragon 700 or 600 range, then you'll definitely feel the difference. Of course, more intensive games will lag and stutter a lot on the phone's entry-level hardware.
As for battery life, the 5000 mAh unit inside the N100 is great with endurance, thanks to the low resolution display and the low power chipset. Netflix binges, hour-long video calls and prolonged Spotify sessions are a piece of cake for the phone, and you can easily go on a day and a half with a single charge. Of course data usage, gaming and screen brightness do affect this however. 
Camera
Camera performance on the Nord N100 isn't the best. The 13-megapixel main camera is aided by a couple of 2-megapixel depth and macro sensors, and while it can get you some good shots outdoors, lowlight shots and indoor photos will be very underwhelming. Dynamic range can be a bit wonky, and lowlight shots are downright bad. You'll need lots of good indoor lighting or bright outdoors lighting if you want to take sharp photos.
As for video, there's no image stabilization onboard so video quality is a lot like what you get on other budget smartphones, which is usually shaky footage with unimpressive colors. Then again this is a sub-200 dollar smartphone so maybe lower your expectations if you still plan on getting this phone. Check out these sample photos: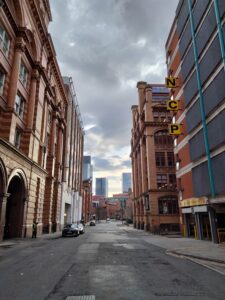 The Bottom Line
OnePlus has definitely changed a lot in the past couple of years, and the Nord N100 is one example of that transformation. For the price, it performs like a lot of other budget phones, although you do get Oxygen OS, a large battery, and a 90hz refresh rate. For a starter phone this can be a pretty good deal.
But for people looking for a special smartphone experience, one without compromises and settling down, then you might want to spend a bit more and look elsewhere. Phones like the POCO M3 come with a similar price but offer a faster chipset, twice the internal storage and better build quality, for example. I guess you can also say that it all boils down to whether or not you really want a OnePlus-branded budget phone, in which case the Nord N200 is also on the market, with 5G connectivity and upgraded specs.
Let us know your thoughts in the comments below!