DISCLOSURE: Most of our content uses affiliate links. As an Amazon Associate, we may earn a commission when you buy through the links. Each of your purchases via our affiliation links helps us to support the cost and maintenance of this site.
Ever since the creation and launch of the Galaxy Note series, Samsung has always won a spot in the hearts of consumers looking for an all-powerful, performance-oriented Android phone. The S-Pen was a definite game changer, cementing the Note's legendary status among Android devices with a feature geared toward productivity and all-around usability (except for the Note 7 of course). The Galaxy Note 8 and Note 9 were no doubt big hits, and it seemed that the next iteration of the Galaxy Note line would be another critically successful device – which now brings us to the Note 10.
With the Galaxy Note 10, Samsung has seemingly ushered in a new approach to how it handles its hardware with some obvious changes tagging along for the ride, meant to entice new and old Galaxy Note users. But are these changes for the better? Let's take a look.
Two Peas in a Pod – Somewhat
For the first time Samsung has announced not one, but two models of the Galaxy Note – namely, the Note 10 and Note 10 Plus. The first thing you'll notice is the difference in size, as the Note 10 comes with a 1080p 6.3-inch display, while the larger Note 10+ features a 6.8-inch 1440p display, both of the AMOLED type. Both screens stretch across the entire front of the phone,encased in a body of glass and metal.  I have to say that the rectangular look of the phone gives a slim and sharp aura about the device, and as far as design goes this is one great-looking phone.
The smaller Note will cost you around $949 while the larger phone will come with a hefty $1099 price tag.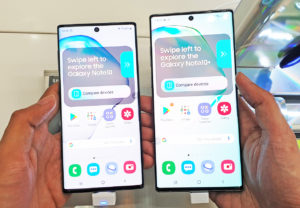 Missing in Action
The Galaxy Note 10 does not come with a headphone jack, and the Note 10+ doesn't, either. It's a shame really because the Note phones have always been the ideal image of what a premium design should be, with a heavy emphasis on hardware features. The fact that Samsung decided to drop the inclusion of a 3.5mm audio jack on a thousand-dollar phone raises a lot of questions – How can a large stylus fit in the phone while a headphone jack could not? Is this just to ride some ridiculous trend Apple started years ago? Is this just a move to sell more bluetooth earphones? Will Samsung ever bring it back? The questions are endless, and unfortunately they'll probably never be answered. To remedy this, Samsung has included USB-C compatible earphones in the package, but you have to buy a ten-dollar adaptor separately (insert Game of Thrones shame joke).
The regular Note 10 also lacks a microSD card slot, which for some unfathomable reason is exclusive to the larger plus model.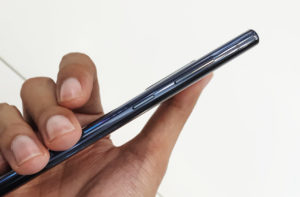 Another name listed in the Samsung Obituary is the power button. Samsung has decided to remove the button altogether, leaving just the volume and Bixby button on the left side – another questionable decision in my opinion, given the general infamy that Bixby has with Samsung users. Long-pressing the Bixby button will switch on the phone, and a short press will turn the display on or off. To power down the Note 10 however, you'll have to access a software button on the drop-down settings menu.We hope that there will be an option to remap the Bixby button's function, however.
Beauty is on the Inside
Disappointment aside, if internal specs matter more to you then the Note 10 might be up your alley. The regular Note will feature 8GB of RAM, along with 256GB of internal storage, while the larger model will have a couple more options, with 12GB of RAM and up to 512GB of storage. Both Note models will come with Qualcomm's Snapdragon 855 chipset, at least in the US.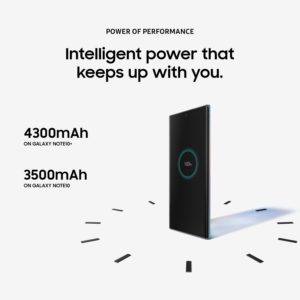 If you're after a powerful battery, we'd recommend getting the Note 10+, as it comes with a large 4,300 mAh battery. The smaller model has a smaller 3,500 mAh unit, which to be honest is not that larger than the 3,400 mAh unit found on the $150 Galaxy A10.
Cameras – A Possible Saving Grace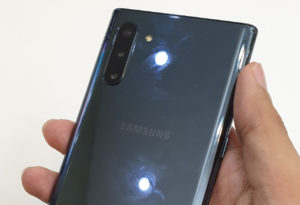 To be fair, Samsung has been constantly improving its imaging technology on its flagship phones. Both phones come with a wide-angle camera with 16 megapixels and f/2.2 aperture,a 12-megapixel main camera with f/1.5 and f/2.4 dual aperture and optical image stabilization, a 12-megapixel telephoto camera and a 10-megapixel selfie camera, located in a punch hole in the top middle of the display. This is an impressive setup and the selfie camera's location doesn't bother me as much as it should, as it feels like just another notification on the status bar. Since this is basically the same camera set-up on the Galaxy S10, expect to get some great shots with this phone.
Additional Features
The S-Pen is the biggest selling feature of the Note line and Samsung has seen to it that it remains a useful tool as ever.It still retains much of the features introduced in the Note 8 and 9 such as remote functions and media control, and adds in some new tricks such as gesture control, meaning you could use it on your phone as you would in Hogwarts.
Samsung DeX, a feature first introduced in the Galaxy S8, once again returns with improved software functionality and compatibility. Samsung has also included more apps, meaning that you can use the Note 10 along with your PC or Mac computer. (We'll feature more of this in future articles).
Should You Get It?
I'll end this quickly – are you after the latest Samsung flagship with a stylus, great specs and design? Then go for the Galaxy Note 10+. You get a large battery, a great set of cameras, as well as an improved Samsung DeX service.
But if you're after an equally-powerful phone, with great value for money, a wide array of hardware features such as a 3.5mm audio jack and microSD slot, then we'd still recommend the Galaxy Note 9. It's no doubt cheaper now than it was at launch, and still comes with all the features of a Galaxy Note phone, S-Pen included.
If the stylus isn't exactly a deal-breaker for you, then the Galaxy S10 or S10+ will be a perfect match for your needs. These phones come with powerful internal specs, and – you guessed it – a proper audio jack and microSD card slot.
The Galaxy Note 10 and Note 10+ are set to launch on August 23 in the US.