DISCLOSURE: Most of our content uses affiliate links. As an Amazon Associate, we may earn a commission when you buy through the links. Each of your purchases via our affiliation links helps us to support the cost and maintenance of this site.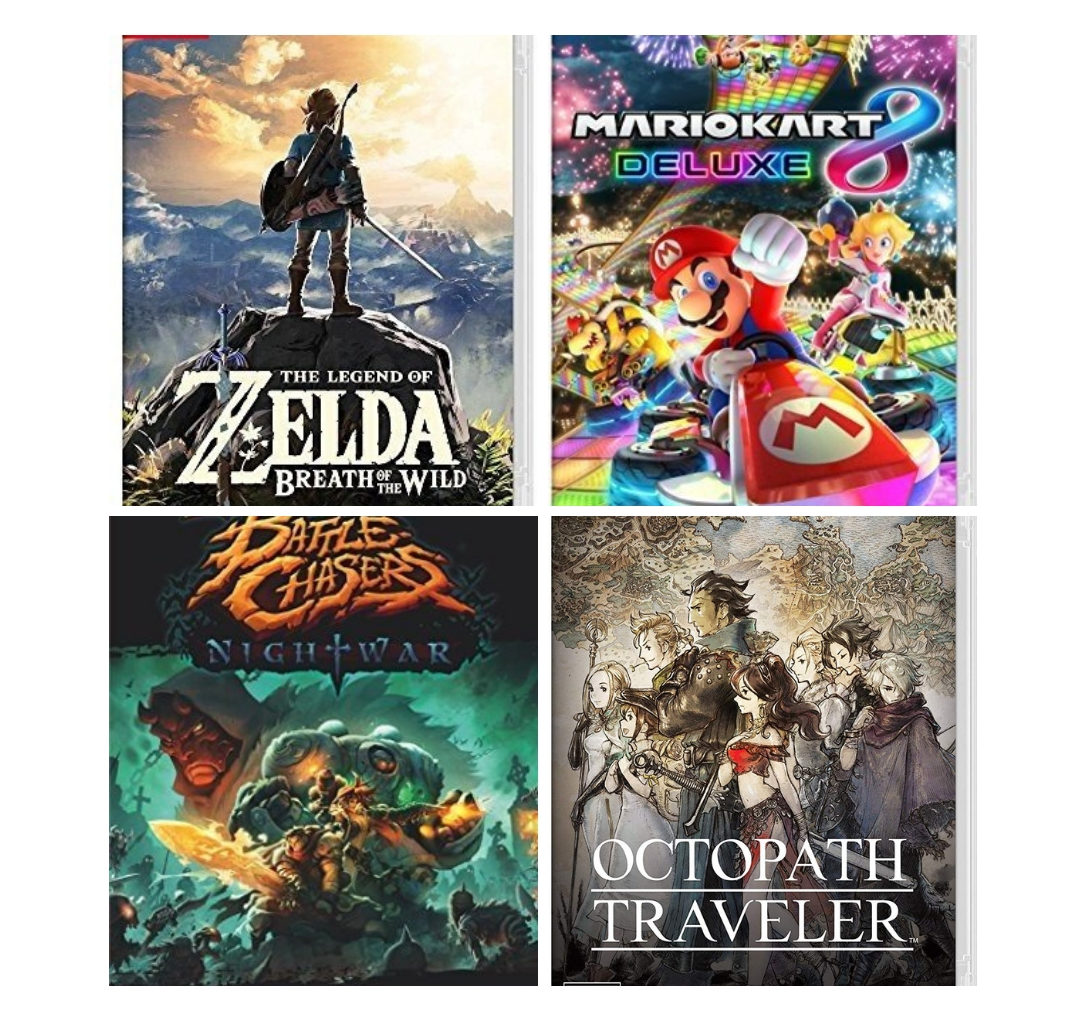 Nintendo's Switch video game system has continued to make waves worldwide, ushering in the same kind of success that we saw with their previous gaming consoles like the Wii, DS, and Gameboy. And just like these older systems, the Switch has been steadily building an immense library of games, spanning over several hundred titles, a variety of genres, and gameplay styles. Many of these games are available both as retail copies or online downloads.
If you're already a Switch owner, chances are you've played some of the titles we've featured in this list. So without further ado, let's take a look at some of the best interactive electronic masterpieces to ever grace Nintendo's hard-hitting console.
Legend of Zelda: Breath of the Wild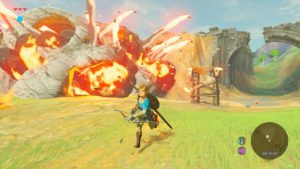 One of the best things about first-party Nintendo games is that they are developed to fully optimize the capabilities of the console they were designed for. The Legend of Zelda: Breath of the Wild (BOTW) is one such game. BOTW continues the grand legacy of the iconic Legend of Zelda series, and this time Nintendo has decided to incorporate an open-world approach to the Zelda series.
Long story short, Princess Zelda once again needs help to defeat Ganon (or Calamity Ganon in this case) and it's up to Link to find a way to help the princess and free the land of Hyrule from evil's perilous grasp. The game introduces some new elements to the Zelda franchise. A few examples would the open-world nature of the game, meaning you can traverse dungeons and shrines in no particular order, although some areas wouldn't be accessible without the use of certain items. You'll also have to hunt and cook food, as a means to restore health and to aid you in certain environmental conditions.
The graphics in BOTW are also terrific. The Switch hardware certainly has what it takes to power through all the textures and polygons, but drops in framerate are also apparent at times, such as in situations with many graphical elements on the screen.
Legend of Zelda: Breath of the Wild is a sure buy thanks to its unique gameplay and terrific graphics. Onto the next game!
Battle Chasers: Nightwar
While not an exclusive game for the Switch, Battle Chasers: Nightwar is one of the better-executed role-playing games available on the console. The game adopts several elements of Japanese role-playing games and has eye-catching visuals as well.
The game starts with a brief fight scene. You and your comrades are stranded on a strange land with no signs of your other companions, and it's up to you to look for them. The game is explored from a top-down perspective, and battles take place in a somewhat side-scrolling view. Think of the older Final Fantasy games, but with better visuals.
The game enables players to create a party of three characters, each with their own particular strengths and abilities. It's up to players to decide how they'll want to build and balance their team. Each character also comes with a Burst skill, which is somewhat similar to the Limit Break skills introduced in Square Enix's Final Fantasy VII. The in-game visuals are likewise great, especially during combat. The side-oriented view during enemy battles shows off a nice combination of 2D and 3D graphics.
All in all, Battle Chasers: Nightwar is one solid role-playing game. And speaking of role-playing games, let's move on to the next title in this list.
Pokémon Let's Go
The Pokémon franchise has been one of Nintendo's best-performing properties, selling millions of copies with each iteration. The series has progressed from its humble origins on the Nintendo Gameboy, and now the series is reborn on the Nintendo Switch via two games: Pokémon Let's Go Pikachu, and Pokémon Let's Go Eevee.
We think the word "reborn" is appropriate here, as the games are essentially a reimagining of the first games in the series, Pokemon Blue and Red, which take place in the Kanto region. Players once again find themselves in Kanto, but there are certain differences this time around. One of the most obvious changes is with how the games are played – the Let's Go series take certain gameplay elements from the mobile hit Pokemon Go. For example, wild Pokemon encounters now look and feel like how they would in Pokemon Go, with players tossing Pokeballs to catch Pokemon.
There are still trainer battles though, thankfully. However, the game will definitely feel different to players accustomed to the more traditional look and feel of the visuals and gameplay of older Pokemon titles. As this is a spin-off of sorts, however, we still look forward to what developer Gamefreak is cooking up for the Nintendo Switch.
For the meantime though, Pokemon Let's Go will satisfy any cravings you might have for a Pokegame on the Switch.
Resident Evil: Revelations 1 & 2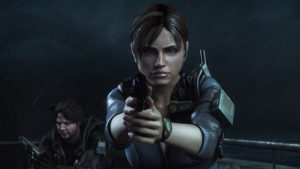 We loved – nay – adored Resident Evil Revelations when it first came out on the 3DS. It showed us that the handheld was capable of handling a console-like experience on the go, with gorgeous graphics and an impending sense of dread throughout the entire game. Jill, Parker and the rest of the gang return for another mutant romp on Resident Evil Revelations 1 & 2 for the Nintendo Switch.
It's no surprise that this collection of both Resident Evil Revelations and its sequel has made its way to the Switch, which arguably possesses more powerful specs than the 3DS. The collection lets you revisit the events of the first game (which we will not spoil here) and play through the sequel as well. One great improvement is the Switch's control set-up – which thankfully has more buttons than on the 3DS. Admittedly, this is where the first Revelations game fell short.
If you're looking for another on-the-go action horror adventure, look no further.
The Elder Scrolls V: Skyrim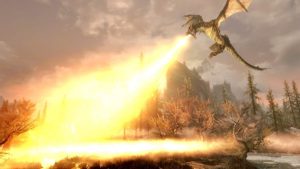 One of the best things about the Switch is that because it possesses relatively powerful hardware, we can finally play console-quality games while on the move. As such, many games have been ported to the system, and The Elder Scrolls V: Skyrim is one of them. A legendary game in its own right, you can now experience it in handheld form.
This port retains the gorgeous visuals from the original game, although you do have to keep in mind that the Switch will sometimes have performance limitations, especially with a game of this size. If you played the original game on a PC, you may have varied opinions on this Switch port, control-wise.
Control variations aside, the port still exudes the massiveness of the original version of the game, world, characters, quests and all. If you're a fan of the original Skyrim game and are looking for a rather lengthy adventure on your Nintendo Switch, this title is a definite buy. Fus Ro Dah!
Mario Kart 8 Deluxe
Another first-party Nintendo game, Mario Kart 8 Deluxe brings the well-known speed, tenacity, wackiness, and shell-throwing of the Mario Kart series to the company's hybrid console.
The Switch hardware renders the game's beautiful graphics, and each race is an entertaining sight to behold. Bursts of colors, lively textures and detail, and Nintendo characters flash past you, and it still retains the elements which make the Mario Kart franchise fun in general, should you play it alone or with a friend. There are also new items and power-ups, adding more value to the game's replayability.
The game is also terribly easy to learn, as Nintendo has designed the control set-up to naturally gravitate to what button each finger presses during a race. It's easy to pick up and play, which also encourages multiplayer sessions. Just don't blue-shell your friends too much.
Mario + Rabbids: Kingdom Battle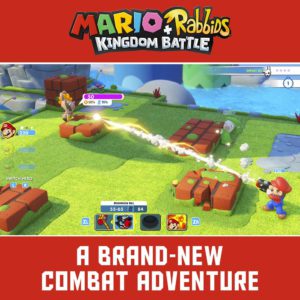 While the title and box art make this look somewhat like a game for little kids, it is anything but that. Mario + Rabbids: Kingdom Battle is a turn-based strategy game, with a gameplay system somewhat reminiscent of what we've seen in other turn-based titles like the XCOM series. So think XCOM, but with Mario and weird bunnies instead of aliens.
As for the visuals, MRKB presents you with a colorful world, filled with familiar shades and palettes of earlier Mario titles. Nintendo has really hit an interesting concept for a game here, merging its flagship video game character with Ubisoft's wacky Rabbids mascots, and the result is a fun and engaging strategy title.
Don't let the characters and visuals fool you – this ain't your little brother's Mario game. Although he'd probably appreciate it if you got him this game.
Octopath Traveler
Video game developer Square Enix is definitely no stranger when it comes to role-playing games, with phenomenal titles like the Final Fantasy games, Kingdom Hearts franchise and much more proudly displayed on its resume'. It is then no surprise that SE has once again flexed its RPG-creating muscles on the Nintendo Switch, resulting in Octopath Traveler, a game which has absolutely nothing to do with a backpacking octopus, however disappointing that may seem.
But in all seriousness, SE recaptures the magic that made its JRPGs so enjoyable. The game employs a turn-based battle system, which is a mainstay of many SE games. As for visuals, the game uses what is described as an HD-2D engine, which combines sprite-based character animation and 3D backgrounds and effects – and the result is a beautiful game both in terms of style and substance.
The story centers around eight characters, who come from different backgrounds and as a result, have different job classes and abilities, which come useful when figuring out what strategies and combinations you can use throughout your quest. One unique gameplay aspect is the use of Boost Points, which are achieved through battle and can be used to enhance skills or attacks – there are more interesting mechanics within the game, of course. Gameplay aside, each character's story adds a level of depth to the game's narrative.
If you're after a quality Square Enix classic, Octopath Traveller should definitely be on your to-buy list.
Steamworld Heist: Ultimate Edition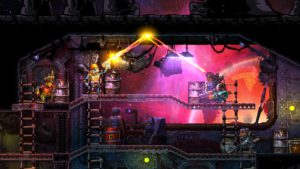 When the world was gifted with the magic of the original Steamworld Dig game a few years ago, fans wanted more side-scrolling steambot action. Developer Image and Form Games upped the ante and gave us Steamworld Heist, a likewise side-scrolling adventure, but void of the platforming gameplay that the first title had – in its place was a robust turn-based strategy system, and it was terrific.
The story follows Piper Faraday and her crew of misfit space pirates as they go around the galaxy in search of loot, and aiding other steamboats along the way. The game retains much of the graphical aesthetics of Steamworld Dig, which makes for one great-looking 2D game.
As far as gameplay goes, SHUE gives you the usual slew of turn-based strategy gameplay mechanics, with skills, weapon upgrades, and many more. As this is the Ultimate Edition, you also get the additional DLC that was originally released separately from the main game. If you want the complete Steamworld Heist package on your Switch, this is a must-have.
Bastion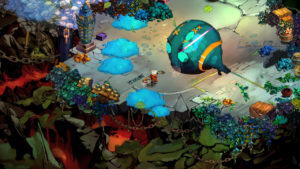 And last but definitely not the least on this list (that kinda rhymed) is Bastion. Bastion for the Nintendo Switch is a port of the original game released for other platforms such as PC, Xbox, and even iOS. The game puts you in the shoes of "The Kid", who must use his fighting and adventure skills to restore balance to the world of Caelondia.
Bastion is a beautiful game, no matter which platform you play it on. The game's art style and graphics evoke a mystic dream-world of sorts, and you'll have the pleasure of taking a trip throughout the different areas in Caelondia.
The game leans more on the action-adventure side of things, with the Kid being able to utilize ranged and melee weapons to his advantage. Throughout the game, you'll get different kinds of weapons such as pistols, mallets, and my personal favorite, the Machete. You can also complete special levels which will enable you to upgrade your weapons. Additionally, the game also features a great narrative, and you'll meet interesting allies and foes along the way.
If you've played Bastion before on other platforms and have a Nintendo Switch, then we'd suggest giving this title another playthrough.
We hoped you enjoyed our compilation of the best games for the Nintendo Switch. We'll be sure to feature more titles in upcoming articles, so stay tuned. Also, we'd love to hear what Switch games you'd like to see on future lists, so feel free to sound off in the comments below!