DISCLOSURE: Most of our content uses affiliate links. As an Amazon Associate, we may earn a commission when you buy through the links. Each of your purchases via our affiliation links helps us to support the cost and maintenance of this site.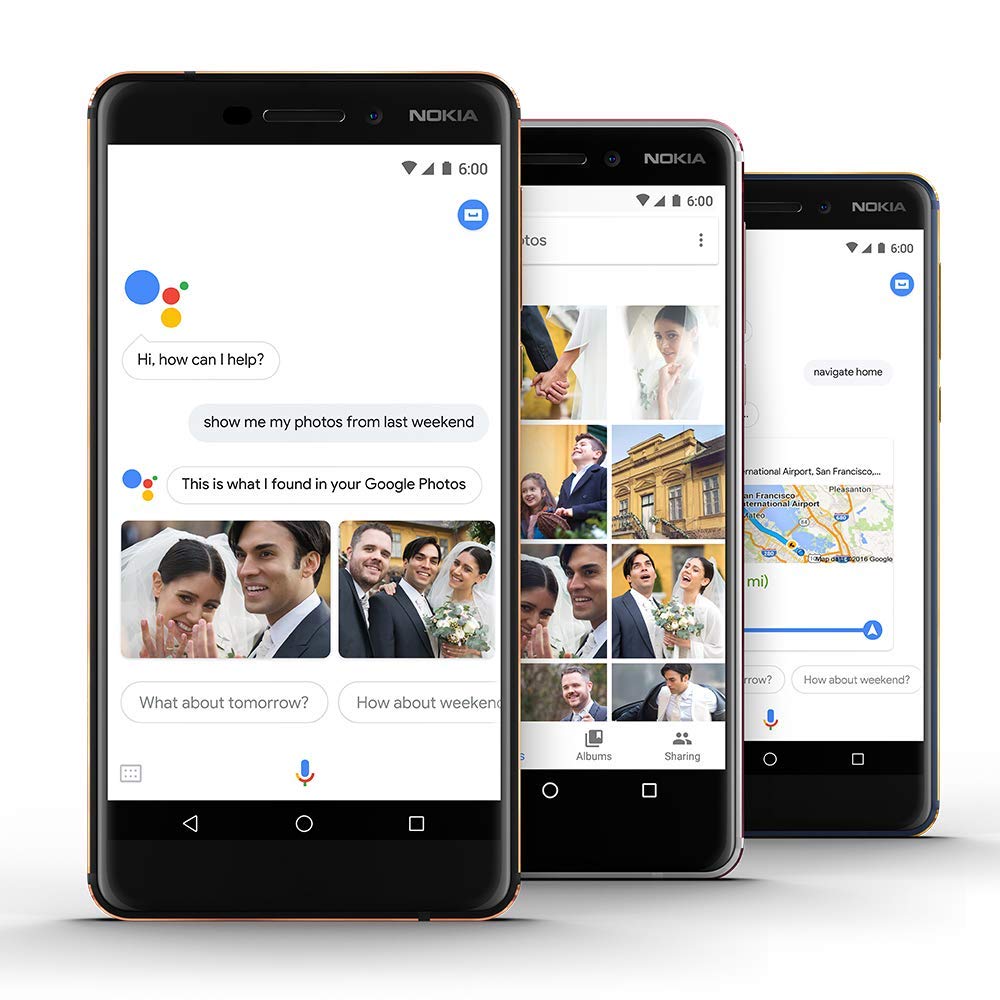 There was a time when the Finnish telecommunications company Nokia was at the top of the world. A perfect combination of functional software and reliable hardware helped give rise to Nokia's dominance in the mobile communications industry. The past few years have not been so kind to the company though, and Nokia now finds itself in a new playing field, with more than double the competition it once had.
Today, HMD Global has taken the helm of operations and is poised to bring back life to the Nokia brand with an onslaught of new smartphones in the budget, midrange, and high-end segments. The Nokia 6.1 serves as the company's 2018 midrange device and falls under Google's Android One program. Can it fend off the competition? Let's take a look and find out.
Build and Display
Nokia has always been renowned for solid build quality in its mobile devices. This particular reviewer has owned his fair share of Nokia phones, and they all serve as testaments to the Finnish manufacturer's expertise in constructing sturdy handsets. The Nokia 6.1 is no different – from the moment the phone is unboxed, you are greeted by a 5.5-inch display embedded in a solid metal unibody, which is machined from a single block of Series-6000 aluminum. The design of this phone is quite unique and comes in three colors – black with copper accents on the edges, blue with gold, and white with iron.
The volume and power buttons are placed on the right side of the phone, and the left side holds the sim card and micro SD tray. On the top is a 3.5 mm headphone jack, while the speakers and USB-C charging port take their place on the bottom. Above the screen are the earpiece and 8-megapixel front camera, alongside the proximity and brightness sensors. There's no notification LED, however, which is a bit disappointing. Meanwhile, the back of the phone houses a 16-megapixel Zeiss lens, fingerprint scanner, and the iconic Nokia logo. You'll also find the Android One logo on here – more on that later.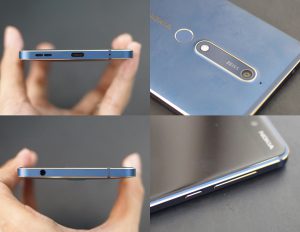 The Nokia 6.1's display has a resolution of 1080×1920 pixels, and offers enough brightness to be visible outdoors, and gives off great viewing angles. It also comes with Gorilla Glass 3 protection, which makes for one sturdy display.
Speaking of sturdy, my unit unfortunately took a fall and landed on a tiled cement floor. Thankfully, the metal unibody held up well and only suffered a minor dent in the corner, sans cracks. Props to HMD for continuing Nokia's tradition of making well-built phones.
Internal Specs
It is clear that Nokia intends to reclaim its lost space on the market, making sure that its phones are not only quality devices on the outside, but on the inside as well. The Nokia 6.1 has a great set of internals. The phone comes with a reliable Snapdragon 630 processor and has two storage configurations: 32 GB of internal storage with 3 GB of RAM, and 64 GB of storage with 4GB of RAM (the unit I have is the latter). The phone comes with an Adreno 508 GPU and is powered by a 3000 mah battery, which can last you a day or more of use. The Nokia 6.1 also has an FM radio, so there's that.
4 gigabytes of RAM coupled with the SD 630 should no doubt give good performance, and as far as we're concerned, the Nokia 6.1 manages to pull this off.
Performance and Cameras
While other manufacturers are busy re-skinning Android for their own slew of devices, Nokia has made a commitment to give a near-stock Android experience as much as possible – this means no skins, no bloatware, and only a minimal amount of Nokia-branded apps. And this is where Android One comes in.
Android One is Google's initiative to partner with device manufacturers and release phones which run on pure Google Android, ala Nexus. This means a clean Android experience, with smooth performance, and timely updates from Google and its partners, in this case, HMD. Shipping with Android 8 Oreo, the Nokia 6.1's UI is clean and fast and did well in daily tasks. Multitasking and gaming posed no performance issues, with no signs of lag. Games like Shadowgun, Deus Ex: The Fall, and Oddworld: Strangers Wrath ran well on the phone and I was able to play without any performance difficulties. Oddly though, I had trouble during the initial setup of my unit as the Playstore would regularly get stuck on "pending" when downloading apps. The problem has since gone away, however.
With regards to updates, the phone received a security patch update within half a week of using it. Personally, this is the fastest I've received an update on any Android device I've used. Thumbs up to HMD and Google.
The Nokia 6.1's camera can take good photos but it isn't perfect. The outcome of your photos is still dependent on whatever lighting you have available. While the 16-megapixel camera takes shots better than most low-end phones, the images themselves can be a bit on the under-saturated side – a bit more vibrancy would have been greatly appreciated. There's a "Pro-Mode" in the stock camera app though, easily accessible with a swipe on the on-screen shutter button. This will allow you to tweak the image settings to your liking and gives a bit of improvement on the camera's otherwise "okay" performance. You can check out some sample shots below.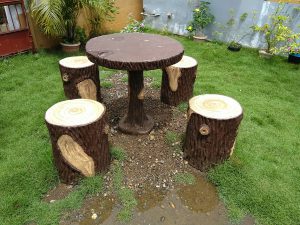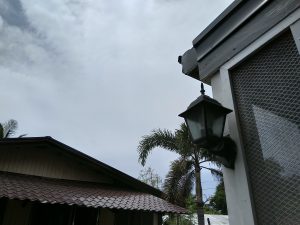 Indoor shots are likewise dependent on lighting. Images taken in dark environments no doubt come out as grainy but then again, this is not a flagship phone after all. As for the video, the Nokia 6.1 can record 4K videos, which adds value to the device.
The Bottom Line
So have HMD Global's efforts paid off? This reviewer certainly thinks so. Nokia continues to show that it is willing to fight its way back through the ranks, and so far it's treading that path steadily.
The Nokia 6.1 is a solid and reliable phone. Timely updates, durable build quality, great internal specs and a partnership with Google's Android One program make this smartphone a worthwhile purchase. The device does have its shortcomings though, such as its camera performance. But for a consumer looking to get a great Android phone in the midrange segment, the Nokia 6.1 should prove to be a device worth every buck.