DISCLOSURE: Most of our content uses affiliate links. As an Amazon Associate, we may earn a commission when you buy through the links. Each of your purchases via our affiliation links helps us to support the cost and maintenance of this site.
If you're after a pair of wireless earbuds that don't break the bank, then the Edifier TWS1 Pros might be a nice match for you. They offer an attractive price at below a hundred bucks – but what features do you get with these? Let's take a look.
Unboxing + Design
The earbuds come in a simple but nice package, and in addition to the TWS1 Pros, you do get a USB Type-C charging cable, some paperwork, and extra ear tips with different sizes. The charging case has a boxy but minimalist look to it, and you just get a USB C port on the back for charging. I actually like the design of the case although some people might find it a bit large.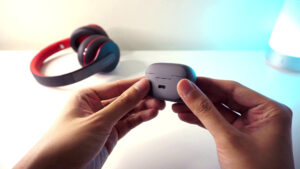 The earbuds likewise have a nice design, they are minimalist overall and I like that they don't have a stem on them. They are touch-sensitive as well which makes for an easier control scheme. The TWS1 Pros also have IP65 dust and water protection, which is a great feature especially given the low price of these earbuds.
Set-up + Controls
Setting up the earbuds was pretty easy. With the initial setup, they entered into pairing mode automatically, but if you need to pair them with a new device you have to touch and hold either one of the earbuds to enter pairing mode, since the charging case doesn't come with a pairing button.
One issue I did run into was that the edifier connects app didn't seem to recognize the earbuds even though they were paired to the device. I'm not sure if this is an isolated case with my smartphone, but reinstalling the app didn't seem to fix the problem.
There's a variety of controls on the TWS1 Pros. Tapping on either one of the earbuds can pause and play your tracks, double-tapping on the right earbud plays your next track, and vice-versa for the left earbud. Holding on the right earbud increases the volume, while the left one reduces the volume. It's a straightforward control setup overall and one that users shouldn't have trouble with, although I do wish that we had customizable touch controls for the earbuds.
Battery
The TWS1 Pros have 60 mAh batteries on both earbuds, and a 500 mAh battery inside the charging case. The earbuds can last you up to 12 hours of playback time, and you can charge them a couple more times on the charging case for a total of 30 hours, before needing to charge the case and earbuds altogether. This is a lot and should be great for long trips or flights. Unfortunately, there's no wireless charging on the case, but at such a low price there's bound to be some compromises.
Sound Quality
So how exactly do these earbuds sound? After listening to various types of music on these, I think that the TWS1 Pros do a great job of delivering good sound quality.
If you listen to a lot of bass-heavy music like metal or hip-hop, for example, you'll have a great time using these earbuds. The earbuds also do a nice job of balancing highs, mids, and lows when listening to music. I'm not a hardcore audio expert but for fifty bucks you're getting impressive sound quality on the earbuds. The buds also sounded decent during phone calls. There's no active noise cancellation, but the earbuds do feature Qualcomm's cVc noise cancellation technology. This means that the earbuds will focus your voice when in a call, so ambient sounds in the background will be significantly reduced. It's a nice alternative to ANC in my opinion.
The Bottom Line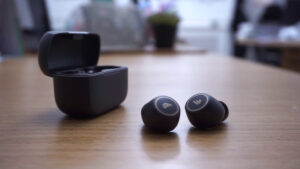 So are the Edifier TWS1 Pros worth your cash?
Well, there's great sound quality, a good design, terrific battery life, and IP65 water and dust resistance which to be honest are great features to have at half a hundred dollars. The only downsides I can see are the lack of wireless charging, no customizable touch controls, and a lack of support for the Edifier app. On the other hand, it still gets all the basics right.
If you're after a good pair of wireless earbuds that don't break the bank and do everything you expect them to, then these are a great option to look into.