DISCLOSURE: Most of our content uses affiliate links. As an Amazon Associate, we may earn a commission when you buy through the links. Each of your purchases via our affiliation links helps us to support the cost and maintenance of this site.
In the past few years, we've seen a lot of audio and tech companies incorporate wireless audio technology in their products, and as a result, there's been a significant increase of Bluetooth headphones and earbuds on the market. And while there are a lot of great products out there, a lot of them tend to be expensive.
This is something that a company called 1More seeks to address with their new ComfoBuds Pro. The earbuds are priced at just around 99 dollars in the US and 89 pounds in the UK, and for this price, 1More promises great audio quality comparable to what you'd get on more expensive devices. We do have the ComfoBuds Pro here with us today, and I've actually been using them for quite some time now.
So are these worth your hard-earned cash? Let's take a look!
Design
The earbuds come in an oval case which has a pretty minimalist look to it. On the back, you'll find a USB-C charging port, and inside you get the earbuds themselves. There's also a pairing button inside, and an LED indicator on the front.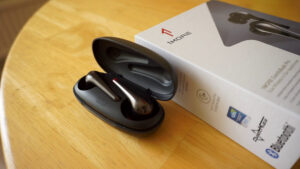 When it comes to design the ComfoBuds Pro does have a standard look as far as wireless earbuds go. They have a sleek design with a pretty long stem that tapers down at the end, and I wish that this could have been smaller as I do prefer my earbuds that way. But overall they do have a low-profile look to them.
One cool design aspect about the earbuds is that they have lights located on the bottom of the stem, which in my opinion adds a cool glowing effect when the earbuds are turned on. The sides of the earbuds are touch-sensitive, so you can control music playback with a simple touch. They also fit nicely in my experience and you can of course adjust the ear tip size.
The earbuds also have wear detection, which means that they'll pause your music every time you take them off, and resume once you put them back on. The earbuds also have an IPX4 rating which means they'll be safe to wear during workouts and light rain.
Set-up + App
Setting up the earbuds is pretty simple – holding down the pairing button lets you sync the ComfoBuds Pro with your smart device, and once you've paired both devices together you're pretty much good to go. There's also an official 1More app that lets you fine-tune the settings on the earbuds, and also lets you control settings, listening modes, as well as a quick guide to using the earbuds. I do wish it had more in-depth equalizer settings, as well as more control options such as single-tap volume controls. Currently, though you can assign a number of different functions when holding or double-tapping the earbuds.
Sound Quality + Usage
The sound quality on the ComfoBuds is pretty great actually. There's a satisfying bass sound to them, and as a simple test, I tried listening to Metallica's "And Justice for All" album, which is partly infamous for its lack of bass.
Needless to say, there's a big difference in sound when listening to Metallica's 1989 masterpiece on these earbuds. It's not the most skull-shattering in terms of bass quality, but it certainly gets the job done.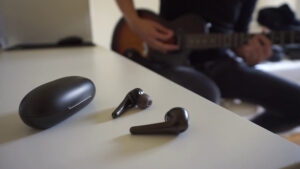 The active noise cancellation does a great job of keeping out unwanted sounds as well. I do think it's impressive and you can definitely hear your music clearly. In addition to ANC, there's also a transparency mode available, which will be useful if you're walking along a busy highway, for example. 
The ComfoBuds Pro also features built-in microphones – calls sound decent on the earbuds, and I was able to use them for voice and video calls. However, during one particular voice call with my wife, she noted how my voice sounded slightly muddled, although the overall volume from my end was very audible.
In terms of battery life, the earbuds can last you around 5-6 hours on a single charge, and you can top up a full charge on the case for at least two more sessions before needing to charge the entire case altogether.
Closing
So are the 1More ComfoBuds Pro worth your cash? Well, you do get good battery life, noise-canceling features, good design, and a bit of water resistance.
I'll be honest and say that features like in-depth EQ customization and additional touch functions would have been great extras, but for an asking price of 100 bucks, you're getting a good deal with these earbuds. They sound good, feel good, and are a nice choice as far as wireless earbuds go.