DISCLOSURE: Most of our content uses affiliate links. As an Amazon Associate, we may earn a commission when you buy through the links. Each of your purchases via our affiliation links helps us to support the cost and maintenance of this site.
The ThinkPad concept and design was originally developed by IBM until it was sold and acquired by Lenovo in 2005. 
Since then, the ThinkPad has been known for its minimalist, black and boxy design featuring its magnesium, carbon fiber-reinforced plastic and titanium composite case.
The ThinkPad evolved through the years and introduced a long list of improvements namely: the TrackPoint pointing device, the ThinkLight – a LED keyboard light at the top of the LCD screen, the Active Protection System – an accelerometer sensor which detects when a ThinkPad is falling and shuts down the hard disk drive to prevent damage, a roll cage design to minimize motherboard flex, stainless steel hinges, a biometric fingerprint reader, a Client Security Solution, the ThinkVantage Technologies suite of computer management applications, and drain holes to help reduce damage to the keyboard and components from accidental spillage. These features are all part of ThinkPad development history.
The OLED Feature
Boasted as the FIRST 2-in-1 hybrid that comes with an OLED display, the 14-inch Lenovo ThinkPad X1 Yoga OLED promises a stunning 2K display (2,560 x 1,440) resolution.
Lenovo's product innovation advances its position in the laptop arena by setting up a convertible laptop into tablet mode plus its exclusive WriteIt technology.
And now, here comes its OLED display that might be the strongest approach of the company that would hammer and nail its competitors.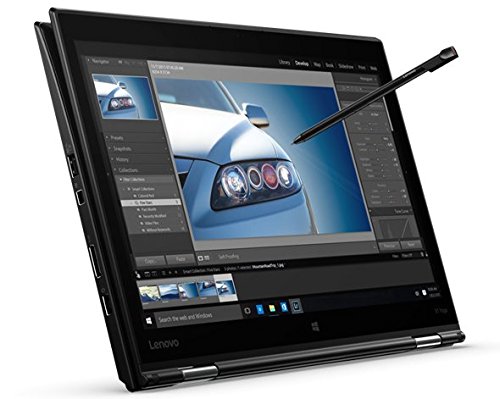 What is OLED and Why is it an Advantage?
"OLED is an Organic Light-Emitting Diode in which the emissive electroluminescent layer is a film of organic compound that emits light in response to an electric current." – Wikipedia.
What does this mean? Utilizing OLED and bringing it into play in the device has its advantages compared to the commonly-used Liquid Crystal Display (LCD).
How?  An OLED display works without a backlight, and thus it can display deep black levels and can be thinner and lighter than an LCD.  For example, in low ambient light conditions (such as a dark room), an OLED screen can achieve a higher contrast ratio than an LCD, regardless of whether the LCD uses lamps or a LED backlight.
This means that OLED reflects highly rich and accurate colors and sharper, in contrast, brightness, and saturation of image display.
Evidently, the Lenovo ThinkPad X1 Yoga's OLED display raises the standard of brilliance and image quality to a whole new level.
The First OLED Screen?
The Lenovo ThinkPad X1 OLED is not the first OLED display that was introduced in the laptop division however.
In fact, the Alienware 13 gaming notebook was the first one made available in the market on April 2016, a few weeks before Lenovo ThinkPad X1 Yoga OLED released its OLED version to its existing ThinkPad X1 Yoga model.
OLED in TV, on the other hand, was first introduced by Sony XEL-1 featured as the world's first OLED TV was commercially released in December 2007.  LG and Samsung afterward developed its own OLED TV.
Samsung became the world's largest OLED manufacturer producing 40% of OLED displays in the market – it is common to see OLED displays on their smartphones such as the Samsung Galaxy S7 and Galaxy S7 Edge.
Nowadays, wearables like Fitbit Alta, MyKronoz ZeWatch2, Razer Nabu and so forth also feature OLED screen technology.
Wearable devices that feature OLED screen
Disadvantage
Though there are some technical issues in the development of OLED, its expensive price may not appeal to most consumers.
We still need time to see the demands and competition in the market of OLED screens in the upcoming years before we apparently see the price drop of OLED industry.
Specifications 
With the option to buy Intel Core i5 or Core i7 processor, both come in touchscreen models operating Windows 10 Pro 64-bit with a battery that lasts up to 11 hours.
Remarkably, the Lenovo ThinkPad X1 OLED was favored by Cnet as their Editors' Choice for the month of August 2016.
Intel Core i7 model
The Bottom Line
A good and quality laptop is comprised of overall average and performance, speed, build up, design and remarkable hardware specifications.
Nonetheless, with its 2K OLED display, the Lenovo ThinkPad X1 Yoga OLED is the next thing to beat by its opponents and the future of vibrant display in laptop and hybrid category.
It is also the best thing to consider for those looking for an outstanding visual show that will surely please your eyes and strike your vision to see colors larger-than-life.